DE/VISION : JUST THEY TWO
De/Vision
are:
Steffen Keth
Name:
Steffen Keth
Job in the Band: Composer + singer
Date of Birth: 25.08.69
Eyes Color: Green-brown
Hair Color: Brown
Favorite Music: Placebo, Deftones, etc...
Favorite De/Vision Song: Hope Won't Die, Strange Affection, Blindness
Favorite Drink: Becks, red wine
Likes: Our music, women, Barcelona, Berlin, Moscow, sun
Dislikes: White wine, vegetable soup, sex with guys, winter, bad music
Dreams: House on the beach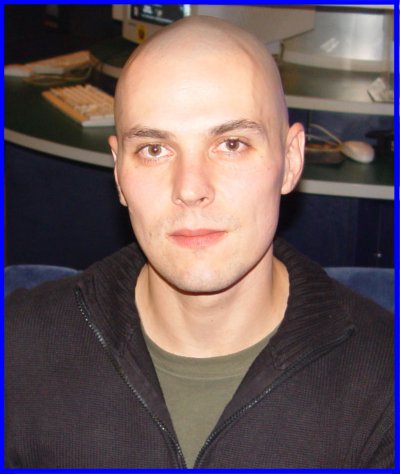 Thomas Adam
Name:
Thomas Adam
Job in the Band: Keyboards
Date of Birth: 31.05.70
Eyes Color: Brown-green
Hair Color: Brown
Favorite Music: everything that is good
Favorite De/Vision Song: -
Favorite Drink: -
Likes: Chinese + Japanese food, Martual Arts, nice people
Dislikes: The music in hotel «Ukraine», idiots
Dreams: Russian girls...
Also look:
DE/VISION - FOUR DAYS IN MOSCOW [our exclusive]
We are pleased to invite you to our special «De/Vision in Moscow» section, totally devoted to recent great event - first ever 4 days visit of our favorites to Moscow, Russia. You can find there full photo coverage of all four days band spent in Moscow, incl. their press-conference, concert and more, plus our exclusive interview with Thomas, made special for Russian fans. Enjoy!
[30.06.2003] Statement from DE/VISION and Lorenz Macke
«After 15 years of partnership, the members of DE/VISION and their manager have decided to part ways.
A common vision is no longer possible.
The fanclub and merchandise will be re-organized and concerts will continue to be booked by PLUSWELT as they have been in the last while.
Lorenz Macke will continue to run his SPR label, as well as the Kleefeld Publishing and Musicment Management as usual.
By December 31st, the «I Regret 2003» CD single and a long overdue live album to celebrate the 15th anniversary of the band will both be released on Synthetic Product Records.
Starting from July 1st this year, the official new internet address of DE/VISION will be found under www.devision-music.de. DE/VISION are to be reached from now on at this address: DE/VISION Postfach 550105 10371 Berlin.
Lorenz Macke remains in contact at www.spr-kleefeld.de, Postfach 690441, 30613 Hannover, Germany , Phone +49(0)511 55 19 69.
www.devision.de will maintain all information from 1988-2003 for the time being.
Many greetings Lorenz, Steffen and Thomas.»
[ Further comments from Lorenz Macke (November 2003) - here. ]
Also look:
[ © 2003 shout! - all right reserved. Exclusive quick survey, taken 05.10.03 by alex davie in Moscow, Russia, photos by Andrew Stepanov and Nastja Samsonova. ]