And One - releases 2009
Last updated 23.11.09
BODYPOP 1½
(album)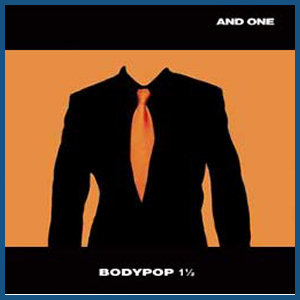 «BODYPOP 1½»
Steve Naghavi couldnít help but noticing that large parts of today's club crowds had no knowledge of the groundbreaking synthpop hits of the 80s, and this observation awakened a missionary instinct in And One's restless front-man.
Thus, the guys have thoroughly naghavigated an illustrious collection of genre classics, from «Blue Monday» and «Big In Japan» to «The Sun Always Shines On TV». A big tour of Germany's biggest concert halls followed and now we can reap the fruits of this labour on CD, as well: «Bodypop 1½» features nine of the biggest classics of electronic pop music, all in And One's patented SuperDooperCoverLoverSound, with a whole lot of live flavour mingled in.
But, don't fret, the guys were also generous with their own material the new songs «Und Wenn», «Paddy Is My DJ» and «Love Is A Drug Abuser» plus old and previously unreleased versions of «Love You To The End» (the song is now about Depeche Mode!) and «So Klingt Liebe» (a six minute long version sporting a totally different mood!)
Tracklisting:
[01] Love Is A Drug Abuser
[02] Paddy Is My DJ
[03] Und Wenn
[04] So Klingt Liebe (Demo)
[05] Love You to the End (Demo)
[06] The Sun Always Shines on TV (live)
[07] It's a Sin (live)
[08] Big in Japan (live)
[09] The Great Commandment (live)
[10] Smalltown Boy (live)
[11] Blue Monday (live)
[12] True Faith (live)
[13] Sometimes (live)
[14] Only You (live)
«Bodypop 1½» will released on January 30th, 2009 via Out of Line.
Our bodypop favorites And One have never been prone to be satisfied with anything less than superlatives. But, as opposed to the empty phrases most politicians have to offer, the band fronted by Steve Naghavi are sticking to their promises: the long planned and now finally completed double live DVD is the most comprehensive live experience ever to be released on this medium. 55 (!) live songs, recorded between 2004 and 2008 in Berlin, Hamburg and Hildesheim! All the hits, spanning their entire career, are included, plus lots of highly original cover versions of delightful tunes and the typical zaniness that accompanies any And One gig, including an always lively interaction with the audience. Add to that all the video clips the band has ever produced, a making of, plus a complete concert recording from 1989. Any questions? And for those of you who have always sported a profound dislike for moving images or who would just love to listen to the And One live experience on the road but would get distracted by watching the videos as well, there also will be a jam-packed live double CD with the best of the best. It also works in the kitchen, the bath tub or the CD player in the living room, of course. But who, for godís sake, are Diana, Steffi, Julia, Mandy and Anke??? Limited first edition in Digipak!
«L I V E» will released on October 30th, 2009 via Out of Line.
L I V E
(DVD)
«L I V E» 2 DVD
«L I V E» 2 DVD
Tracklisting:
DVD1
DIANA
[01] The Sun always Shines on TV
[02] Timekiller
[03] The Great Commandment
[04] Enjoy The Unknown
[05] Military Fashion Show
[06] Techno Man
[07] The Walk
[08] Traumfrau
STEFFI
[09] Stand The Pain
[10] High
[11] Schwarz
[12] Deutschmaschine
[13] Consequence Of Time
[14] Metalhammer
[15] Panzermensch
[16] Sometimes
[17] Exit
[18] Fernsehapparat
[19] Krieger
[20] Steine Sind Steine
[21] Bodynerv
[22] Für
[23] Get You Closer
[24] Recover You
[25] So klingt liebe
[26] Life isn't easy in Germany
[27] Loser
[28] Driving With My Darling
[29] Second Voice
[30] Movie Star
[31] Sweety Sweety
[32] Klaus
[33] Pimmelmann
DVD2
JULIA
[01] Strafbomber
[02] Take Some More
[03] Wet Spot
[04] Second Voice
[05] Für
[06] Pray
[07] Don't need the Drugs
[08] Sternradio
[09] Uns Gehts Gut
[10] Wasted
[11] Speicherbar
MANDY
[12] Military Fashion Show
[13] Fernsehapparat
[14] Für
[15] Bodynerv
[16] Recover You
[17] Get You Closer
[18] So Klingt Liebe
BONUS: Clips
[01] Life isnít easy in Germany
[02] Driving with my Darling
[03] Sometimes
[04] Get you closer
[05] Wasted
[06] Krieger
[07] So klingt Liebe
[08] Traumfrau
[09] Making Of Krieger
[10] «Was wäre, wenn...» Backstagefilm
ANKE - Konzert 1989
[01] Gommorah
[02] Second Voice
[03] Body Aggression
L I V E
(album)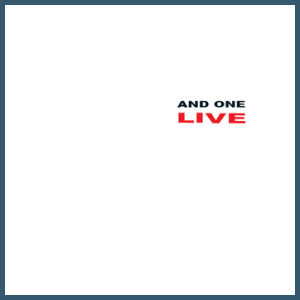 «L I V E» 2 CD
«L I V E» 2 CD
CD1
[01] Enjoy The Unknown
[02] Military Fashion Show
[03] Techno Man
[04] The Walk
[05] Traumfrau
[06] Stand The Pain
[07] High
[08] Schwarz
[09] Deutschmaschine
[10] Consequence Of Time
[11] Panzermensch
[12] Sometimes
[13] Exit
[14] Fernsehapparat
[15] Krieger
[16] Steine Sind Steine
[17] Bodynerv
[18] Für
[19] Get You Closer
[20] Recover You
CD2
[01] Pray
[02] Wet Spot
[03] Uns Gehts Gut
[04] Driving With My Darling (BONUS)
[05] Sternradio
[06] Tote Tulpen (BONUS)
[07] Dont Need The Drugs
[08] Speicherbar
[09] Wasted
[10] So klingt liebe
[11] Life isn't easy in Germany
[12] Loser
[13] Driving With My Darling
[14] Second Voice
[15] Movie Star
[16] Sweety Sweety
[17] Klaus
[18] Pimmelmann
[ Check releases 2000 | 2003 | 2006 | 2008 | 2009 ]
[ © 2009 shout! - all right reserved. Compiled on materials from various official and our own sources, by alex davie. ]