De/Vision : Progressive Pop
JUST TWO - DE/VISION 2001
De/Vision are from Darmstadt, Germany, they play electronic pop music with melodic English vocals since 1988. These professional musicians are 30 and 31 years old, and have long time appearance in the German music scene. The chart success of their third CD «Fairyland» marked the breakthrough of this hard-working and constantly touring band.
Over 250 shows speak for themselves, and De/Vision played with guitarists and a drummer to increase the «live» feel of their performance since 1998, adding an aural to their gigs, as well as a visual delight. Musically, De/Vision are changing all the time.
BUT TOGETHER - DE/VISION 2001
Initially influenced by the famous electronic bands of these days, now they talk abou techno, trance, hip-hop and crossover genres as their current influences. Today De/Vision themselves are an influence on the music scene and have been forerunners in many respects, working with vocal distortion effects as early as the beginning of 1996 - to be heard on their single «I Regret», and continued on «Strange Affection».
Their output is short but impressive: 10 MCDs and 7 longplayers by four years are only some stuff brought by De/Vision's tireless efforts. The band always remember about their fans and like to express their gratitude, for example with two live videos/CDs, a «Best of» release and extensive autograph sessions after their gigs - after all their fans were the ones who first made De/Vision popular via various radio and readers' charts and annual polls.
These musicians know how to make timeless music. Their melodies are catchy, their lyrics is sophisticated, the sound is perfect. De/Vision rely on quality, the love of details, and on the fact that something new should still be discovered in a song even after hearing it for the tenth time. They are well-known in Scandinavia, Spain and the US. Their music is international, therefore it may be a trifle difficult to describe your typical De/Vision listener - all kinds of people like De/Vision, and they all find that this band is very independent in their music and at the same time an aural delight. Since their move to major label WEA Records in 1997, De/Vision have come up with new hit material.
FLIES IN DREAMS AND ONREAL - DE/VISION 1998
«MONOSEX» contained 11 potential singles with extremely varying structures that surprised a lot of people. And all those who worried that De/Vision would allow themselves to be influenced by commercial considerations have been proved wrong - the step from independent to major record company has only served to motivate these likeable musicians.
During their Monosex Tour, De/Vision repeatedly performed in front of one thousand delighted fans, and the «MONOSEX» CD entered the Media Control Charts on no. 30, staying for four weeks. The first single release off the album made it to no. 47 and stayed in the charts for three weeks.
De/Vision celebrated their 10th band anniversary on November 17th, 1998, with their CD «ZEHN (88-98)», a kind of «Best of» release (including some of their own remixes). The subsequent club tour took the group abroad again (to Sweden, Norway, Holland, Switzerland and Spain).
De/Vision were able to enlist the support of the producer, Georg Kaleve, to help them record their «VOID» CD in autumn 1999. For five months, the group were busy producing new material in Berlin, and the result of their endeavours proves that De/Vision continue to prove their forerunner role, producing innovative pop music that set new standards and produced new focal points. «VOID» was released on February 28th, 2000, and entered the charts on #33, while the single «Foreigner», out on January 31st, made it to #76. The second single to be released off the album was the track «Freedom», which went down extremely well, also among non-De/Vision listeners.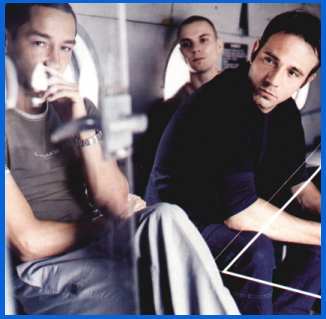 HARDER THAN EVER - DE/VISION 2000
At the end of February 2000, the group presented their new «VOID» CD live for the first time, selling out four of the five scheduled gigs, and the atmosphere at the venues proved extremely enthusiastic. An extensive tour of Germany followed in May, with the band - for the first time supported by a drummer - filling the nation's largest clubs and bringing the venues to the «boil».
On September 30 of the same year, keyboarder and musician Markus left band, while vocalist Steffen, together with many other German artists, became involved in a charity project called Heal Yourself. Autumn 2000 saw the arrival of the Green Court featuring De/Vision project, with vocalist Steffen releasing the song «Shining» together with a DJ, catapulting the band back into the charts. The subsequent single «Take (My Breath Away)» made it to no. 99 of the Media Control charts.
The band have just completed their latest CD in Berlin. The new album will be called «TWO» and is due out on October 1st, 2001, on Drakkar Entertainment (BMG). Festival appearances and international tour are guaranteed to follow…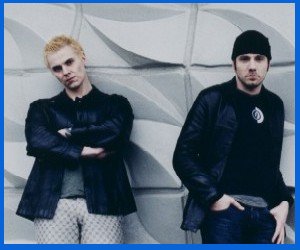 TOGETHER... DE/VISION 2001
Also look:
[ © 2001 shout! - all right reserved. Compiled on materials from official de/vision web site and our own sources, by alex davie. ]