De/Vision :: 6 FEET UNDERGROUND
Last updated 03.11.04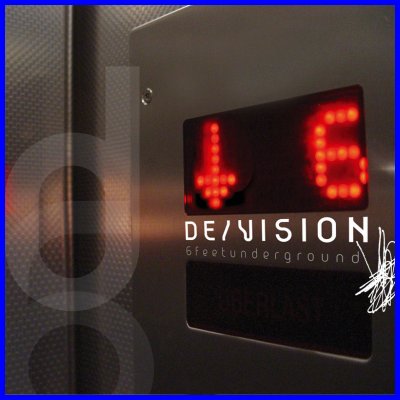 «6 Feet Underground»
De/Vision have never made it easy for their audience, for the critics, or indeed for themselves. Initially, the band founded by four friends, Stefan, Steffen, Markus and Thomas, in the Darmstadt area in 1988, were haunted by inevitable comparisons to Depeche Mode. Yet the likeable trio (Stefan had left the group in 1991) earned themselves a faithful and steadily growing following with their early album releases, «World Without End» (1994), «Unversed In Love» (1995), and «Fairyland?» (1996), as well as the single hits like «Try To Forget», «Your Hands On My Skin» and «Blue Moon». Their extremely melodic electro-pop, carried by Steffen's sensitive vocals, duly entered the charts and attracted the attention of WEA Records, who brought out their next two recordings, «Monosex» and «Void». However, instead of playing it safe and continuing on their successful course with enticing synth-pop melodies, De/Vision embarked on an experimental phase with their move from the familiar StrangeWays label to major WEA, which not only caused confusion at WEA but also split their fan community into two camps. The electro-pop purists among them seemed unable to comprehend their move towards guitars and experimental song structures. In retrospect, De/Vision's two WEA releases were a coming-of-age process, proving impressively that Markus, Steffen and Thomas knew how to push through their visions, against the reservation of A&R managers, marketing experts and their fans' expectations. Their supporters discovered that De/Vision are anything but predictable and that the band is open to any kind of musical innovation. That De/Vision 2004 still know how to create refreshing pop music is – as some are only beginning to understand – due to the very fact that they have consistently gone their own way; something that wasn't possible entirely without breaks.
De/Vision
Markus left the group, while Steffen and Thomas continued on their chosen path. Not only did they leave WEA to sign with Drakkar, where they are in a position to work more independently, thanks to the assistance of producer Georg Kaleve, «Two» (2001) also saw a more coherent integration of their newly discovered guitar tones into the De/Vision sound – although compared to previous recordings, the album appeared slightly indecisive in terms of expression. Steffen and Thomas rediscovered their familiar strength on their most recent release, «Devolution» (2003). Having worked with such varied producers as Axel Henninger (Camouflage), Jose Alvarez-Brill (Wolfsheim) and Georg Kaleve, Josef Bach, the new man at the controls, guided the band back to their electronic roots without altogether abandoning the guitars.
De/Vision successfully continue on this route with their latest release, «6 Feet Underground». After the duo had successfully integrated various trance and trip-hop influences into their musical concept on «Devolution», «6 Feet Underground» nonchalantly plays with the various contemporary forms of expression that the electronic genre has to offer.
The title track, for example, grooves almost weightlessly through seven dreamy minutes, atmospherically dense soundscapes, occasional rhythm swabs and faint hints of strings underlining Steffen's extremely expressive vocals. «Aimee» is another typical De/Vision number in their tried and tested electro-pop guise, featuring a brilliantly catchy melody.
De/Vision
«6 Feet Underground» was recorded with the help of not only Josef Bach, but also Arne Schumann, responsible for the mix on «Devolution», who was enlisted as second producer.
«We wanted to come up with a more electronic album, so that's how we approached the project. Guitar sounds were used discreetly, and there's even a bass on two tracks; just because we felt like it. I doubt that this is the end of drums and guitars for us. They've definitely become a constant feature of our live shows, and we're bound to use them in the studio again at some point,» Steffen outlines the creational process that resulted in «6 Feet Underground». «It's exciting for us not to work the way that many people expect us to or think we should. Some fans were worried that we'd turn into a rock act after «Void», but that was never our intention. We just feel that it's important to go to your limits. Like on the new album, where we wanted to discover our limitations within the electronic genre,» Steffen explains, referring explicitly to the three tracks, «Right On Time», «Take Me Over» and «Take Me To Heaven». «Klangmonaut» is one of their rare and much treasured instrumental tracks, while «I'm Not Dreaming Of You», «Unputdownable» and «Beside You» feature De/Vision's classic hit qualities.
It's good that in these restless times – especially in the music industry – a band like De/Vision can still be relied on. Steffen and Thomas have surpassed themselves again with «6 Feet Underground»!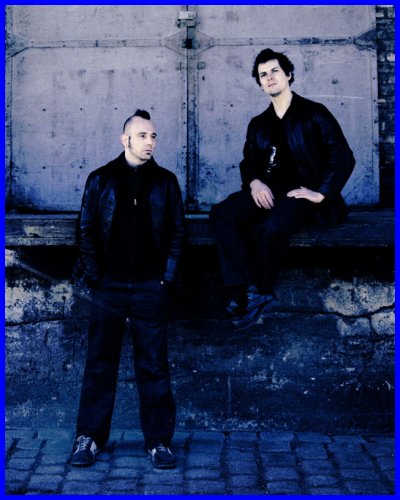 De/Vision
Also look:
[ © 2004 shout! - all right reserved. Story by Dirk Hoffmann, taken from Drakkar web site. ]