De/Vision :: BEST OF...
Last updated 02.02.07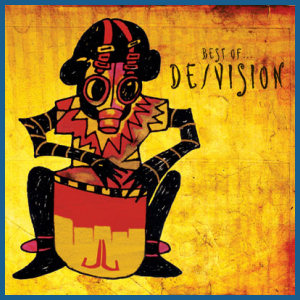 «Best Of...»
«Best Of...» - to be released on November 24th, 2006
18 years of De/Vision – 18 years of multi-faceted electro pop. Time for a retrospective. «Zehn», out eight years ago, featured a retrospective of the group's first ten years, including early hits such as «Try To Forget», «Your Hands On My Skin» and «I Regret», all of them still a constant component of Steffen Keth and Thomas Adam's live repertoire. But so much as happened in the meantime that another compilation of those productive eight years practically suggests itself. After all, 1997 saw an elemental seizure in the band history with the move from StrangeWays to major label WEA, the effects of which can still be felt today. Their 1998 album, «Monosex», saw De/Vision create a more organic sound, involving not only strings but also for the first time more guitars, which caused some confusion among a number of synth pop purists.
But De/Vision have always gone their own way, never restricting themselves to a single electronic style and always striving to explore new paths to structure their own development dynamically. The single, «We Fly … Tonight», to this day De/Vision's greatest hit, proved that the integration of new musical elements worked, but songs such as «Strange Affection» and «Deliver Me» also documented impressively that De/Vision have become a mature act with an unmistakeable feel for great melodies. This special talent manifested itself on the 1999 successor, «Void», which featured another two respectable hits in «Foreigner» and «Freedom» but seemed unable to take up where the success of «Monosex» had left off. Together with their erstwhile producer, Georg Kaleve, De/Vision created an unusually experimental sound which had them transgress every previously accepted boundary, causing displeasure among some of their fans who were still firmly rooted in the purely electronic sound of the early years. This phase was to prove extremely important for the next stages in De/Vision's development.
The split with Markus marked the end of ten years of a constant line-up, the move to their new label, Drakkar, signalling another departure for Steffen and Thomas, who aptly called their next album simply «Two» (2001) and opted to concentrate on their tried and tested strengths again. Their dancefloor-compatible single, «Heart-Shaped Tumor», and the haunting ballad, «Lonely Day», proved fairly successful in this respect, but this turbulent reorientation phase didn't really come to fruition before the arrival of their 2003 album, «Devolution». A new production/mixing team had come on board in Arne Schuhmann and Josef Bach, who knew how to translate precisely the way De/Vision wanted to sound. «Drifting Sideways», «Miss You More», «Digital Dream», «The Day's Not Done» and «Sadness» are only some of the many sophisticated songs that simply had to be included in this best-of release. The album, «6 Feet Underground» (2004), saw Steffen and Thomas continue on their chosen path, producing emotionally intense highlights such as «Aimee» or the complex yet fragile «6 Feet Underground», as well as beautiful pop anthems such as «Unputdownable», «Turn Me On» and «I'm Not Dreaming Of You».
Their latest album, «Subkutan» (2005), was a clever and accomplished play at contemporary influences from the dance scene, as the strong opener «Subtronic» proves, complemented by great pop music in tracks such as «The End», «Star-Crossed Lovers» and the dreamy «Summer Sun». Only a few of these songs have been released as singles, so «Best Of» offered a chance to present select album tracks.
«We're no typical singles act, we see ourselves as an album band, and we present different styles of electronic music on our albums. Our aim is to document with this compilation that there's more to us than only singles,» says Steffen. «Best Of» also presents a brand-new song in the single «Love Will Find A Way», created in collaboration with the production duo, Schuhmann/Bach, underlining the group's pronounced pop qualities.
The limited version of the album includes another CD with a number of special club remixes, some of them already featured on previous singles, some of them created especially for this project, such as the Andrew Sega Mix of «Still Unknown», spawned by De/Vision's successful tour with the American band, Iris, after the two acts had become friends, also coming to appreciate each other musically.
The album also features three new remixes of the tracks «Star-Crossed Lovers», «The Day's Not Done» and «Summer Sun» (and even more on the vinyl version of «Best Of») by Klaus G, who prolifically creates remixes with ROTOSKOP as well as with the new, slightly more grooving and danceable project, Soni Code.
«We found the way he approached the songs very surprising,» comments Steffen, full of praise. «Lots of mixes have nothing in common with the original, but we found the sound that he has come up with extremely exciting – the way he has given a completely new direction to the songs. We liked so much what he did that we wanted to allow the result more room.»
Last but not least, «Breathless» is a track on the bonus CD that had previously only been available on the «Schattenreich Vol. 3» compilation, out for the first time in the context of a De/Vision. Whether it's the originals or the cool, unusual, interesting mixes – there's a lot to be discovered on «Best Of DE/VISION»!
Also look:
[ © 2006 shout! - all right reserved. Story by Dirk Hoffmann, taken from Drakkar web site. ]