De/Vision : D-Evolution
DE/VISION
Since they got together in July 1988, DE/VISION can look back on a remarkable career and a similarly remarkable musical development. Early on, the band that originally revelled in the synth pop genre got their chance to support top-class acts like Psyche, Die Krupps and Camouflage and worked with producers like Axel Henninger and Jose Alvarez-Brill. Having sounded out the conventions and possibilities of the electro pop department thoroughly with their three independent albums «World Without End» (1994), «Unversed In Love» (1995) and «Fairyland» (1996), Markus, Steffen and Thomas successfully transferred to the major league. Their celebrated 1998 release, «Monosex», much more experimental and multi-layered with its combination of string and guitar sounds, came out on WEA. The following year, however, DE/VISION may have gone a little too far in their experimentalism with «Void». Not only were the fans in two minds about the group's development, there were also differences within the trio about their further line of approach. While vocalist/composer Steffen and songwriter Thomas soon agreed on the group's future direction, Markus left the fold to work on his own musical ambitions henceforth.
Thomas [DE/VISION]
Thomas and Steffen found a new label in Drakkar, who allowed them to work more independently, yet comfortably thanks to their cooperation with a major imprint. 2001 saw the arrival of their next album, plainly entitled «Two», the first delicious fruit produced by the duo. It soon became apparent that DE/VISION had returned to their good old virtues of complex songwriting without having lost their hunger for new sounds.
Now Steffen and Thomas are presenting «Devolution», a consistent development of their familiar direction. Almost playfully, the two likeable musicians indulge in their preference for haunting electronic pop anthems. The opener «Sadness» impresses with slow grooves, spacey synth sequences and Steffen's sensitive vocals, until the beat becomes more daring, leaving no doubt that DE/VISION have a feel for danceable numbers. Just how stylish and at the same time relaxed DE/VISION have gone about their new album is documented by «When The World Disappeared» with sounds that operate somewhere between cool Eighties aesthetics and laid-back lounge atmospheres, sounding very much like DE/VISION and at the same time totally new.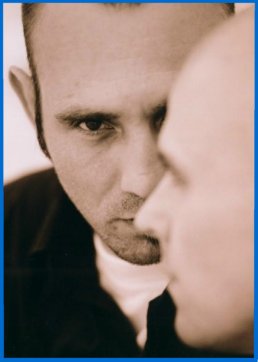 Steffen [DE/VISION]
«In almost 15 years, we have developed a high degree of respect for each other, and that's basically the reason why our collaboration works so well», Steffen comments on the audible harmony between the two artists. «Each new album faces new challenges, after all there is always a personal desire to create something fresh and to get ahead on the ladder of musical evolution.»
Which brings us to the title of the new album. While DE/VISION have evolved with each of their albums, they have always kept an eye on their own origins. Although Steffen and Thomas plus guest musicians Lars Baumgardt on guitars and Achim Farber on drums have in a way preserved novel elements from previous album productions, there is also a stronger sense of the electronic roots that they've grown up with. «There are two aspects to the term 'Devolution'. On the one hand the title means a sort of reverse development, which implies that we have returned to a more electronically-oriented overall sound. After all that's where we come from», Steffen explains the meaning of the album title. «On the other hand it hints at an evolvement. It can be interpreted as a play on words that describes our own musical evolution - 'D-evolution'.»
With the support of producer Josef Bach, who also helped out on «Two», and mix artist Arne Schuhmann, the duo has succeeded in producing a number of highly contemporary sounding songs, some of them tender and heart-rending like «A New Dawn» or «The Day's Not Done», but there are also extremely radio compatible, rhythmically driving tracks like «Drifting Sideways», «Miss You More» or «Digital Dream» on the album with the meaningful title. In the recollection of their distinctive songwriting qualities in the electronic genre and their reliable instinct for modern sounds, DE/VISION are definitely at the peak of their creative powers.
DE/VISION
Also look:
[ © 2002 shout! - all right reserved. Based on story written by Dirk Hoffmann, Zillo music magazine, all photos by Milan Josipovic, taken from Drakkar website. ]