De/Vision :: NOOB
Last updated 31.03.09
«Noob»
«Noob» - to be released on August 24th, 2007
De/Vision are a band who require no introduction to the pop music audience. After all, this electro duo has been among the leading representatives of its genre for almost twenty years and has always nonchalantly succeeded in reinventing itself during that time, exploring the limitations of its full potential and filling the much-abused term of «crossover» with exciting new contents. That a previously established band structure may fall apart in the process of these frequently daring experimental phases must unfortunately be considered one of the imponderabilities of an eventful biography.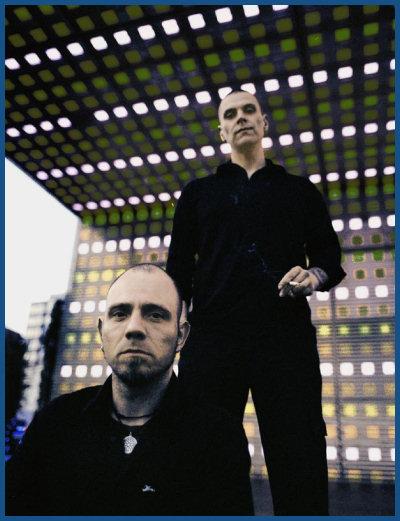 De/Vision
This kind of break hit De/Vision at the turn of the millennium, having produced successful, extremely likable synth pop music that had attracted the attention of major label WEA, who went on to release two albums, «Monosex» and «Void», which laid the band's sonic range wide open at the end of the nineties. Suddenly guitars were no longer frowned upon by purist electro heads, and a lot of experimentation went on in the wide field of electronic means of expression. This rejuvenation process, however, turned into a tightrope walk that founder member Markus was no longer prepared to be a part of. He left the group, while Thomas and Steffen not only moved on to the «big» independent label, Drakkar, but also returned to their old strengths with their 2001 release, «Two».
De/Vision
In the meantime, De/Vision have found their course again without losing sight of their feel for new sounds and experimentation. Their constant open-mindedness towards new influences and forms of expression is without doubt one of the fundamental factors in the recipe for success of a band who has gone on to produce on albums such as «Devolution» (2003), «6 Feet Underground» (2004) and «Subkutan» (2005) a wide range of exceptionally gifted pop anthems, most of which resurfaced on last year's «Best Of...». That album also included the exclusive «Love Will Find A Way», recorded specifically for the compilation and Thomas and Steffen's first real compositional collaboration with their much-appreciated production team consisting of Schumann & Bach; which worked so well that the new album, featuring the interesting title «Noob», was recorded entirely by this tried and tested gang of four. This also explains the title, which Steffen borrowed from computer gaming jargon, where it is used to describe a greenhorn gamer, or as a derogatory term for an experienced gamer who's made a beginner's mistake. «We're always looking for words that people will hopefully find interesting, but that on the other hand also relate to us,» frontman Steffen explains. «Noob» was my idea because I surf the Internet a lot and sometimes get in involved in role-playing games. To start off with, I liked the sound of the term without knowing what it actually means; later I discovered as part of my research that it's short for 'Newbie'. We had just written and produced the whole album for the first time together with our producers, which was a totally new experience. In this context, I found the term NOOB pretty exciting and reinterpreted it for us.»
De/Vision
So Steffen, who had been De/Vision's sole songwriter since Markus' departure, has been able to share some of the responsibility, which on the one hand liberated the compositional process and made it more complicated on the other. The pleasing result of this new working method is an album that sparkles with lightly shimmering pop gems. Songs such as «Death Of Me», «What You Deserve», «Living Fast Dying Young», the promo single «Flavour Of The Week» or the new version of «Love Will Find A Way» flow through the aural tract with invigorating lightness, De/Vision immersing themselves in melancholy dream worlds with «See What I See», and above all this hovers a nostalgic retro feeling that brings to mind the band's musical roots. Inspired by the cool remixes that Rotoskop contributed to the «Best Of...» release, «Noob» sees De/Vision embark to some extent on a journey back to the eighties, a time of busy experimentation in the resurrected electro scene, merging pop, rock, funk, reggae, ambient etc. elements. The unostentatious artwork featuring the «Noob» neon logo can definitely be considered a reminiscence of that pioneering era of electronic pop music, yet at the same time De/Vision have once again succeeded on «Noob» in insistently getting to the heart of a number of brilliant tracks in a pleasantly reduced style with modern as well as classical quotations.
De/Vision
Also look:
[ © 2007 shout! - all right reserved. Based on press-release from Drakkar. All photos: Jens Rosendahl. ]