Rammstein in Moscow '2002
Last updated 18.07.02
RAMMSTEIN WERE IN MOSCOW... AND EVEN PERFORMED!.. AT V.I.P. PARTY...
SMILING TILL
Played on June 17th amazing open air show at stadium in St. Petersburg, around 12 am on June 18th Rammstein arrived Moscow, where they went to «Balchug Kempinski» hotel. At doors they were waited by small group of fans, mostly very young teen girls age 15-17. However beside them could be noticed creators of our friend web site rammstein.ru, and me. During entrance band did some autographs and quickly disappeared inside.
JUST ONE KISS... PAUL
Very sad because cancel of Tushino concert, fans settled for small - day and night spent outside hotel, madly waited for familiar silhouettes in hall and occasional autographs during fast run to their limousines.
RICHARD - MASTER OF GIRL HEARTS
On June 19th band did not appeared on ULTRA 100.5 FM with promised talk to russian fans, but played live show at «B2» club during corporative party of «Bely Veter-DVM» computer company - so called Universal Rover Party, organized with support of Universal Music Russia and TCI. Banner «Sorry, closed for technical break» and locked doors were the best sign that the only guests of party were company personnel (serious businessmen, top managers and madams with their children-teenagers), plus some show-business stars è moscow beau monde.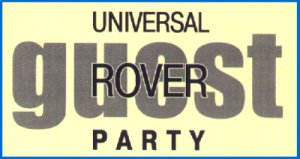 UNIVERSAL ROVER PARTY
As we know from our own sources, Rammstein concert started around 9 pm and lasted more than one and a half hours. First song was «Rammstein», performed in ordinary form - by burning Till. Band played all hits from each of their 3 albums, incl. «Buck Dich» and «Stripped».
01.
Rammstein
02.
Links 234
03.
Sehnsucht
04.
Feurer Frei!
05.
Rein Raus
06.
Adios
07.
Mutter
08.
Zwitter
09.
Asche Zu Asche
10.
Du Hast
11.
Buck Dich
12.
Sonne
13.
Ich Will
14.
Stripped
Concert finished around 11 pm, and transformed in V.I.P. afterparty, till 3 am. And at noon of June 20th, Rammstein, almost not had a rest after all night party, left Moscow.
So long-awaited visit of Rammstein to our city has got such unexpected turn. As appeared, band don't perform to their numerous fans, they play on elite private parties. Well, real fans have possibility only to enjoy «Live Aus Berlin» video and have to wait for money back on TCI site.
---
I took Flake and Paul's autograps at «B2» doors, on historical issue of «Zillo» magazine:
ZILLO September 1997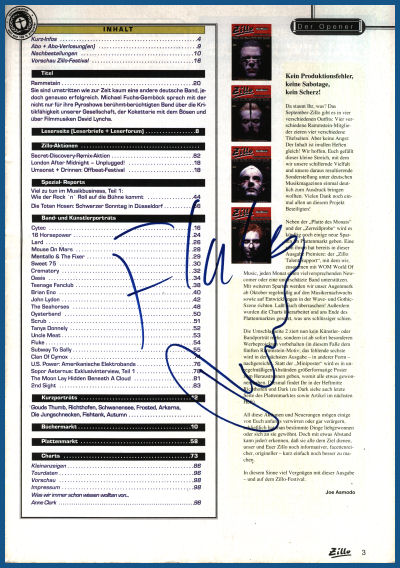 Autographs - Flake and Paul
[ © 2002 shout! - all right reserved. Exclusive info, by alex davie. Photos: Egor, taken near «Balchug Kempinski» hotel, exlusively submitted by rammstein.ru. ]