RAMMSTEIN 2009: LIEBE IST FÜR ALLE DA!
Last updated 14.10.09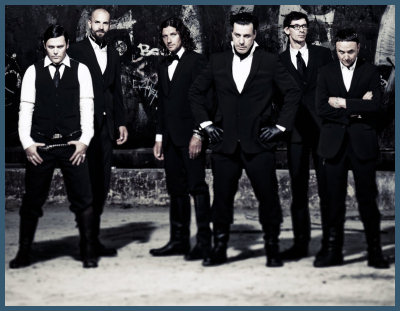 RAMMSTEIN 2009
Rammstein are back. Four years after the release of «Rosenrot», their last studio outing, Germany's most successful rock act have announced the release of a brand new studio album, «Liebe Ist Für Alle Da».
Since starting out 15 years ago, Rammstein have built a reputation as a controversial, no-compromise, and hugely entertaining band, with a fiercely loyal and genuinely international following. Today, they stand head and shoulders above the competition as the greatest (musical) showmen on earth, with an incendiary stage performance that generally results in tickets for their concerts selling out in minutes. They return to European stages in November 2009, in support of their sixth studio album – an eleven track offering that is already being talked about as a classic to rival their hugely acclaimed 2001 «Mutter» release.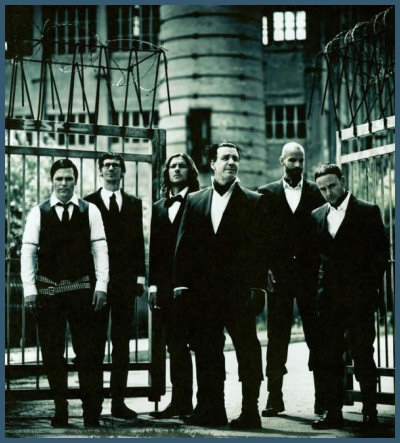 RAMMSTEIN 2009
Produced by Jacob Hellner and mixed by Stefan Glaumann, the regular Rammstein team, this latest album is perhaps the Berlin band's most varied release to date, including genuine surprises, a smattering of English and French, plus some of the heaviest songs in their repertoire. As always with Rammstein, controversy is never too far from the scene, with lead single/video «Pussy» already causing something of a stir, and «Wiener Blut» drawing 'inspiration' from the recent much-publicised case of Austrian Josef Fritzl. Other key tracks include «Rammlied» (a celebration of the band itself), «Waidmanns Heil» (which sees traditional hunting horns used for the first time) and «Roter Sand», an atmospheric cinematic composition unlike anything the band have recorded before.
RAMMSTEIN 2009
[ © 2009 shout! - all right reserved. Based on official press-release from Universal Music Germany. Photos by P.R. Brown. ]