Latest News - August 2009
Last updated 31.08.09
[
26.08.2009
] -
The Cranberries announce reunion tour!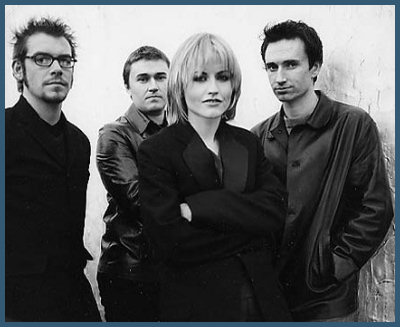 The Cranberries
The day that many of us thought we would never see is finally here and we are happy to post following news. Dolores O'Riordan and the original members of The Cranberries have announced that they will reform for the first time in nearly seven years for a live tour. «I've decided to reunite with my former band members in The Cranberries and we will be writing new songs and performing tracks off my new album as well as our greatest hits during the shows. I'd love to see you out there.» O'Riordan stated.
In January, O'Riordan played a set at Dublin's Trinity College with band members and brothers Noel and Mike Hogan. The performance was the first time the band members had seen each other since 2003. Never officially broken up, the band instead has been on hiatus, and being in the same room and playing music together for the first time made them realize how much they had missed each other. Touring will begin at the end of the year in North America and make its way to Europe in early 2010 with dates announced shortly.
Info submited by official The Cranberries web site.
[
26.08.2009
] -
Shocking news from Apoptygma Berzerk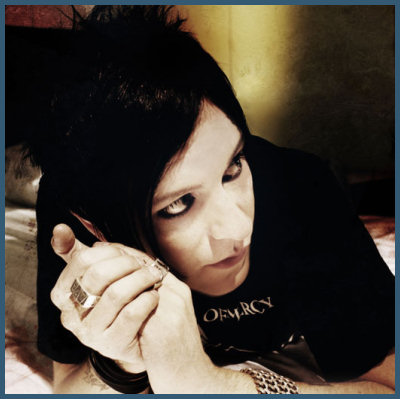 Stephan Groth
For the first time in five years Apoptygma Berzerk will go on tour in North America. In September band will play 15 shows in the US, Canada, and for the first time ever in Mexico!
«Itís been quite a while since the last time, and I am very much looking forward to touring and for the first time ever playing songs from «You and Me Against the World» and the «Rocket Science» albums for the American audience» says Stephan Groth, who assures that also older material will be played live, «I consider this tour rather a Greatest Hits Tour than a continuation of the Rocket Science Tour.«
Like many of you already know, the line-up of the band is going to change: «Angel, Geir, Fredrik and I decided a few months ago to take a break from Apop. Playing in APOP has been extremely time consuming for all of us the last many years, and we all felt it was about time to do other stuff, at least for the rest of 2009.»
«I am grateful for their devotional commitment, their friendship, their great work, and the innumerable concerts I had the honour to play with them.» says Stephan, and adds «We are all still good friends... Iím sure weíll be working together again on future projects, but right now we all need all our time and energy to focus on our own careers.»
So Brandon Smith from American band The Anix will play guitar, Thomas Jakobsen will be drummer and Jonas Groth (Stephan's brother) will play keyboards.
APOP US TOUR 2009
September
02 - Washington, USA - 9:30
03 - New York, USA - Gramercy Theatre
04 - Cambridge, USA - Middle East
05 - Montreal, Canada - Le Studio
06 - Toronto, Canada - EBMfest 2009
07 - Cleveland, USA - Peabody's Down Under
08 - Pontiac, USA - The Crofoot Ballroom
09 - Chicago, USA - Double Door
11 - Austin, USA - Elysium
12 - Mexico City, Mexico - Expo Reforma
14 - Portland, USA - Berbati's Pan
15 - Seattle, USA - El Corazon
17 - Hollywood, USA - Knitting Factory
19 - Edmonton, Canada - NewCity Compound
20 - San Francisco, USA - DNA Lounge
Info submited by official Apoptygma Berzerk web site.
[
26.08.2009
] -
«Hole To Feed / Fragile Tension» - possibly next Depeche Mode single
Although it's not yet officially confirmed, double A-side «Hole To Feed / Fragile Tension» will be the third single to be taken from the recent Depeche Mode album «Sounds of the Universe». The single will be released in September or October 2009. Rumoured that video for «Hole To Feed» is already shot. More details - later!
Info submited by various sources.
[
26.08.2009
] -
«Orpheus In Exile» - new album of Marc Almond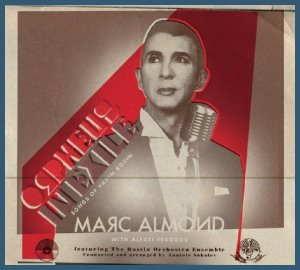 «Orpheus In Exile»
Marc Almond are ready to release his new album «Orpheus In Exile - The Songs Of Vadim Kozin» (cat. no.: SFE001) on September 7th, 2009. THis time Marc, a latter day curator of popular song, has rediscovered the songbook of Vadim Kozin. Kozin was the Soviet era's much-loved, exiled then forgotten singer of gypsy folk and Russian torch song romances. Almond discovered Kozinís work on his first visit to Russia in 1992 and was immediately taken with the purity and passion of his voice, as well as the beauty and melancholy of his songs, which are enhanced by the hardships Kozin suffered throughout his life. Marc has joined creative forces with Russian producer and musical arranger Alexei Fedorov who shares both Marcís love of Kozin and his aim to help bring his repertoire to a new audience. The songs have been specially translated for Marc and have never been sung in English before.
[01] Boulevards of Magadan 3:29
[02] Forgotten Tango 2:46
[03] My Fire 3:14
[04] I Love So Much to Look Into Your Eyes 2:27
[05] Friendship 2:37
[06] Pearly Night 2:54
[07] Brave Boy 3:09
[08] Day and Night 2:51
[09] A Skein of White Cranes 2:50
[10] Beggar 3:22
[11] When Youth Becomes a Memory 3:30
[12] Autumn 3:55
[13] Letter from Magadan
Info submited by official Marc Almond web site.
[
18.08.2009
] -
«Septic VIII» from Dependent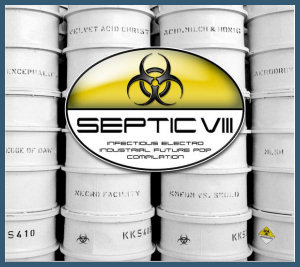 «Septic VIII»
The news that German independent music label Dependent would be reopening its doors caused quite a stir in the press and Internet forums, and after two years the label now returns with «Septic VIII» (release date: September 11th, 2009), beginning again just as it started in January 1999 when «Septic I» became the first release by this label and marked the beginning of the worldwide success story. Personally compiled by Dependent president Stefan Herwig, the series has now been offering the perfect mixture of promising electro/EBM newcomers and unreleased tracks from popular artists in the scene for ten years. «Septic VIII» once again combines a wealth of fresh sounds from all corners of the scene together with several big names. Just look at tracklisting:
[01] Necro Facility - Do You Feel The Same
[02] Informatik - Temporary (Synthetic Dream Foundation Mix)
[03] Acretongue - Dragonfly (nymph) *
[04] Mesh - Who Says? (Rough Mix) *
[05] Apparat - Arcadia (Telefon Tel Aviv Remix Edit)
[06] Edge Of Dawn - Stage Fright *
[07] Biomekkanik - Pitch Black Ocean
[08] Arzt+Pfusch - Constipated Disembowelment *
[09] acid.milch&honig - Was ich seh *
[10] Non Plus Ultra - Free Falling *
[11] Aerodrone - Ready To Love (Demo Version) *
[12] Velvet Acid Christ - Black Rainbows *
[13] Ghost & Writer - Nightshift *
[14] Encephalon - Scar On Scar *
[15] KMFDM vs. Skold - Bloodsport
[16] FÏX8:SËD8 - Dormicum
[17] We Got This Far - Sedona
* previously unreleased
Info submited by Dependent.
[
18.08.2009
] -
[:SITD:]: new album and tour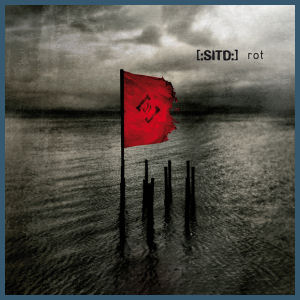 «Rot»
Germans [:SITD:] are back with a new powerful album «Rot» - it will be released on October 23rd, 2009 via Accession in Europe and October 27th via Metropolis in US.
Tracklisting:
[01] The Insanity of Normality
[02] Catharsis (Heal Me, Control Me)
[03] Rot V1.0
[04] Stigmata Of Jesus
[05] Zodiac
[06] Pride
[07] Redemption
[08] Frontal
[09] Pharmakon
[10] MK Ultra
[11] Destination
Limited Edition will include Bonus CD with following tracks:
[01] The Insanity of Normality (Final)
[02] Rot V2.0 (Extended)
[03] Rot (Remix by Reaper)
[04] Redemption (Remix by Project Pitchfork)
[05] Rot (Remix by S.A.M.)
[06] Rot (Remix by Aesthetic Perfection)
[07] Heldenhaft (Vox Ė feat. Othura)
Also band announced Rot Tour 2009 with special guests Reaper and Amnisti.
30.10 - Amstelveen, Holland Ė P60 *
06.11 - Berlin, Germany - K 17 *
07.11 - Hamburg, Germany - KIR *
13.11 - Sheffield, UK - Corporation *
14.11 - London, UK - Elektrowerkz *
19.11 - Frankfurt, Germany - Nachtleben *
20.11 - Leipzig, Germany - Lagerhof *
21.11 - Bochum, Germany - Matrix *
25.11 - Ludwigsburg, Germany - Rockfabrik **
28.11 - Aarau, Switzerland - Kiff ***
04.12 - Dresden, Germany - Beatpol *
05.12 - Bremen, Germany - Aladin *
* with Reaper & Amnistia / ** with Reaper / *** with Rotersand
Info submited by official [:SITD:] web site.
[
18.08.2009
] -
New singles from a-ha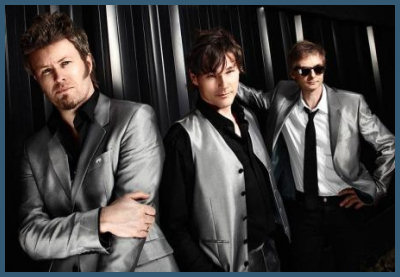 a-ha
The second single from recent a-ha album «Foot of the Mountain» outside the UK will be a new mix of «Shadowside». This alternative version was produced by Martin Terefe. The release date and countries are still to be confirmed, more information will be posted soon.
«Shadowside» is expected to be the third single in the UK market, following the September 21th release of «Nothing Is Keeping You Here».
There will be promotional videos made for both «Nothing Is Keeping You Here» and «Shadowside».
Info submited by official a-ha web site.
[
18.08.2009
] -
Hot news about new Rammstein album!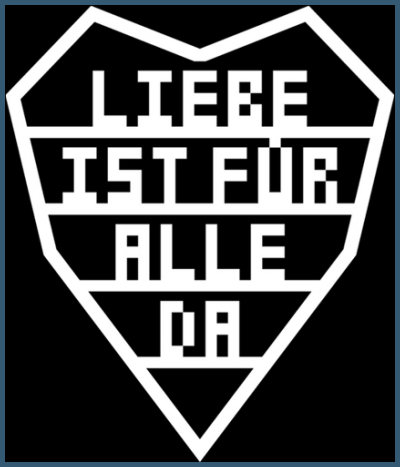 «Liebe ist für alle da»
Hot news from Rammstein! As recently officially announced, the mix for the new songs has been completed in Stockholm. New album will contain 11 tracks. During late Summer band did several photo sessions and a lot of interviews. Seems upcoming album will be very dark and very powerful. Also already known that band has finished shooting first new video «Pussy» directed by Jonas Akerlund and will premiered in early September. First new single «Pussy» will released on September 18th as Digipack with b-side «Rammlied», and followung by album in October.
Tracklisting (yet not officially confirmed):

[01] Rammlied
[02] Ich Tu Dir Weh
[03] Waidmannís Heil
[04] Haifisch
[05] B******
[06] Fruehling In Paris
[07] Weiner Blut
[08] Pussy
[09] Liebe Ist Für Alle Da
[10] Mehr
[11] Roter Sand


In other news: Rammstein is apparently trying to start a viral advertising campaign for upcoming new album seems to be titled «Liebe ist für alle da», they opened promotional web-site Lifad.org and print some specific advertisements in various music press.
Info submited by various sources.
[
18.08.2009
] -
«Only Better» details
«Only Better»
Three years after mesh released the highly acclaimed album «We Collide», the band finds themselves back to scene. Working hard on their upcoming album, «A Perfect Solution» (cat. no.: mind140), and preparing for a European tour, band will release a Limited Edition single, «Only Better» (cat. no.: mind135), on September 4th in Europe via Dependent and October 6th in US via Metropolis. The single features three mixes of the title track and two bonus tracks, all of which showcase the bandís highly evolved styling. As the single will prove, mesh is back, and only better!
Tracklisting:
[01] Only Better (Gritty) 04:10
[02] Only Better (Club) 05:10
[03] Shattered Glass 04:26
[04] Only Better (Alien6 Remix) 04:48
[05] Everything I Made (Kloq Remix) 07:11
Total time: 25:45
Info submited by official mesh web site.
[
18.08.2009
] -
Remix album from Ministry
«The Last Dubber»
Ministry, arguably the most influential industrial band to date, punctuated the close of their 30 year recording career with 2007ís album «The Last Sucker». Now comes the remix album, «The Last Dubber», an appropriately beguiling album that dabbles in both trance and metal (on September 15th via 13th Planet Records)
Tracklisting:
[01] Letís Go (La Fin Du Monde Mix)
[02] Watch Yourself (The Clocks Strike Thirteen Mix)
[03] Life is Good (Neuroplasticity Mix)
[04] The Dick Song (Straight Outta Lincoln Mix)
[05] The Last Sucker (Icke Mix)
[06] No Glory (Sandpaper Condom Mix)
[07] Death & Destruction (A Vote of Non-Confidence Mix)
[08] Die In A Crash (Point of Impact Mix)
[09] End Of Days Part 1 (One Less Sparrow Mix)
[10] End Of Days Part 2 (Extreme Mayan Makeover Mix)
[11] Letís Go (Dawn of Oblivion Mix)
[12] The Last Sucker (Hardware Revamp Mix)
All tracks remixed by Clayton Workbeck of RevCo with the exception of Letís Go (Dawn of Oblivion Mix) by John Bechdel (Killing Joke, Ministry, False Icons) and The Last Sucker (Hardware Revamp Mix) by DJ Hardware.
Info submited by official Ministry web site.
[ © 2009 shout! - all right reserved. Compiled by alex davie. ]