Releases 2009
Last updated 14.10.09
«Pussy» (single)
«Pussy»
After four years of studio absence, the first single «Pussy» from new Rammstein album is coming out September 18th via Universal. Carried by a gigantic wave of testosterone, Rammstein unsheathes its sword and presents what makes man an animal. So start your engines. With pedal to the metal on the Autobahn of German clichés, where homage is paid to the hand-to-hand battle between the sexes with words like Bratwurst, Blitzkrieg, and Mercedes-Benz … to destinations abroad, past Heidi with her burgers and away from the German Fräuleinwunder. There, pleasure lurks like a yawning abyss….
A 2-track single «Pussy» with the song «Rammlied» as b-side is set to surface on both CD and vinyl formats (to be released on September 21th). The CD will come as a Digipack with a poster, whereas the vinyl (strictly limited in number) will be issued in 7" & 12" forms, the 7" being etched and pressed on Viagra-blue vinyl. The vinyl will be hand-numbered and available exclusively from What Records.
Tracklistings:
Digipack CD
[01] Pussy (Radio Edit) 03:48
[02] Rammlied 05:19
7"
[01] Pussy 04:02
12"
[01] Pussy 04:02
[02] Rammlied 05:19
«LIEBE IST FÜR ALLE DA» (album)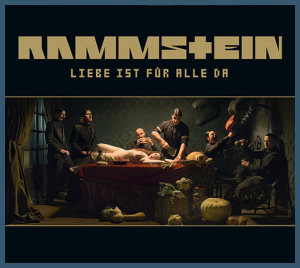 «Liebe Ist Für Alle Da»
New Rammstein album «Liebe Ist Für Alle Da» will released on October 16th via Universal in Europe and on October 20th via Vagrant Records in US. It will available as regular CD and 2 disk Special Edition.
Tracklisting:
[01] Rammlied 05:19
[02] Ich Tu Dir Weh 05:02
[03] Waidmanns Heil 03:33
[04] Haifisch 03:45
[05] B****** 04:15
[06] Früehling In Paris 04:45
[07] Weiner Blut 03:53
[08] Pussy 04:00
[09] Liebe Ist Für Alle Da 03:26
[10] Mehr 04:09
[11] Roter Sand 03:59
Total Time: 46:07
Bonus tracks (Special Edition only)
[12] Führe Mich 04:34
[13] Donaukinder 05:18
[14] Halt 04:21
[15] Roter Sand (Orchester Version) 04:06
[16] Liese 03:56
Total Time: 22:16
[ Check releases 2001 | 2002 | 2003 | 2004 | 2005 | 2006 | 2009 ]
[ © 2009 shout! - all right reserved. Compiled on materials from official rammstein web site and our own sources, by alex davie. ]