REISE, REISE: ANOTHER TRIP WITH RAMMSTEIN
Last updated 10.09.05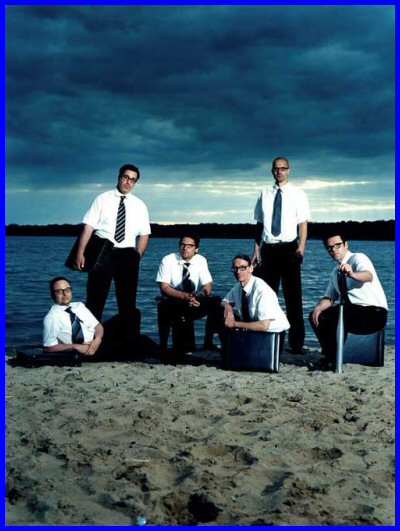 RAMMSTEIN 2004
Our favorite German industrial rockers Rammstein will release their new album «Reise, Reise» («Trip, trip») on September 20th, 2004 (via Universal).
The basic style of Rammstein has of course stayed the same. But it is heavier in a way, it's more rockish than the earlier albums and the sound is a bit more natural. It's more organic and dynamic. It's not so perfect, so controlled anymore. Rammstein have worked more as a live band and they haven't used computers that much.
Making the new album was hard, since band didn't have any song ready waiting on the shelf. To make them took over half a year. On the upcoming disc there will be a lot phrases on various languages (English, French and Russian) and the finishing of them took a long time.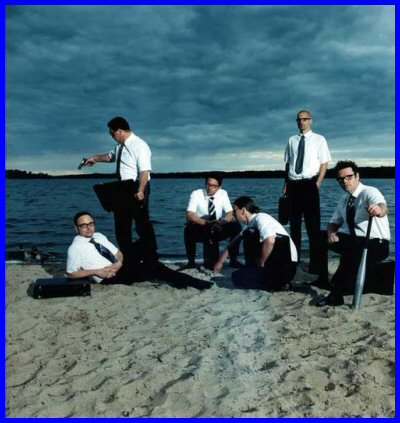 RAMMSTEIN 2004
New Rammstein's single «Mein Teil» was released on July 26th in Germany. «Mein Teil» («My Part») replete with the sextet's trademark brand of chugging beats and venomously-delivered vocals, centres around the actions of Armin Miewes, the 42-year-old German computer analyst who was charged earlier this year with cannibalising Bernd-Juergen Brandes, a man he met over the internet. The song title refers to the couple's attempt to fry and eat Brandes' severed penis.
As always, Rammstein did excellent video, which features vocalist Till Lindemann receiving oral sex from angel, which he then devours. Other stand-out images include Kruspe-Bernstein locked in mortal combat with his double, and drummer Christoph Schneider dressed as woman leading his leashed bandmates through the streets of Berlin.
New tour starts in November, and it will go over Christmas until the end of January or even February. At the moment Rammstein are working hard on creating a scenography and a new show, and it will hopefully be extremely amazing as always.
RAMMSTEIN 2004
Electro-metal fire maniacs - a brief hystory of Rammstein
All was started as side-project of Christoph (drums), Richard (guitar) and Oliver (bass).
Where they wanted to realize some musical ideas that weren't suitable for their bands.
Sometime later Till (vocal) joined them.
First four demos, made by these fours, won a right to record in studio.
New members Flake (keyboards) and Paul (guitar) transformed «side project» Rammstein into «real» band.
All of them leave their previous bands and women.
Such songs as «Rammstein», «Weisses Fleisch»», «Der Seemann», «Das alte Leid» featured excitement, fury and ่ grief.
Demos of these four songs played important role in future, when Rammstein signed contract with Motor Music.
In May 1994 they started cooperation with manager Emanuel Fialik (Bobo In White Wooden Houses).
September 1994 - first contract with Motor Music.
After Hamburg concert in December 1994 Jacob Hellner (Clawfinger producer) promised to produce Rammstein debut album.
A then…: around 500 live concerts around the world; more then 3 millions sold CDs; «Gold» and «Platinum; discs in Germany, Austria, Sweden, USA and Canada; nomination to «Grammy» Award etc.
So they have:
- Tempting german lyrics
- Thundering guitars
- Charming choruses
- Heavy samples
- Machine rhymes
all that we know as
Rammstein
!
Band members
Till Lindemann - vocal
Born 04.01.1964, Capricorn
Vice Champion in Junior Swimming
Lived lonely, braided baskets, played drums in punk group, wrote poems.
Oliver Riedel - bass
Born 11.04.1971, Aries
Played on bass since 21 years old.
Year later played in Inchtabokatables and after two years - in Rammstein.
Christopher Schneider - drums
Born 11.05.1966, Taurus
Played in some indi bands.
Paul H. Landers - guitar
Born 09.12.1964, Sagittarius
Spent his youth in Russia
Played on guitar in Feeling B.
Christian Lorenz - keyboards
Born 16.11.1966, Scorpion
Has classic musical education (piano)
Played in various Rhythm & Blues bands
Played on keyboards in Feeling B
Nickname - «Flake».
Richard Z. Kruspe-Bernstein - guitar
Born 24.06.1967, Cancer
Master in Junior Sport Struggle
Played in Das Auge Gottes (it was titled Das elegante Chaos that time).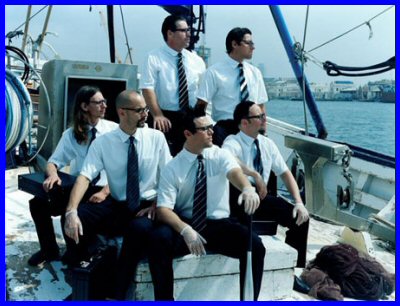 RAMMSTEIN 2004
[ © 2004 shout! - all right reserved. Compiled on materials from official rammstein web site and our own sources, by alex davie. Photos by Olaf Heine. ]