Releases 2009
Last updated 18.02.09
ęCan You Feel?Ľ (single)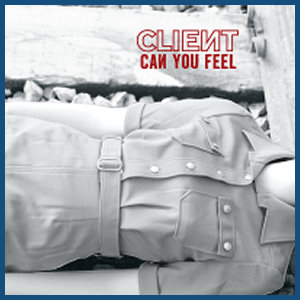 «Can You Feel»
Electropop femmes fatales Client released new and hot download only single «Can You Feel», the first release ahead of the upcoming album «Command». The London trio have taken a slight twist this time and the music has become a little heavier, a little dirtier, a little more modern, but still just as elegant. The single is produced by Martin «Youth» Glover (The Verve, Primal Scream, Killing Joke, Paul McCartney, etc.) who also contributes on bass and guitar.
Client always offer many mixes and without any real surprise their music manages to seduce many to do them! Amongst the mixers this time we have tracks from Finnish electronica and house legend Jori Hulkkonen, China resident LIman, exciting new Swedish producer Platimatic and electro lunatic Kindle from London.
Tracklisting:
[01] Can You Feel (Radio Edit) (3:29)
[02] Can You Feel (Jori Hulkkonen Remix) 6:33
[03] Can You Feel (Jori Hulkkonen Dub Mix) 6:33
[04] Can You Feel (Beijing Remix] 4:34
[05] Can You Feel (Platimatic Remix) 6:36
[06] Can You Feel (Kindle Remix) 4:32
[07] Can You Feel (Extended) 5:31
ęCOMMANDĽ (album)
«Command»
Our favorite British Client are back! The stylish ladies with their skilful hands for electronic music are plunging us headlong into an addictive maelstrom of groovy minimal disco, mingled with the coolness of new wave and an unerring pop sensibility. Compared to the big scale cinemascope-sound of «Heartland», Client have returned to their very essence: «Command» is a raw and straightforward production dominated by analog synthesizers and minimal electro arrangements with full, club-friendly beats. Following the credo that less very often equals more, the trio has conjured up a highly versatile album from these basic ingredients. Bare bone dance tracks such as «Believe In You» or «Satisfaction» breathe the foggy air of trendy clubs, the sinister «Donít Run» is a gripping little sonic angst scenario and songs like «Can You Feel» are perfect pop tunes.
«Command» will be released March 6th, 2009 via Out Of Line. The first Limited Edition comes as a double CD with Bonus CD.
Tracklisting:
[01] Petrol
[02] Can You Feel?
[03] Donít Run Away
[04] Make Me Believe In You
[05] Lullaby
[06] Ghosts
[07] Satisfaction
[08] Son Of A Gun
[09] Blackheart
[10] In My Mind (Half Life)
Bonus CD
[01] Can You Feel? (Jori Hulkkonen Remix)
[02] Soldier
[03] Petrol (Remix by Auto-Auto)
[04] Can You Feel? (Kindle Remix)
[05] Can You Feel? (Beijing Remix by LIman)
[06] Can You Feel? (Video clip)
[07] Itís Not Over (Video clip)
[08] 6 In The Morning (Video clip)
[09] Can You Feel? (Making Of)
[ Look at releases 2003 | 2004 | 2005 | 2006 | 2007 | 2009 ]
[ © 2009 shout! - all rights reserved. Info taken from official CLIENT web site and from our own sources, compiled by alex davie. ]