Our exclusive interview with CLIENT (January 2006)
Last updated 31.03.06
Client
Some intro questions
Alex: Girls, first question is: how did you spent your 2006 New Year Eve? Maybe it was something special for you, dear girls?
Kate: Ha ha - we were in deepst Rotherham recording our demo's.
Band
Alex: In late 2005 you invited new band member - Client E (Emily Strange). Please tell some details... who is she?.. Where did you meet?
Kate: We met Emily at our club «Being Boiled». She looked cool and was lying on the floor after too much vodka - when we found out she played the bass we wanted her!
Alex: Why you decided to be transformed from duo to trio?
Kate: A natural progression.
Alex: How much your band image will be different this year?
Kate: More of the same but different! Brown leather and gold. Secretary meets a prison guard.
Alex: By the way, who is responsible now for your image? And for design of your CDs?
Kate: We are 100%.
Alex: Talking about Client we have to mention Mr. Andrew Fletcher [smile] Fletch is still a kind of executive producer for Client, or no? Last year he worked a lot as Depeche Mode, now he is on long lasting World Tour ­ is it mean something for Client? Less support etc?
Kate: We haven't seen Andy since he has been with DM all 2005!!!! Although Sarah and Emily saw him and Martin at the Prague aftershow!
Sarah
City
Alex: Your album «City» was much darker, much musically rich and much complete than your first one. How do you think, Client finally grow up from that «sleazy electro» (as you, Kate, titled your own music three years ago)?
Kate: I think we are more of a rock and roll band now - we don't have guitars but we have synths instead.
Alex: «City» contains so sad and dramatically lyrics, mostly dedicated for various kinds (and stages) of love. I really like it, for me it makes wonderful atmosphere like for example The Cure's «Wish». Maybe it's a secret, but what kind of mood inspired you to wrote such lyrics?
Kate: Well, Sarah was sad when she wrote the lyrics, I was pensive.
Alex: What «City» track you (Kate, Sarah) like more and why?
Kate: I like the track «Everything Must End» the best. Sarah likes «In It For The Money».
Alex: Seems «City» was much successful Client album than your debut one. How do you think why?
Kate: We had The Libertines on it and it was a better album.
Kate
New album
Alex: If we start to talk about your new album... is it ready?
Kate: We have the songs now - but not finished by a long way!
Alex: How many songs were written this time?
Kate: We have over 20 new songs.
Alex: How you can describe it (especially compared with «City»)?
Kate: Well, at the moment it is still on my computer. We are going to be releasing a free demo MP3 album called «The Rotherham sessions». We will also be selling this on the Covenant Tour. It is 7 new demo's.
Alex: Do you invite some guest-artists again?
Kate: We will be!
Alex: When and where (which label) you plan to release it?
Kate: 2006 - label unsure at the moment!
Alex: You have a bunch of great promo videos... how about an idea to put them on DVD to release together with new album? It would be very cool!!!
Kate: Would love to.
Emily
Projects
Alex: I heard that you collaborated with German industrial legends Die Krupps, and did a cover version of track «Der Amboss» from Visage. Please tell a behind story for this amazing project.
Kate: I met them in a café in Dusseldorf and was transported to their studio. It was exciting, an honour.
Alex: Also I know about your work with German band Moonbootica, and Replica from Mexico. How much you were involved in this projects?
Kate: Moonbootica was sending a vocal to them after listening to their track. Same for Replica, but we were going to make a video for that track so we feel really involved. We love Mexico.
Alex: Sarah, do you consider all offers? Would you like to work together with Russian synth/electro band too? [smile]
Sarah: Of course! But I may find it hard to sing in Russian!!
Alex: Kate, tell some behind story about your own record label, Loser Friendly. Why you started it? Maybe next Client album will be released via it?
Kate: We will release next Client album in the UK on this label and will license it in Europe - it is really exciting to be in control and to make all the decisisions now.
Client
Internet
Alex: Client's official web-site just changed layout and design... it satisfy you more than previous version? Will it have any new extra features?
Kate: We will now do regular podcasts for free download form i-Tunes. We just did the video of «Down To The Underground» and it went to No. 14 in Germany! On the i-Tunes Podcast chart.
Alex: Your forum looks to be very popular among your fans. How much your personal attention you pay for it? I noticed that Kate and Emily are active in threads, but I can't remember if I saw Sarah there [smile]
Kate: Sarah can't work the internet!!!
Alex: Beside official site and forum you have Myspace page. What moved you to start one more web place for Client? Do you enjoy atmosphere of Myspace community?
Kate: Myspace is easier to update and we seem to be getting a lot of fans from it - so it is reallly positive I think- the way forward for music and lessons the need for a big record label to market you as you can do it yourself!
Alex: As I see, you very often use digital download and so called iCDs as way of distribution your releases. Do you like an idea to sell music in electronic form? Is it works for your band?
Kate: We want to concentrate on digital downloads for further releases definitely.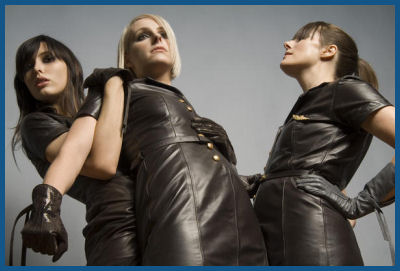 Client
Personal questions
Alex: Sarah, when you started to sing? Did you take vocal lessons? Do you like to sing in bathroom? [smile]
Sarah: I sang from when I was a small child - yes in the bathroom - how did you know?!!
Alex: I always wonder that you, Kate, didn't sing any Client song as main vocals... Maybe you did it with other projects?
Kate: My voice is not very good though I did sing with the Drum Club.
Alex: And personal question for Emily: how do you feel being one of Client girls?
Emily: Love it!!
Alex: We all know your stage image... very glamour & stylish... but it's a big mystery for us what do you like to wear in regular life.. Could you mention your favorite clothes? Do you follow fashion trends or something?
Kate: We love all clothes but love especially to think up the next Client look.
Alex: Your favorite perfume at the moment?
Kate: Chanel no 5
Emily: Marc Jacobs «Blush»
Sarah: Gucci «Rush»
Client
Some final questions
Alex: So finally what in Client plans for year 2006?
Kate: Gig, record the album... We have started a track with Stephen Hague and we start 3 tracks with Youth next week - really exciting - we are thinking about guest vocalists too and are looking forward to playing with Mesh and the Charletons.
Alex: And classic final question: what you like to say or wish your devoted Russian fans? (each of you)
Kate, Sarah: We LOVE Russia!!!
Emily: Can't wait to visit Russia for the first time!
Alex: If for me, I would like to wish you successful tour, a lot of joy and fun! And I hope to see you in Moscow this year again! ) Thank you very much for your answers!!!
Emily
[ © 2006 shout! - all rights reserved. Exclusively for SHOUT! Online, taken by alex davie via e-mail in January 2006. ]