Latest News - March 2008
Last updated 15.03.08
[
14.03.2008
] -
«That Night» - new Obscenity Trial album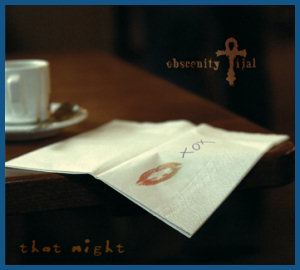 «That Night»
German synthpop band Obscenity Trial will release new album «That Night» on May 16th, 2008 via Major Records as digipack. Also it will released under license in Russia via Gravitator Records as jewel case.
Tracklisting:
[01] Personal Daemon
[02] That Night
[03] Go Away
[04] Lecture (No Club Mix)
[05] My Mind Your Mind
[06] Cinderellas Palace
[07] What Is It For
[08] So Easy
[09] This Place
[10] Wenn Du Fällst
[11] Inside Out
[12] Just Another Bad Dream
All tracks produced by Oliver Wand, except «My Mind Your Mind», «That Night» and «What Is It For» produced by Olaf Wollschläger and Oliver Wand.
Obscenity Trial will present their new album to Russian public during live performance in Moscow «Strangel » club on July 5th, 2008.
Info submited by official Obscenity Trial web site.
[
14.03.2008
] -
New single from Unheilig
«An deiner Seite»
German artist Unheilig will release single «An deiner Seite» (Cat.No.: FRE CD 022) on March 28th, 2008 via Fourrock.
Tracklisting:
[01] An Deiner Seite (Radio Version)
[02] An Deiner Seite
[03] Goldene Zeiten (Clubmix)
[04] An Deiner Seite (Video)
Info submited by official Unheilig web site.
[
14.03.2008
] -
Second new single from Goldfrapp
«Happiness»
Second new single from Goldfrapp is «Happiness» set to release on April 14th, 2008 via Mute. Single will available in 3 commercial formats: Limited Edition Picture Disc 7", CD and LCD.
Tracklistings:
Limited Edition Picture Disc 7"
Cat.No.: MUTE392
[01] Happiness (Single Version)
[02] Happiness (Metronomy Remix Featuring The Teenagers)
CD
Cat.No.: CDMUTE392
[01] Happiness (Single Version)
[02] Road To Somewhere (Acoustic Version)
LCD
Cat.No.: LCDMUTE392
[01] Happiness (Beyond The Wizards Sleeve Re-animation)
[02] Monster Love (Goldfrapp vs. Spiritualized)
[03] Eat Yourself (Yeasayer Remix)
Info submited by Mute Records.
[
14.03.2008
] -
Melotron started work on new album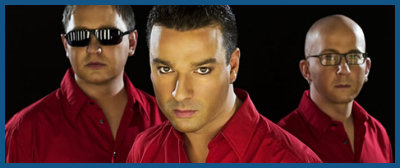 Melotron
Finally good news from Melotron camp! Andy, Edgar and Hilde recently announced that the work on a new Melotron album is already started. More news will follow.
Info submited by official Melotron web site.
[
12.03.2008
] -
New Fixmer/McCarthy album
«Into The Night»
The new Fixmer/McCarthy album called «Into The Night» will released worldwide in May 2008 via SPV, except France and Japan - via Citizen Records (well known as label of French artist Vitalic).
Tracklisting:
[01] Into The Night
[02] Like Voodoo
[03] Banging Down Your Door
[04] Love The Night
[05] Look To Me
[06] And Then Finally
[07] Blood And Music
[08] Pistol Whipper
[09] A Great And Distant Silence
[10] Tonight I Sleep
[11] Hate Me
[12] Trans European
[13] Make War
[14] Tonight I Sleep (Original Version)
Info submited by official Fixmer/McCarthy web site.
[
12.03.2008
] -
«Hard Candy» - new album from Madonna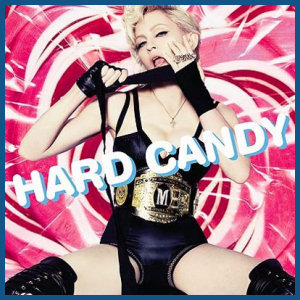 «Hard Candy»
New Madonna 11th album titled «Hard Candy» and set to release on April 28th, 2008 worldwide and on April 29th, 2008 in the USA. It completes her contract with Warner, the label that signed her to its subsidiary, Sire Records, in far 1982. For the latest batch of songs, she has teamed up with Justin Timberlake, Timbaland and Pharrell Williams (The Neptunes).
Among the tracks fans will hear on this next outing is «She's Not Me», which Madonna describes as «the ultimate jilted lover song» and «Spanish Lesson», which was inspired by the Latino dance craze, The Percolator.
Of the song «Incredible», she said: «That's not about my career, that's about a relationship. It's not even necessarily about me, but it's the idea that often at times we take people for granted and we lose our sense of appreciation for them. Then something goes wrong and all you can think about it is how you want to get it back to the way it was, because it was incredible. So sometimes you almost have to lose something before you can appreciate it.«
So complete tracklisting is:
[01] Candy Store
[02] 4 Minutes
[03] Give It 2 Me
[04] Heartbeat
[05] Miles Away
[06] She's Not Me
[07] Incredible
[08] Beat Goes On
[09] Dance 2night
[10] Spanish Lesson
[11] Devil Wouldn't Recognize You
[12] Voices
Info submited by various official sources.
[
12.03.2008
] -
«Temptation» - cover and tracklisting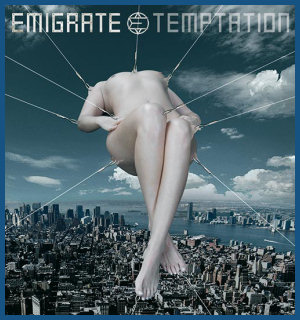 «Temptation»
New Emigrate single «Temptation» was released March 7th. As already announced this single can easily be called an Emigrate hit compilation. Just look at tracklisting:
[01] Temptation
[02] Face Down
[03] I Have A Dream
[04] New York City
[05] My World
[06] My World (Video)
[07] New York City (Video)
Info submited by official Emigrate web site.
[
12.03.2008
] -
Electro pop duo The Light Panic from Moscow releases debut album
The Light Panic
Not everyone might know much about the musical preferences of Russians, but it is no secret that electronic pop music has a lot of friends among them. Singer and DJ Alisa and composer Paf Noot are two of them. They both met in Autumn 2006 in Moscow. The duo calls itself The Light Panic, and its creativity also roots in the differences of the two musicians. Die diverse musical tastes and personalities of Alisa and Paf Noot merge in an enthralling synthesis, which in turn many different people can respond to.
The Light Panic is electro pop, which sometimes casually remind the listener of pioneers like OMD, but sounds totally fresh nevertheless. Thatís why on the debut album «You Can Choose» nothing is predictable. Track «Instant» starts out innocuously, but develops into a crescendo of loud guitars. Then, in the instrumental «I.F.L.A.», a harmonic piano dominates, before «Give Me» strikes a more aggressive note again. The synth melodies on the whole album are sometimes crystal clear, sometimes distorted Ė as is Alisaís voice, which rarely is the center of it all, but is just one medium of seemingly endless ones for the band to express themselves.
«You Can Choose» will out March 15th via Major Records.
Tracklisting:
[01] Hey You 2:53
[02] American Boys 2:58
[03] You Can Choose 3:43
[04] Plastic Panic 3:13
[05] Instant 3:12
[06] I.F.L.A. 4:48
[07] Give Me 3:20
[08] War With... 1:53
[09] Indian Tragedy 4:16
[10] Air 3:44
[11] Eleventh 3:27
Info submited by Major Records.
[
12.03.2008
] -
«Synthphony REMIXed! Vol. 8»
«Synthphony REMIXed! Vol. 8»
Synthphony Records will release new compilation «Synthphony REMIXed! Vol. 8» on April 18th. This release will hold bonus second disc, in fact a full album which contains Arsine Tibé (a.k.a. Manfred Thomaser)'s instrumental album «Lounge Noire». «Lounge Noire» was created between 1996 and 2002 and includes the original version of «Ghost» (later produced by Olaf Wollschläger for !Distain's album «25 Frames A Second»).
For this 8th volume Manfred Thomaser remixed 12 tracks, among them indie-classics by In The Nursery, Das Ich, Catastrophe Ballet, Girls Under Glass and Sara Noxx. For most of the tracks Tibé just worked on the original vocals. Das Ich's «Gottes Tod» for example was thrown into a jazzy-underground-sound.
Tracklisting:
CD1
-
«Synthphony REMIXed! Vol. 8»
(remixed by
Arsine Tibé
)
[01] Girls Under Glass - Deliverance (Redemption Mix)
[02] Sara Noxx - Night In My Hands (Handful Of Nights Mix)
[03] Das Ich - Gottes Tod (Beyond Mix)
[04] ChantaL. - Never Stay (Arrival Mix)
[05] In The Nursery - Shonen No Hi (Cinemix)
[06] Essexx - Violent Heart (Fundamental Mix)
[07] Arsine Tibé - Genetic Sample (Cryptic Mix)
[08] Arsine Tibé feat. Seyhan - Yalnizlik (Rascal Mix)
[09] !distain - Chaotic Brain (Previously Unreleased Track Mix)
[10] Catastrophe Ballet - Consequently (Roots Mix)
[11] Soulsec - Postcard (Mr. Postman Mix)
[12] Mike Ease feat. Natali - Another Step (Lounge Noire Mix)
CD 2
-
Arsine Tibé
-
«Lounge Noire»
(Bonus CD)
[01] 10:15 At Lounge Noire
[02] Entangled In A Female Vampireís Kiss
[03] Detective Privée (The Erotic Investigation)
[04] Dawncopter
[05] Lighthouse Over The Horizon (1st Version)
[06] Watching A Spy Movie At Lounge Noire
[07] Ravetech
[08] Monsieur Tibé On 80s Vacation
[09] Defragmentation Of The Mind (The Cinema)
[10] New Age 2000
[11] Easy Traffic On The Road To Bossa
[12] Distance Ė A Question Of Velocity
[13] Ice Age
[14] Mr. Grave (Ein Tag am Meer)
[15] A Copís Dawn
[16] Spaceline
[17] Ghost (Original Version)
Info submited by official !distain web site.
[
12.03.2008
] -
Music Non Stop has now officially stopped trading
Music Non Stop
It is with great regret that we have to announce that after 9 years well known online music store Music Non Stop has now officially stopped trading.
Despite their never-ending efforts over the last year, and a concentrated attempt to soldier-on in some form or another in the past weeks, it has regrettably come time to call it a day. There are a number of factors that have resulted in this sad conclusion, some of which include the current exchange rates of the euro and the dollar against the pound, the lack of consistent «big name» releases in this scene, increase in distributor and day to day running costs, and other methods now available of obtaining new music, to name but a few. This respected store have always tried to deliver the best for their customers. They have also tried their best to push and promote smaller labels and bands to try and help artists get more exposure.
As a result store sadly have to report that all outstanding orders have had to be cancelled. Store apologise for the inconvenience that this will cause.
Check Music Non Stop web site for more details.
Info submited by Music Non Stop online music store.
[
05.03.2008
] -
«KMFDM 24/7»
«KMFDM 24/7»
Celebrating the 24th Anniversary of KMFDM, KMFDM Records announces «KMFDM 24/7». «KMFDM 24/7» is a series of 24 7" vinyl singles featuring tracks from the band's original 12" singles and classic album cuts. Singles will be released on the first of every month in the order they were originally released for 24 months culminating on February 1st, 2010 with a brand new exclusive single.
Each of the 24 singles will be released in a Limited Edition first and only pressing of 250 copies. All tracks have been remastered specifically for vinyl by the same crew who did the incredible remaster work on the KMFDM classic CDs. Cover art for all the singles will feature original classic KMFDM artwork by Brute! (except the first release, which is by Jr. Blackmale).
These singles have been created with the highest level of involvement from KMFDM founder and leader, Sascha K.. Some songs in this series will appear in remastered form for the first time and some will be making their first appearance on vinyl ever.
Pressed on classic black imported 70g virgin vinyl, each 33 1/3 rpm single has color center labels with a small center spindle hole (so no adaptor is required for playing). The vinyl is housed in a dustless inner sleeve with the center label area cut out for easy viewing. The color outer jacket is made of virgin paper offset printed in the USA with UV resistant ink. Each single comes in a protective 4 mil poly bag to guard against wear from handling.
The first release in the «KMFDM 24/7» series is the «Kickin' Ass» single featuring «Kickin' Ass» and b-side «Itchy Bitchy». «Kickin' Ass» is out March 1st, 2008 and available now.
The «KMFDM 24/7» series is available exclusively from the KMFDM Store. One order for each 7" will be chosen at random to will receive a free test pressing of that 7" single in addition to the regular 7" ordered. Each order will have a 1 in 250 chance of receiving the free test pressing. This free test pressing being given away is one of only 5 made.
All «KMFDM 24/7» singles will be shipped in reinforced 200# test crush free cardboard 7" boxes with 200# test cardboard filler pad to insure undamaged receipt.
The next «KMFDM 24/7» release will be «Don't Blow Your Top» with b-side track «Disgust», out on April 1st, 2008.
Info submited by official KMFDM web site.
[
05.03.2008
] -
«Ghosts I-IV» - startling release from NIN!
«Ghosts I-IV»
Cult producer Trent Reznor has just released a startling two and a half hours of new Nine Inch Nails audio via the bandís web site entitled «Ghosts I-IV». Introducing yet another innovation in audio release via the web, Reznor has made the first nine of the collectionís startling 36 tracks available for free with hopes that they may entice each user to pay the minuscule $5 for the entire set.
So there are 2 digital versions: Free Download and $5 Download.
Free Download «Ghosts I» - The first 9 tracks from the «Ghosts I-IV» collection available as high-quality DRM-free MP3s (320kbps LAME encoded, fully tagged) including complete 40 page PDF. Also includes the digital extras pack - various wallpapers, icons, and graphics tools for your computer, website, profile, etc.
$5 Download «Ghosts I-IV» - All 36 tracks in a variety of DRM-free digital formats (320 kbps LAME encoded, fully tagged; FLAC Lossless; Apple Lossless) including a 40 page PDF. Also includes the digital extras pack - various wallpapers, icons, and graphics tools for your computer, website, profile, etc.
Also Trent Reznor has made a number of fantastic physical versions of the release available for sale as well:
$10 2CD Set «Ghosts I-IV» - 2 audio CDs in a gatefold digipak package with a 16-page booklet. Includes immediate DRM-free download of the entire collection in same choice of formats as $5 Download option. Download will include the 40 page PDF and the digital extras pack - various wallpapers, icons, and graphics tools for your computer, website, profile, etc. This configuration will be released to retail in North America (April 8th), Australia (April 5th), the UK (April 8th), Japan (April 5th) and most European territories (April 8th).
$75 Limited Edition Deluxe Package «Ghosts I-IV» - Hardcover book holding 2 audio CDs, 1 data DVD of all 36 tracks in multi-track format (in .wav files readable by Mac and Windows), and Blu-ray disc featuring stereo recordings in high-definition 24 bit 96Khz with exclusive slide show. Includes immediate DRM-free download of the entire collection in all formats and with all extras mentioned above. Also includes 48-page hardcover of photographs by Phillip Graybill and Rob Sheridan. Discs and art book both housed in fabric slipcover.
$300 Ultra-Deluxe Limited Edition Package «Ghosts I-IV» - Contains all elements from Deluxe Package, along with exclusive 4xLP 180-gram Vinyl Set, and 2 Limited Edition Giclee prints available exclusively in this package. Disc book, art book, and prints are all housed in a fabric slipcover. 4xLP Vinyl Set comes in its own fabric slipcover. Includes immediate DRM-free download of the entire collection in all formats and with all extras mentioned above. Limited to 2500 pieces, numbered and personally signed by Trent Reznor.
Slightly under 2 hours after the release hit the Internet the flurry began with nin.com bulging with download / order requests, so not surprising that the site is time to time temporarily down after feeling the stress from the weight of such incoming traffic.
Info submited by official Nine Inch Nails web site.
[
05.03.2008
] -
«Four perspectives by Anton Corbijn»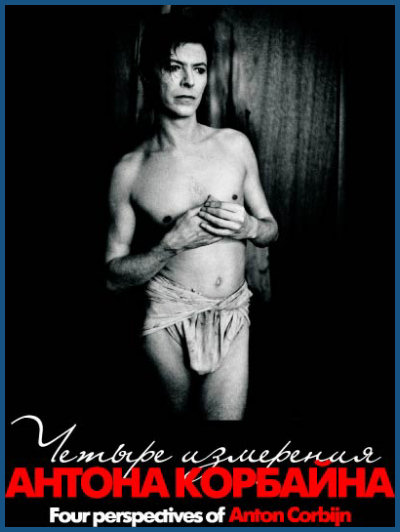 «Four perspectives by Anton Corbijn»
Representative Office of One-Go Events (Benelux), Russian State Center of Modern Art, Moscow Museum of Modern Art with support from Dutch Embassy present the exhibition «Four perspectives by Anton Corbijn».
From March 25th till May 4th at Moscow Museum of Modern Art (25 Petrovka St.)
Exhibition will open 12am šÓ 8pm. Entrance ticket ó 300 rubles. You will able to purchase them each day till 7pm.
Official press-release
Anton Corbijn is the person who created the style for most idols of modern pop culture. The members of Depeche Mode have announced him the fifth member of this beloved in Russia band ó he has created the visual part of the band and still does (including music videos, CD design, stage design). David Bowie, Mick Jagger, Martin Scorsese, Frank Sinatra, R.E.M., Bjork, Luciano Pavarotti, William Burroughs, Steven Spielberg, Takeshi Kitano, Kate Moss, Nirvana, U2 ó the list of celebrities who Anton has worked with is almost endless.
Driven by a desire to learn about various visual disciplines, he started in 1972 with photography and has over the 3 decades following made short films, music videos, designed stages, worked as a graphic designer and just has finished the work on his first feature film titled «Control» and immediately won the «Golden Camera» prize in Cannes 2007. His main focus though for all these years has been photography and that is what he is mainly presenting on these shows.
Anton's photographic work can be divided into 4 parts, 4 perspectives really:
The first part (1973 - 1988) is documented in a book «Famouz» and consists of black and white photographs of musicians, shot in a kind of documentary style. It is as he says, looking in from the outside. The images including those of Miles Davis, David Bowie, Captain Beefheart and Bono, are world famous photographs these days.
After that period in which he created a name for himself, he starts to shoot portraits in a different format and broadens his subject matter to include all kind of artists of different artforms. His most well known shots of that period 1988 - 1996 include those of Clint Eastwood, Frank Sinatra, Martin Scorsese, Marianne Faithfull, William Burroughs and Isabella Rossellini. He calls it looking in from the inside and the book that comes with these photos is titled «Star Trak».
The third stage is a attempt to look out from the inside: Anton is annoyed about what he sees around him in photographs of artists he loves as every bit of mystery is stripped away by the gossip magazines. His reaction is to create a series of photographs that mimic the papparazzi style but used in carefully created settings, thereby dressing up the lie as the unmasked truth. The photos are staged non-existing filmstills, a fake-papparazzi series of shots. They are put in a book called «33 Still Lives» and the tone of these photos is still monochromatic, but blue is the main color in them. Good examples of this are the photos of Robert De Niro, Danny DeVito, Nicolas Cage, Catherine Deneuve, Mel Gibson and Tom Waits, all taken between 1997 and 2000.
The last in the series of perspectives is the «a. somebody» photos which consists of selfportraits. These portraits are all taken on the island in Holland where Anton was born. He dressed up as deceased musicians for these. The idea shows a mix between his own obsession with the music world as a teenager and the focus on life after death of his very christian parents. The photos of Anton looking like Jimi Hendrix or John Lennon are magical. It is looking out from the outside and Anton feels that the circle is round after finishing this book in 2002.
His photographs not only feature in galleries and museums world wide but also on a lot of cover art for records such as those by U2, Depeche Mode, Rolling Stones, Metallica, John Lee Hooker, Bryan Ferry, Nick Cave, Killers and many more. Apart from the four books mentioned above, there are another 10 printed books and catalogues existing of his work.
The main feature which distinguishes Anton from many other photographers making shots for celebrities is the fact that he is not just photographer ó he is quite at home in celebritiesí society. He is the star #1 himself in the world of XX century music photography.
In other words, Anton Corbijn is the person whose works are the must-see.
Learn more about Anton Corbijnís works on his official website www.corbijn.co.uk.
Info submited by www.corbijn.ru.
[
05.03.2008
] -
Ladytron - new album and tour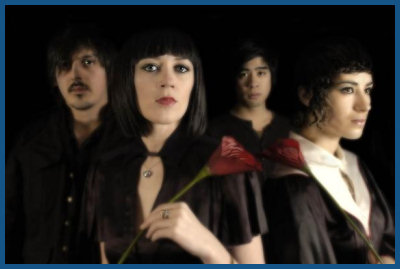 Ladytron
The British band Ladytron have just completed their fourth album «Velocifero». CD was recorded in Studio de la grande armee, Paris with additional collaboration and co-production with Alessandro Cortini (Modwheelmood, NIN) and Vicarious Bliss (Justice, DJ Mehdi). It was completed and mixed in Los Angeles with Michael Patterson (Beck, P.Diddy).
Album set to release on June 3rd via Nettwerk. Look at tracklisting:
[01] Black Cat
[02] Ghosts
[03] I'm Not Scared
[04] Runaway
[05] Season of Illusions
[06] Burning Up
[07] Kletva
[08] They Gave You A Heart They Gave You A Name
[09] Predict The Day
[10] The Lovers
[11] Deep Blue
[12] Tomorrow
[13] Versus
In other news: band announced first dates of their upcoming World Tour in Spring / Summer 2008:
Europe
April
30 - Manchester, UK - Academy 3
May
01 - Gent, Belgium - Vooriut
03 - Amsterdam, Netherlands - Paradiso
05 - Berlin, Germany - Postbahnhof
06 - Munich, Germany - Backstage
07 - Milano, Italy - Magazzini Generali
09 - Madrid, Spain - Forward Festival
10 - Valencia, Spain - Forward Festival
13 - Glasgow, UK - Oran Mor
14 - Newcastle, UK - Digital
15 - London, UK - Astoria
16 - Dublin, Ireland - Tripod
North America
May
20 - Edmonton - The Starlite Room
21 - Calgary - The Warehouse
23 - Vancouver - Commodore Ballroom
24 - Seattle - Showbox
25 - Portland - Wonder Ballroom
27 - San Francisco - Fillmore
29 - Los Angeles - Henry Fonda
30 - Los Angeles - Henry Fonda
31 - San Diego - The Belly Up
June
02 - Salt Lake City - In The Venue
03 - Denver - The Gothic
05 - Dallas - Palladium Ballroom
06 - Austin - Stubbs
07 - Houston - Meridian
08 - New Orleans - House Of Blues
10 - Orlando - Club Firestone
11 - Tampa - Czar
12 - Miami - Studio A
13 - Atlanta - Variety Playhouse
15 - Manchester - Bonaroo Festival
16 - St. Louis - The Pageant
17 - Chicago - Vic Theater
18 - Detroit - St. Andrews Hall
25 - New York - Terminal 5
26 - Philadelphia - Theater of Living Arts
27 - Baltimore - Sonar
28 - Washington - 9:30 Club
30 - Boston - Paradise
July
02 - Montreal - Metropolis
03 - Quebec City
04 - Toronto - Harbourfront Centre
Info submited by official Ladytron web site.
[
05.03.2008
] -
«Untitled Remix» from Client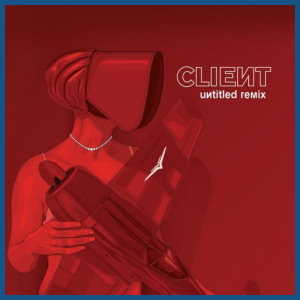 «Untitled Remix»
Our lovely UK girls Client has returned with thirteen track remix album simply titled «Untitled Remix». Their most popular tracks have been given new life through some of the most incredible remixes, and as if that werenít enough, special appearances were made by Nitzer Ebb / Fixmer-McCarthy front man Douglas McCarthy and Die Krupps!
«Untitled Remix» (cat. no.: MET 540) will out April 8th via Metropolis Records in the USA and via Out Of Line in Europe.
Tracklisting:
[01] Suicide Sister (With Douglas McCarthy)
[02] Drive (Eyerer And Namito RMX)
[03] Zerox (N Joi Radio Edit)
[04] Lights Go Out (Unterart Mix)
[05] Der Amboss (With Die Krupps)
[06] Drive (Dobro Lovemix by Boosta)
[07] Itís Not Over (Cherrystone Mix)
[08] Sorry (Replica Featuring Client)
[09] Itís Not Over (Lost Outside Mix)
[10] Suicide Sister (Zip Mix)
[11] Drive (Fuchs And Horn Remix)
[12] Itís Not Over (Kindle Remix)
[13] Drive (Rich Samuels Nightdriving Mix)
Info submited by official Client web site.
[
05.03.2008
] -
New release from Iris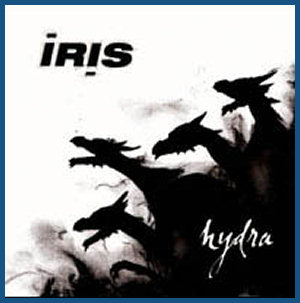 «Hydra»
American synthpop band Iris is back with a brand new release «Hydra» on March 25th. Like the many-headed mythological beast, «Hydra» takes the Iris sound and expands it through the heads of other notable producers. Featuring 3 brand new tracks, as well as remixes from bands like Mesh, Alpinestars, Conetik, Datguy, Benz & MD and Dan Kearley. Bundled together with a 30 min «Behind the Scenes» tour diary DVD, «Hydra» writes yet another chapter in the constantly evolving Iris story.
Tracklisting:
CD EP
[01] New Invaders
[02] Stop Breaking Your Own Heart
[03] Nobody Wins
[04] It Generates (Darker Days Mix V2)
[05] Wait Move On (Andrew's Detective Mix)
[06] Lands Of Fire (Datguy Mix)
[07] Vacant (Benz & MD Mix)
[08] 68 (Alpinestars Mix)
[09] Lands of Fire (Mesh Pyromix)
[10] Appetite (Datguy Mix)
[11] New Invaders (Beatnursery Mix)
[12] No One Left To Lose (Conetik Mix)
[13] Delivered One (Kearley Edit)
Info submited by official Iris web site.
[ © 2008 shout! - all right reserved. Compiled by alex davie. ]