Melotron - Releases '2002
Last updated 22.12.02
First new single «GIB MIR ALLES» (it means «Give me everything») was released on May 2002.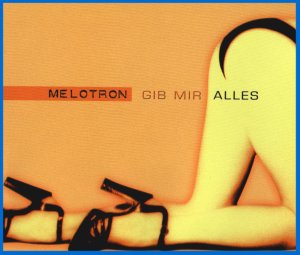 «Gib Mir Alles»
[01] Gib mir alles (4:41)
[02] Damals (5:24)
[03] Gib mir alles (NAWIEGEHTS - MUSSJA - Mix) (6:54)
[04] Sommer (4:05)
Sleeve details:
Bei melotron angestellt sind: Andy Krüger, Edgar Slatnow und Kay Hildebrandt. Alle Lieder wurden von Andy Krüger und Edgar Slatnow komponiert und getextet, außer «Damals». Dieses Stück wurde von R. Heil und Skolud geschrieben. Hörbar gemacht, haben das Ganze Olaf Wollschläger und Kay Hildebrandt in den WELTHERREN - Studios/Neuss. Musikalische Unterstützung erhielten melotron bei «Sommer» von Daniel Luci und bei «Damals» von Nico Lange. Gemanagt werden melotron von Robert Wolf/Artists Relation. Der grafische Entwurf für die CD und seine Umsetzung gelang Nadine van den Brock. Alle weiteren Informationen über melotron erhaltet Ihr im Internet unter: www.melotron.de.
Wenn Ihr schreiben wollt und könnt, ist dies in Form einer Email an info@melotron.de möglich oder per Brief an melotron / Postfach 101303 / D-17020 Neubrandenburg.
WELTFRIEDEN ist KÄUFLICH!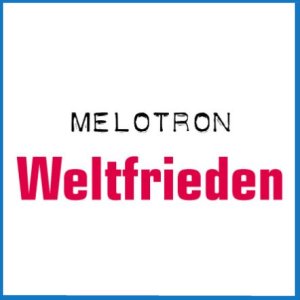 «Weltfrieden»
New Melotron's album titled «Weltfrieden» was released on September 16th. Album features 14 tracks (limited edition of album contain bonus CD with 20-min. track «Weltschmerz»).
Tracklisting:
[01] Welt du bist so still
[02] Gib mir alles
[03] Wach auf
[04] Wir sind!!!
[05] Digital
[06] Folge mir ins Licht
[07] Lilienthals Traum
[08] Brüder
[09] Stille
[10] Reich aus Glas
[11] Ich tanz die Welt fur dich
[12] Wohin?
[13] Glücklich
[ Album lyrics
here
]
Sleeve details:
Musik :
Andy Krüger
Texte:
Edgar Slatnow
Track
7
Musik und Text :
Reinhard Mey
, verlegt bei Maikäfer-Musikverlagsgesellschaft GmbH
Track
11
Musik :
Olaf Wollschläger
,
Andy Krüger
,
Ralf Gehle
Management :
Robert Wolf / Artist Relation
Produktion :
Kay Hildebrandt
&
Olaf Wollschläger
/ WELTHERREN Studios / Neuss
Vorproduktion :
melotron
&
Sieghard Schubert
/ FARMLAND Studios / Quadenschönfeld
Ton Assistenten :
Michael Schwabe
&
Chuck Mellow
/ MONOPOSTO
Studio / Düsseldorf
Gaststimmen bei
"Brüder" :
Dennis Ostermann
/ In strict confidence
"Wir sind !!!" :
Jeyenne
/ XPQ21
"Folge mir" :
Julia Beyer
/ Technoir
"Wach auf" : Kinderchor unter Leitung von
Christiane Terwelp
Gitarre "Glücklich" & & "Wach auf" :
Nico Lange
Verlag :
Arabella Musikverlag
/ BMG Ufa
Booking :
Pluswelt Promotion
/ www.pluswejt.de
Fotos :
Dirk Mathesius
/ www.dirk-mathesius.de
Informationen :
www.melotron.de
Kontakt
per Email : info@melotron.de
per Post : melotron
Postfach 101303
D @ 17020 Neubrandenburg
Wir danken allen Beteiligten für ihre Unterstützung!
[ Check releases 2003 | 2005 ]
[ © 2002 shout! - all right reserved. Compiled on materials from official Melotron web site and our own sources, by alex davie. ]