And One - releases 2003
Last updated 30.08.03
KRIEGER
(Cat. no. 7243 5474392 4)
«Krieger», new single of And One, was out on August 11th on Virgin Germany!
«Krieger» - front cover
Tracklisting:
[01] Krieger (Naghavi-Mischung) 5'53"
[02] Krieger (NoFuture-Popmischung von Olaf Wollschlager) 6'40"
[03] Krieger (Supersoft-Mischung von Oomph!) 4'04"
[04] Krieger (Radio-Fassung) 3'59"
AND ONE is:
Steve Naghavi (vocal & machines)
Chris Ruiz (computer & back vocal)
Gio Van Oli (computer & back vocal)
Produced, arranged and recorded by Steve Naghavi in «deutschmaschine tonstudio berlin»
Words and music: Steve Naghavi
Cover design by And One
(p)+(c) 2003 Virgin Music, a devision of EMI Music Germany GmbH & Co. KG.
Note that this CD is Copy Controled.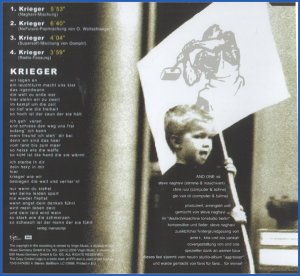 «Krieger» - back cover
«Krieger»
lyrics:
Wir legen an
Ein Leuchtturm macht uns klar
Das irgendwann
Die Welt zu Ende war
Hier stehn wir zu zweit
Im Kampf um die Zeit
So tief wie die Freiheit
So hoch ist der Zaun der sie hält
Ich geh voran
Und schiess den Weg und frei
Solang ich kann
Mein Freund ich steh dir bei
Denn wir sind das Heer
Vom Land bis zum Meer
So heiss wie die Waffe
So kühl is die Hand die sie wärmt
Ich sterbe in Dir
Mein Herz in mir
Hier
Krieger wie wir
Besiegen die Welt und verliern!
Nur wenn du siehst
Wer deine Leiden spürt
Nie wieder fliegst
Wenn Angst dein Leben führt
Wird mein Leben Dein
Und Dein Leid wird mein
So stark wie die Schmerzen
So schwach ist der Mann der sie fühlt
AGGRESSOR
(Cat. no. 7243 5931462 4)
And One released their new album, «Aggressor», on August 25th.
Tracklisting:
[01] kein anfang 2'02"
[02] schwarz 4'49"
[03] krieger 5'36"
[04] sternradio 4'37"
[05] speicherbar 3'47"
[06] fehlschlag 5'34"
[07] für immer 4'09"
[08] einstieg 2'06"
[09] strafbomber 4'22"
[10] fernsehapparat 3'11"
[11] tote tulpen 3'09"
[12] kein ende 1'15"
[ Check releases 2000 | 2003 | 2006 | 2008 ]
[ © 2003 shout! - all right reserved. Compiled on materials from various official and our own sources, by alex davie. ]