Releases '2000
Last updated 02.01.02
The new Recoil LP «Liquid» was released on March 6th 2000 (UK). The LP is available on 2 formats: CD and vinyl.
«Liquid», written and produced by Alan with additional production and sound design by PK, features nine new tracks and vocal contributions from fellow Mute artist Diamanda Galas, New York performers Nicole Blackman and Samantha Coerbell, gospel singers The Golden Gate Jubilee Quartet and Recoil fan and poet, Rosa M.Torras. Extra musicians include Curve's Dean Garcia (additional bass) and Steven Monty (drum sources), Merlin Rhys-Jones (guitar sources) from Ian Dury Blockheads and Hepzibah Sessa (violin, backing vocals).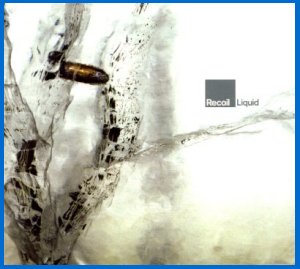 LIQUID (2000)
Full LIQUID tracklist (enhanced CD):
01.
Black Box (Pt.1)
2:48
Music: Alan Wilder
Narration: Reto Buhle
02.
Want
6:09
Music: Alan Wilder
Words: Nicole Blackman
Lead vocal: Nicole Blackman
03.
Jezebel
4:57
Music: Alan Wilder
Words: Trad./O. Wilson
Lead vocal: The Garden Gate Jubilee Quartet
Add. vocals: Diamanda Galas
04.
Breath Control
6:41
Music: Alan Wilder
Words: Nicole Blackman
Lead vocal: Nicole Blackman
05.
Last Call For Liquid Courage
5:29
Music: Alan Wilder
Words: Samantha Coerbell
Lead vocal: Samantha Coerbell
06.
Strange Hours
7:26
Music: Alan Wilder
Words: Diamanda Galas
Lead vocal: Diamanda Galas
07.
Vertigen
7:10
Music: Alan Wilder
Narration: Rosa M. Toras
Add. vocals: Diamanda Galas
08.
Supreme
6:54
Music: Alan Wilder
Words: Samantha Coerbell
Lead vocal: Samantha Coerbell
09.
Chrome
7:07
Music: Alan Wilder
Words: Nicole Blackman
Lead vocal: Nicole Blackman
10.
Black Box (Pt.2)
5:06
Music: Alan Wilder
Narration: Reto Buhle
11.
Strange Hours (video edit)
Multimedia track
UK CD - Mute Records STUMM 173
UK LP - Mute Records STUMM 173
[ Album lyrics
here
]
Album co-ordination: Roland Brown
Mastering: Mike Marsh at The Exchange
Artwork: Micheal Williams at Intro
Photography: Lee Funnell
Enhanced CD: Paul Taylor

Thanks to:

Hep and Paris, PK, Diamanda, Nicole, Samantha, Rosa, Reto, Monti, Dean, Merlin, Sonya Madan, Daniel Miller, Roland Brown and everyone at Mute, Anne Berning, Ineke Daans and all the licencees, Huw Price, Mike Marsh, Ian Duncan, Kevin Van Green, Mark Silver, Frank Oglethorpe, Flood, Norman Wattroy.

«Liquid» enhanced CD includes «Strange Hours» video, filmed at Intro, directed by Micheal Williams.

«Strange Hours» single followed the LP at the same date and include 2 extra tracks as well as 2 remixes. Single is an enhanced CD including all four Recoil videos. «New York Night» features vocals by Samantha Coerbell and «Don't Look Back» features vocals by Sonya Madan from Echobelly.
Strange Hours (2000)
«Strange Hours» tracklist (enhanced CD):
01.
Strange Hours (edit)
02.
Jezebel (Filthy Dog mix)
03.
New York Nights
9:06
Music: Alan Wilder
Words: Samantha Coerbell
Lead vocal: Samantha Coerbell
04.
Don't Look Back
5:58
Music: Alan Wilder
Words: Sonya Madan
Words: Sonya Madan
05.
Strange Hours (video)
06.
Drifting (video)
07.
Stalker (video)
08.
Faith Healer (video)
UK CD - STUMMMute 232
The LP and single artwork plus video promo for «Strange Hours» were directed by Micheal Williams at Intro.
«Strange Hours» enhanced CD includes the following Recoil videos:

1. Strange Hours - filmed at Intro, directed by Micheal Williams
2. Drifting - filmed at Swivel Films, directed by John Clayton
3. Stalker - filmed at Activate Films, directed by Alex Coburn
4. Faith Healer - filmed at State Films, directed by Angela Conway

Second single «Jezebel» (CDMute233) was released September 2000. Track 01 & 04 produced by Alan Wilder. Additional production and sound design: PK. Production assistance and co-ordination: Hepzibah Sessa. Track 02 remixed by Slick Sixty and Roger Johnson. Track 03 produced and remixed by Alan Wilder. Additional sound design: PK.
Jezebel (2000)
«Jezebel» tracklist (enhanced CD):
01.
Jezebel (edit)
4:29
Music: Alan Wilder.
Words: Trad. / O. Wilson.
Lead vocal: The Golden Gate Jubilee Quartet.
Additional vocals: Diamanda Galás.
02.
Jezebel (The Slick Sixty v RJ remix)
6:15
Music: Alan Wilder.
Words: Trad. / O. Wilson.
Lead vocal: The Golden Gate Jubilee Quartet.
Additional vocals: Diamanda Galás.
03.
Electro Blues for Bukka White (2000 mix)
7:55
Music: Alan Wilder.
Words: Bukka White.
Lead vocal: Bukka White
(taken from the track "Shake 'Em On Down" by Bukka White).
04.
Black Box (Complete)
14:25
Music: Alan Wilder.
Narration: Reto Bühler.
05.
Jezebel (video)
4:32
Directed by Richard Bell for State Films.
Info taken from official recoil web site.
COLLABORATORS OF NEW RECOIL ALBUM
SAMANTHA COERBELL - The first vocalist who agreed to travel halfway across the world in order to spend 5 days living in the middle of nowhere with people they know nothing about was Samantha Coerbell, a writer and spoken word performer. A native New Yorker with Trinidadian roots, she has been active on the NY poetry scene since 1991 and has performed with numerous musicians and writers. She holds a BFA in English Literature & Creative Writing from Brooklyn College.
In addition to providing guest vocals on various musical compilations, Sam also teaches creativity and performance workshops and has been a featured performer with Real Live Poetry in the U.S. and Apples & Snakes in the UK.
After hearing her perform on a spoken-word collection CD called «Flippin' The Script», Alan was impressed by her unusual approach to poetry and descriptive language.
NICOLE BLACKMAN - Nicole Blackman, a spoken-word performer from New York has been involved with a wide variety of musical projects, most notably supplying vocals on the darkly disturbing Golden Palominos album «Dead Inside», in addition to recording with Bill Laswell, Scanner and KMFDM. Her edgy work straddles the uncharted territory between page and performance, leaving the audience sometimes amused, more often unsettled, with pieces that are funny, poignant, edgy and disturbing - sometimes all at once.
«Everything I write is a bit burnt around the edges» she explains, «and I'm most intrigued by stories of people with strange attractions.» Blackman has produced four books - «Pretty», «Sweet» and «Nice» published in 1997, rounding off a trilogy of works she says are «back-handed compliments for women.» She has also recently published «Blood Sugar».
DIAMANDA GALAS - Diamanda Galas, internationally acclaimed vocalist, pianist, composer and poet has performed worldwide since 1978. She is the creator of the theatrical performances «The Plague Mass», «Vena Cava» and «Schrei X», as well as the concerts / recordings of «Malediction and Prayer»,«Judgement Day» and «Masque Of The Red Death». An extraordinary singer of unparalleled emotional intensity, she performs with a purity of intent which leaves her listeners breathless.
Her voice is one moment serpentine, the next a juggernaut. The subjects she addresses are profound and terrible; her response - rage and grief - beautiful and cathartic. In 1996, Serpents Tail published «The Shit Of God», a compilation of Galas' original performance texts and writing. In September 1999, she gave the world premiere of «Defixiones, Will and Testament» at the Gravensteen Castle in Ghent, Belgium.
THE GOLDEN GATE JUBILEE QUARTET - The Golden Gate Jubilee Quartet was the pioneer gospel / pop quartet of the 30's and 40's. Propelled by Willie Johnson (baritone) and William Langford (first tenor), they enjoyed massive acceptance far outside the church and their smooth Mills Brothers-influenced harmonies made them naturals for pop crossover success.
Together with Henry Owens (second tenor) and Orlandus Wilson (bass), they began recording for Victor in 1937 followed by National radio broadcasts and an appearance on John Hammond's 1938 «Spirituals to Swing» concert at Carnegie Hall
By 1941, the Gates were recording for Columbia (minus Langford) and movie appearances were frequent: «Star Spangled Rhythm», «Hollywood Canteen» and «Hit Parade» during 1943, to name a few. When experiments with R&B material didn't pan out during the late 40's, Johnson defected to the Jubilaires (in 1948). The group eventually emigrated to France in 1959.
Of the four original members, William Langford and Henry Owens died in 1970 while Willie Johnson became a Los Angeles bus driver, occasionally fronting a backup group for Phil Harris in Las Vegas.
Incredibly, it is still possible to see The Golden Gate Quartet today! Original member Orlandus Wilson anchors the group, still singing with his beautiful bass voice at the age of 83.
Recordings by The Golden Gate Quartet go in and out of print with frustrating regularity. The best are often available only on import labels. An excellent introductory CD, «Travelin' Shoes», contains 19 of the earliest recordings and is available from CD NOW.
ROSA M. TORRAS - Rosa M. Torras, a Recoil fan from Barcelona, came to work with Recoil after she responded to a request from Alan for anyone to send in a recording of themselves speaking in their native language. She is currently at university in Barcelona studying to be a translator.
SONYA MADAN - Sonya Aurora Madan is the vocalist with UK band Echobelly who first came to prominence in the early '90's. Aside from Sonya, the band consists of Swedish co-writer and guitarist Glenn Johansson and Andy Henderson on drums. Their first EP «Bellyache» (released on the independent Pandemonium label) was a veritable revelation to a world starved of such blatant pop excess and was soon followed, in 1994, by their debut album, «Everyone's Got One» (released on their own label, Fauve). The LP topped the independent charts in England, prompting former Smiths frontman Morrissey to pay Sonya a visit to encourage Echobelly to open for him on his US tour. With their instant pop sensibility and unique, voyeuristic outlook, it was no surprise that the band managed to smartly bypass all the pitfalls laid before them by an over enthusiastic music press and end 1994 with a Top 10 UK album and an undeniably successful world tour. The group could also count R.E.M.'s Peter Buck and Michael Stipe, and even Madonna among its growing fan base. The Material Girl also put her money where her mouth is, offering Echobelly a cool million to sign with her label, Maverick, but the band turned down the offer and opted for Sony's smaller, more personal label, 550. Their next album, "On" (produced by Shaun Slade and Paul Kolderie), made No. 1 on the indie charts. "On" was an altogether different creation to «Everyone's Got One», sounding more accomplished and confident. After more extensive touring, Echobelly's last LP, «Lustra», was released on Epic in 1997. More recently, they have been back in the studio working on new material for a forthcoming LP.
ADDITIONAL MUSICANTS - The first collaborative session for Liquid took place in the spring of '98 and involved recording rhythm tracks for source material. Drummer Steven Monty, bassist Norman Wattroy and guitarist Merlin Rhys-Jones were invited to The Thin Line. As Alans said, «I asked them to jam through a whole range of different styles and tempos. We recorded 2 and a half hours of material before transferring everything into Protools.» Ultimately, Alan used none of Norman's bass, preferring instead to commandeer the services and unique style of Curve's Dean Garcia «who descended upon the Wilder residence with his entire family in tow - a wife, 2 children and an enormous collection of Beanie Babies (we're still finding the little bastards in strange places to this day).» After improvising along to a couple of specific songs, his recordings were chopped up and rearranged to be used as additional bass parts on several different tracks. Alan comments: «This whole experiment to try and get a different starting point for the album was an interesting exercise but I wouldn't say it was 100% successful since it was quite expensive and much of the material wasn't really different enough to do anything with. I ended up using quite a lot of Monty's drums and some of the more special moments from Merlin but Norman, despite being technically proficient , was too complicated a bass player for my taste. Dean, on the other hand, is the complete opposite - very straightforward and to the point, with a great feel. He has the ability to make the most basic line sound really sexy, just with a simple slide.»
Hepzibah Sessa, Alan's [extremely] long-suffering partner, also contributed to the making of «Liquid» not only in the guise of unpaid studio / production assistant, tea-boy, cleaner and general «skivvy» but also by providing backing vocals and string parts. Noteworthy recordings included Alan making Hep learn, and sing, 3 lines of a song backwards which he then intended to reverse - a device used to great effect in David Lynch's «Twin Peaks». Hep says: «I was doing this quite difficult backwards thing for ages and wasn't getting any comments from either Al or P.K. However, from the vocal booth I could just make out P.K.'s shoulder which seemed to be «juddering» so I assumed that perhaps I sounded really good and they were just getting into the groove, as it were. Eventually I got pissed off and came out of the vocal booth to find the two of them bent double with laughter, tears streaming down their faces, playing this little ditty the right way round, over and over. I can't describe what it sounded like but it certainly wasn't anything weird and sinister. It sounded like someone who'd been given day-leave from the local home for the permanently bewildered - if you get my drift........and no, we won't be putting an MP3 file up on the website!»
Liquid's final contributor was the extremely large-lunged and big-hearted Reto Buhle, who apart from being a good friend of Alan and Hep's, has been involved with Mute acts for many years through his work at Intercord in Germany. Reto speaks excellent English which, coupled with his strong Swiss accent, seemed perfect for the narration on «Black Box». Then again, judging by he time it took him to master «The pilot said there was something on the radar» rather than «The peelot said there was something on the raaaadaaaar», it appears accurate pronunciation isn't perhaps his strong point - quite yet.
[ Look releases 2000 | 2007 | 2008 ]
[ © 2001 shout! - all right reserved. Compiled on materials from official recoil web site and our own sources, by alex davie. ]