RECOIL BIO 2000
MOVE TO DARK... RECOIL 2000
HISTORICAL EVIDENCE
Alan Charles Wilder was born in Hammersmith, West London on 1st June 1959, the youngest of three brothers. Surrounded by a passion for all things musical (something commonplace in the Wilder family), it was inevitable that he be encouraged to follow in their footsteps and take up the piano. By the time he graduated to St. Clement Danes Grammar School at the age of 11, he was already way ahead of his music class (having added the flute as a second instrument) and soon became a leading member of his School orchestra and 4-school Brass Band.
He continued to study the piano independently until his interest in Bach and Beethoven was being replaced by Bowie and Bolan, and his desire to play in the orchestra was tempered in favour of a yearning for less innocent past times.
By 1975, at the age of 16 (following moderate 'O' level success), a return to St. Clement Dane's to study for his 'A' Levels didn't appeal and after just one more term, he opted out, applied to every recording studio in London and eventually secured the position of Tape Op. (studio assistant) at DJM Studios in the West End.
Alan reflects: «I was great at the more musical aspects of studio work, such as tape editing, drop-ins etc, but useless when it came to the patch bay or routing the mic lines through to the tape sends.»
As DJM housed it's own record label, Alan found himself engineering on in-house productions as well as working with outside artists, and it wasn't long before his keyboard skills were being sought after for session work. Inevitably, this demand for his services and his desire for a more creative role, would lead him away from his current position and he remained with DJM Studios for just year before moving to Bristol to join one of their bands, The Dragons.
The Dragons released the single «Misbehavin» through DJM Records but after a frustrating lack of success and, more importantly, money, the group folded when the record deal eventually ran it's course.
Together with fellow Dragons bassist Jo Burt, Alan returned to London some 6 months later under his pseudonym «Alan Normal» - a necessity in the anarchic days of punk - to join newly-formed group Dafne and the Tenderspots. Though originally playing the restaurant circuit, the band unscrupulously manipulated it's style from dinner lounge schlock to «new wave», thus securing a deal with MAM Records.
After releasing «Disco Hell» in 1979 to a tepid response, the Tenderspots fell foul of a disinterested public and a lack of funds, leaving Alan to move on to his next group Real to Real. Signed to Red Shadow Records, they released several singles and an album entitled «Tightrope Walker».
Despite moderate success, Real to Real eventually suffered a similar fate to Alan's previous bands and he moved on to pastures new, playing keyboards with established but somewhat staid CBS group The Hitmen (whose lead singer, Ben Watkins, later went on to form Juno Reactor, a one-time Mute act). Boasting a minor hit with «Bates Motel», but not enough for a band who were on the rocks, it wasn't long before Alan was again hunting for work. However, this all too familiar cycle was about to change......
NEW LIFE
In 1981 Alan responded to an advert in Melody Maker requesting: «Keyboard player needed for established band - no timewasters.» After an initial meeting with Daniel Miller, head of Mute Records, he was invited to an audition at Blackwing studios. It was here that he was introduced to Depeche Mode; 3 school friends from Basildon, Essex who had tasted early success with their first album «Speak and Spell» together with recently departed member Vince Clarke, their chief songwriter.
Alan was required to demonstrate his skills playing along to one of their recent hits «New Life» amongst others, and although he impressed the band, Daniel remained unconvinced. After some debate and a second audition, the band eventually got their way and he was invited to join Depeche Mode, initially on a part-time basis.
Says Wilder: «The group clearly needed a replacement for Vince with a tour and other commitments on the horizon and his departure had come at an unexpected time after their early success. There was a lot of caution about me. They resented Vince for leaving and felt they needed to prove to him that they could carry on regardless. It was a question of pride I think, and they also didn't want to be seen as jumping into the «transfer market» to buy in a ready-made replacement.»
Thrown in at the deep end, Alan's first duties included a live tour in the U.S, along with a heavy schedule of T.V., press and promotion in conjunction with the latest releases «See You» and «Meaning of love».
During the summer of 1982, Martin Gore, David Gahan and Andrew Fletcher locked themselves away in Blackwing studios without Alan, to prove their point to Vince and made their second album «A Broken Frame».
Depeche Mode played a massive part in establishing Mute Records as one of the most successful and respected independent record company's in England, and the relationship between the group and Daniel Miller was crucial to this. Over the next year, Daniel began to form a much closer link with Alan. He had released the very first record on Mute, «T.V.O.D.», under the guise The Normal which embodied his interest in early German, largely experimental synthesizer music (Kraftwerk, DAF, Tangerine Dream etc.).
Alan came from a very different, more musical angle and yet the two found a compatibility and, more importantly, a common interest in their approach to the Depeche sound.
Together with Gareth Jones, Daniel and Alan's involvement in the production of the next album «Construction Time Again» in 1983 saw the sound of the group take a giant leap forward. Alan also contributed some of his own songs for the album as well as extra B-sides, although he would later admit that he felt obliged to participate in the songwriting process despite the fact that it didn't come naturally to him. His strength lay in the placement of sounds and the structuring of the music and his upbringing and exposure to classical orchestration was most certainly a factor in this.
As well as the introduction of samplers, one of the most noticeable changes to the Depeche sound at this time was a move away from it's pure pop beginnings towards a darker realisation. Having taken over the job of songwriting after Vince Clarkes's departure, Martin was developing his own lyrical style and gaining in confidence. Coupled with psuedo-religious themes of guilt and redemption, he began to flirt with sexual androgyny whilst Alan capitalised on these ambiguities, seizing his opportunity to initiate what had long been his desire for a more mature, multi-dimentional sound.
This was clearly demonstrated in the next album «Some Great Reward», released in 1984, that spawned a number of hits including the subversive «Master and Servant» and «Blasphemous Rumours». Spurred on by condemnation from religious groups, the band were also gaining a reputation for being a rock'n'roll band in the truest sense of the term.
In the climate of the more politically and morally accepting 80's, the darker side of life that had once been confined to the seedy underground world of porn theatres and gay clubs, was rising to the surface and becoming new territory to exploit. Nowhere was this more obvious than in the US, where a once daring music scene seemed to have come to a complete stand-still and was being strangled by soft rock and «disco hell».
Depeche Mode bore all the trademarks of this new musical exploitation, uncannily displaying just what the all-american, white middle classes seemed to be searching for.
Here was a band that was clean cut enough to cross over but who weren't afraid to emit a provocatively sexual aura.
1986's «Black Celebration» with its dark and cynical invitation «Let's have a black celebration....to celebrate the fact that we've seen the back of another black day» saw the group's popularity grow in Europe and in America.
By comparison, the English press seemed steadfast in it's refusal to forgive Depeche Mode for «Just Can't Get Enough» and their «New Romantic» associations. In spite of numerous past hits, current success with «Stripped» and the promise of many to come, they continued to play the band and their music down.
For example, despite being at least as successful as their contemporaries such as Duran Duran and Spandau Ballet, the Mode were excluded from events like Bob Geldof's Live Aid concert and the Band Aid single «Do They Know It's Christmas» which featured all the major musicians of the time.
Ironically however, this was to be to Depeche Mode's advantage. By staying out of the limelight and refusing to court the vultures of the press, they were building a fan-base as belligerent as themselves, who would remain faithful to the death.
NEW BIRTH
Alan had always experimented with his own individual ideas (alongside his rather higher profile as the now acknowledged musical formulator of Depeche Mode) but it wasn't until Dan Miller heard some of his demos (recorded on a 4-track cassette machine) and asked him to reproduce them, that the reality of Recoil as a solo project came to light. The early Recoil recordings revealed Alan's position as a pioneer in the newly emerging world of sampling technology and demonstrated how he could turn the Depeche sound around to create something entirely new. Simply entitled «1 + 2», his first collection of primitive demos, though completed in the early 80's, was inconspicuously released as a mini-album in the summer of 1986, alongside Depeche Mode's top five album, «Black Celebration».
In 1987, Depeche Mode recruited the unique skills of Dutch photographer Anton Corbijn to further enhance their by now familiar style. He directed promos for the next release «Music For The Masses» helping to tie together the whole phenomenon that was becoming Depeche Mode and thus providing the focus for a massive world tour.
This was to prove a turning point in the band's career, epitomised by a sellout show to 80,000 people at The Rosebowl stadium in L.A. Featuring hits from the MFTM album such as «Behind The Wheel«, «Never Let Me Down Again» and «StrangeLove», it was decided that D.A. Pennebaker would film the U.S. leg of the tour together with a group of competition winners that would attach themselves along for the ride.
The culmination of an extremely busy year for Alan, was a return to the studio to complete the live recordings that would eventually materialise as the top five album «101» and, together with the completed «101» Film, take Depeche Mode another step closer to world domination.
Unfortunately for the fledgling Recoil, the release in January 1988 of Alan's second album, «Hydrology«, clashed with this tour and the enormous popularity of the band restricted him from promoting his own work. A more ambitious follow up to «1+2», «Hydrology» was still a far cry from the commercial pop sound of his day job. It remained entirely instrumental, having been recorded on a fairly modest set-up, and was obviously intended to be different. Wilder described the project at this stage as «an antidote to Depeche Mode in some ways; a way to alleviate the frustrations of always working within a pop format.»
Almost immediately, Alan found himself back in the studio to record what would become the most successful Depeche Mode album to date, «Violator». After its release in 1990, a promo tour to publicise the upcoming live shows demonstrated Depeche Mode's massive appeal when a predicted few hundred fans turned into approximately 15,000 who crammed themselves into Wherehouse Records in Los Angeles to see their heroes sign copies of the new record.
The mass of people was too great, the windows imploded and a riot spilled out onto the streets. As frightening and physically destructive as this was, the event caused exactly the attention that Depeche needed. «Violator» spawned a string of hits all over the world including «Personal Jesus», «Enjoy The Silence», «Policy Of Truth» and «World In My Eyes», and saw the band rise officially to the level of stadium superstars. It wasn't until Depeche Mode finally allowed themselves an extended break after the enormously successful World Violation tour that Alan could return to Recoil.
However, after starting work on a 3rd album, he agreed to produce another for label mates Nitzer Ebb, who had supported the Mode on their previous two tours and had become good friends.
«Ebbhead» was recorded at Konk Studios and Alan enlisted the help of Flood who had worked on «Violator». It was during this time he cemented both a good personal and working relationship with lead singer Douglas McCarthy who would return the favour by singing on Recoil's next album «Bloodline». For this L.P., released in 1991, Wilder recruited guest vocalists for the first time with contributions from Moby, Toni Halliday and Douglas McCarthy helping to produce an album that was a significant move forward for Recoil. It also marked the first Recoil single, a cover of an Alex Harvey«Faith Healer».
Although under no pressure to make the album more conventional, «Bloodline» was a much more commercial effort which came closer to having complete songs, albeit songs which split and divided with alarming regularity:
«Bloodline indicates that Alan Wilder has been a key figure in Depeche Mode's development, from their early pop nursery rhymes to the darker, heavily textured style they adopted in the mid-80's. Wilder concocts the filmic soundscapes, slow burning things that slip into melodramatic grandeur through a side door.
Douglas McCarthy blisters Alex Harvey's «Faith Healer», Curve's Toni Halliday drenches «Edge to Life» and «Bloodline» in drowsy paranoia. «Electro Blues for Bukka White» has long-gone disembodied bluesman White, muttering and wailing underneath an eastern drone that both eulogises and ignores him. Like the rest of Bloodline, the effect is disconcerting but ultimately very moving.»
Vox
«Wilder uses his Recoil opportunities for wild experimentation. Delving deep into the world of technology Bloodline pitches his electronic symphonies against the disparate individual styles of the guest vocalists. The result is an often brilliant collection that swings from the chilling Halliday-led title track (harsh, unfriendly, ominous) to the daft but inspired «Electro Blues for Bukka White» (warm, weird, wonderful). A glorious case of «We have the technology!....»
Select
Between 1992-93, Wilder reassumed his Depeche duties as the band recorded the album, «Songs of Faith And Devotion». Released to universal acclaim, it topped the charts in the UK, USA, Germany and a host of other countries. Enjoying hits with «I Feel You», «Walking In My Shoes», «In Your Room» and «Condemnation» Depeche Mode embarked on their most adventurous tour to date, enduring a gruelling 15 months on the road.
Accompanied by a 7 screen film show from Anton Corbjn and the addition of two gospel singers, as well as live drums for the first time (played by Alan), the Devotional tour saw Depeche Mode in full flow - at their best....and worst.
Although the group had reached the pinnacle of success (and, indeed, revelled in the trappings of it), aspects of such an excessive lifestyle had taken their toll on everyone and things eventually came to a head. For Alan, the thought of recording another album and tour was too much to contemplate and he began to think about moving on. In June 1995, having spent 14 years as an integral part of one of the most popular and influential bands the UK has ever produced, Alan made the difficult but inevitable decision to leave Depeche Mode and spent the rest of the year taking a well deserved break.
REBIRTH
Free from his group commitments and with his personal life at last on a much needed even keel, he could now begin to focus solely on Recoil. In September 1996, he began work in his own studio, The Thin Line, gradually piecing together the unnerving scores that would eventually become «Unsound Methods» before, again, drawing collaborators into his net of intrigue. The final results were more impressive than ever.
The music that began to emerge seemed to be a far cry from his last Recoil offering but appeared to take up where «Songs of Faith and Devotion» had left off. Unlike the «textural» vocal style of «Bloodline», guest vocalists this time played a more up-front role than ever and featured Maggie Estep, a spoken-word artist from New York, Siobhan Lynch (who came to Recoil by way of a demo cassette), the eappearance of Douglas McCarthy and Hildia Cambell (who had worked with Alan as a backing vocalist on the Devotional tour). The styles of each could not be more removed from one another helping to create a startlingly original and diverse collection.
Working in this unique way afforded Alan Wilder far greater freedom of expression allowing him unrestricted access to all his favourite musical areas. During the nine haunting and sultry tracks that comprise «Unsound Methods» the listener is drawn into the shadowy world of a new Recoil for the 90's.
Released in the autumn of 1997, the album, though perceived as difficult by some, received much critical acclaim and was welcomed by the more adventurous spectrum of the music world:
«A generous, instinctively filmic collaborator, Wilder provides impeccable canvasses - all mournful cellos and thoroughly paralysed beats.... «Unsound Methods» is in exquisite taste. You might have seen the cut before, but then again, it doesn't look this drop-dead stylish on everyone.»
Time out - November 1997
«The concept project of former Depeche Mode producer Alan Wilder, removes itself from the music industry norms and blinkers, supplying a confrontational and emotive symphony. Immediately astounding in it's ambition, Alan uses the whole sonic vocabulary of jazz, trance, gospel, classical, ambient, thrash, poetry and natural sound effects, conducting these into a theatrical / cinematic narrative. This release stands out as an accomplished and musical experience with the depth of Radiohead and drama of David Lynch: the album echoes far past it's conclusion.»
Massive - December 1997
«Now to a review of my 10 albums of the year that should grace the serious muso's collection. From all musical genre, at the head of the table should be seated last months much talked about Recoil and «Unsound Methods», the most notably weird album of '97. Few come along that have such a deep seated effect on your life....»
Hype - December 1997
A new LP, entitled «Liquid» was released on Mute (CDSTUMM173) on March 6th, 2000. All future details - inside.
Story to be continued...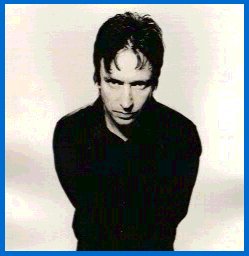 ... RECOIL 2000
[ © 2001 shout! - all right reserved. Compiled on materials from official recoil web site and our own sources, by alex davie. ]