mesh - releases 2006
Last updated 30.06.06
«Crash» (single)
«Crash»
New single from our Bristol favorites mesh titled «Crash» will be released on February 24th, 2006. Promo single has been sent out to clubs in Germany so please start asking your DJ to play it!
Promo CD single tracklisting:
[01] Crash (Original Version) 4:19
[02] Crash (Alien Six Kerosene Remix) 4:30
[03] Crash (mesh collision mix) 5:31
Commercial version of new single «Crash» will contain following tracks:
[01] Crash (Original Version) 04:19
[02] Crash (mesh collision mix) 05:31
[03] Crash (Alien Six Kerosene Remix) 04:30
[04] Soul 05:04
[05] Into this world 04:55
[06] Crash (Video) 04:21
Video for «Crash» were filmed by Mark Feuerstake in Dusseldorf, Germany (he also did «Not Prepared» video). It will out on German TV during January/early February.
«WE COLLIDE» (album)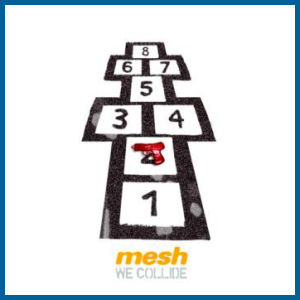 «We Collide»
Upcoming new mesh album «We Collide» (out on March 31st, 2006 via Koenigskinder Records / SPV) will be released in 2 formats: regular (CD) and Limited Edition (CD + DVD).
Tracklistings:
CD
:
[01] Open up the ground 04:14
[02] What are you scared of 04:18
[03] Step by Step 04:36
[04] No place like home 04:47
[05] Petrified 05:51
[06] Rest in pieces 02:47
[07] This is what you wanted 04:10
[08] Room with a view 03:49
[09] My hands are tied 04:32
[10] Crash 04:19
[11] Can you mend hearts 04:11
[12] [Pause] 00:45
[13] The world's a big place (hidden track) 02:26
Bonus DVD
(Limited Edition only)
[01] Making Of «We Collide»
[02] Crash (Video)
[03] Leave You Nothing (Video)
[04] Friends Like These (Video)
[05] From This Height (M'era Luna Festival 2003)
[06] What Does It Cost You (M'era Luna Festival 2003)
[07] Let Them Crush (Secret Garden Festival 2004)
[08] Open Up The Ground (Audio) *
[09] Room With A View (Audio) *
[10] This Is What You Wanted (Audio) *
[11] What Are You Scared Of (Audio) *
[12] Into This World (Audio) *
* Unreleased Demo Versions
All songs Written, Recorded and Produced by mesh (Hockings/Silverthorn/Taylor) at their Urban Studio, Bristol.
Additional vocal recording and vocal production on tracks 3 and 5 by Gareth Jones at Dada Studios, London.
Mixing: Tracks 1,6,7,10,11,12,13 mixed by mesh. Tracks 2,3,4,5,8 and 9 mixed by Gareth Jones and mesh. Mastered by Mike Marsh at The Exchange, London
Published by: Europe - Kleefeld/Hanseatic (Germany) -Tel +49(0)511 551969 / Email info@spr-kleefeld.de : North America and Canada - Artists'Addiction Music Publishing -Tel +1 (310) 453 6300 / Email info@artistsaddiction.com Bookings: Pluswelt -Tel: +49-40-189304-11 / Email: info@pluswelt.com / Fax: +49-40-189304-13
Königskinder Schallplatten GmbH, Bogenstr. 5, D-20144 Hamburg,Tel: +49-40-414 95 346 / www.koenigskinder.co.uk / Email contact@koenigskinder.co.uk Distributed by SPV - Briisselerstr. 1 D-30539 Hannover -Tel: +49 (0)511 87 09 0 - Fax: +49 (0)511 87 09 181 / www.spv.de.
MARK: Love and thanks to: Emma, Maisie and Daniel, Mum and Dad, Tor and Scott, Grandma Dorothy and Grandpa Jack, Uncle Peter and Cynthia, Auntie Ann and Ian. Sheila and Ken. Rich awl Neil. Gill, Nige, Lizzie and Chris, Jo, Rich and Dave. EVeryohe who's helped me achieve a few more of my dreams.
"I don't know the key to success but the key to failure is trying to please everybody" Bill Cosby
"Every day it's getting more and more like the future" Neil Taylor
RICK: Would like to thank: Clare, Tom, Emily and Lewis (I'm so proud ot you all), Mum and Dad for always being there. Wendy "Rich's sister", Kate, Sam and Colin. The Wednesday night crew- Jock, Chink and Doof. Kev and Cassi, Ade and Trace. Peter Diamond, Delia Derbyshire (for probably getting me into electronic music). And all the people who have influenced and inspired me. Last but not least TT and H for making the whole thing such a laugh... "This is what we wanted"
"Where words fail, music speaks" - Hans Christian Andersen
NEIL: Thanks for friendship, love and support to: Rosie xx, Mum & Dad, Steve & Rachel, Mel & Lou, Sanj, Andy & Nina, Dave & Caroline, Steve Green and all those people who've given me support and opportunities. And of course to Rich and Mark for 16 years of music, adventures, friendship and laughs.
MESH would like to thank: Val and Jim Silverthorn, Sascha and Bianka (Konigskinder), Lorenz Ìàñêå, Jan Winterfeld, Pete Bramwell, Michael Jenkel, Michael Chaymowski, Soren Meier, Jessica Stohr, Kev Gough, Aaron Fry, Rob Morgan, Joakim 'Jokke' Johansen, Jorgen Strandquist, Gareth Jones (www.garethjones.com), George Holt (Dada Studios), Mike Marsh (Exchange Mastering), Jason Sheeiey (additional guitar on "Open Up The Ground"), Mark Feuerstake, David Incorvaia, Steve Maddox, Wendy Brand, Mark Burge,Vince DeGiorgio, Jonathan Miller, Sebastian Stolle, Alex Hess, Dirk Lindner, Suzie Zabrowski. And all the fans and people who take the time to listen to and support us. Thank you.
For more information: www.mesh.co.uk / www.mesh-musik.de or email involved@mesh.co.uk
PO Box 24, Keynsham, Bristol BS31 2BF ENGLAND
SPV 82552 CD 693723825526
«My Hands Are Tied / Petrified» (single)
«My Hands Are Tied / Petrified»
After their recent European chart success with stunning new album «We Collide» and a sensationally successful tour, our British favorites Mesh return with brand new double A-Side single «My Hands Are Tied / Petrified». 5 track CD single will be out on July 24th via Königskinder (SPV). Look at the tracklisting:
[01] My Hands Are Tied (Radio Mix) 3:58
[02] Petrified (New Edit) 4:51
[03] Document 5:05
[04] Petrified (Reasonably Priced Mix) 6:52
[05] Petrified (Claustrophobic Dance Floor Mix) 5:37
[ Check releases 2002 | 2003 | 2006 | 2007 | 2009 ]
[ © 2006 shout! - all right reserved. Compiled on materials from official mesh web site and our own sources, by alex davie. ]