mesh :: «A PERFECT SOLUTION»
Last updated 26.10.09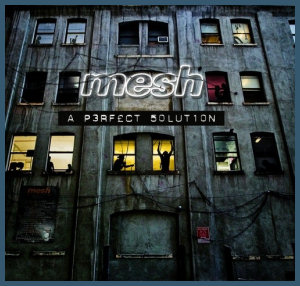 «A Perfect Solution»
After a three year absence, Bristolís hottest underground export in heartwrenching electronic pop is back. mesh, the duo of Mark Hockings and Richard Silverthorn, return with «A Perfect Solution», possibly the most mature, mutable and yet toughest album of their career. While no one doubts Markís status as an exceptional vocalist, a complete listen to this album also serves to highlight the bandís songwriting and arrangement skills. Once pegged as a purely retro synth act, mesh have mutated into a true live band, and the resulting versatility in the arrangements transforms what might have merely been 11 good songs into outstanding ones.
Thematically, «A Perfect Solution» is a bit darker than previous releases. The tone of the album is typefied by «If We Stay Here», a tale of broken relationships between people who once loved each other but who now just exist in the same space. The massive housing facade pictured on the cover further symbolizes the painful dramas which take place behind its windows. The wires running throughout the artwork are both safety lines and shackles Ė anything but «A Perfect Solution».
Were the album musically as dismal and hopeless as it is lyrically, «A Perfect Solution» might be too much to handle, but luckily mesh know how to strike the delicate balance between bitter and sweet.
[ © 2009 shout! - all right reserved. Compiled on materials from official mesh web site and our own sources, by alex davie. ]