Latest News - June 2009
Last updated 17.06.09
[
17.06.2009
] -
mesh 2009: new single, new album, new tour!
«Only Better»
Bristol's e-pop-icons mesh are back! It's been three years since they released their last studio album, the highly acclaimed «We Collide». Now, working with Dependent Records (Europe) and Metropolis Records (North America), the band is back with a new single, a new tour and a new album. The Limited Edition single «Only Better» will be out in September, followed by the full length album «A Perfect Solution» in October. Finally, November will see the band embark on an extended tour of Europe and the UK.
mesh
A Perfect Solution Tour 2009
plus special guests
12.11.2009 - Hamburg, Germany - Markthalle
13.11.2009 - Kopenhagen, Denmark - Forbraendingen
14.11.2009 - Rostock, Germany - Mau Club
15.11.2009 - Brunswick, Germany - Meier Music Hall
17.11.2009 - Leipzig, Germany - Werk II
18.11.2009 - Vienna, Austria - WUK
19.11.2009 - Munich, Germany - Backstage
20.11.2009 - Pratteln, Switzerland - Z7
21.11.2009 - Erfurt, Germany - HSD
22.11.2009 - Frankfurt, Germany - Batschkapp
23.11.2009 - Berlin, Germany - Columbia Club
24.11.2009 - Dortmund, Germany - FZW
26.11.2009 - Cologne, Germany - Live Music Hall
27.11.2009 - Antwerp, Belgium - Hof ter Lo
28.11.2009 - London, UK - O2 Academy Islington
29.11.2009 - Wolverhampton, UK - Robin 2
Tickets for shows in Germany, Austria and Switzerland are available through Poponaut, tickets for shows in the UK are available at Flag Promotions.
Info submited by official mesh's Twitter page.
[
17.06.2009
] -
«Peace», second new Depeche Mode
Second new Depeche Mode single «Peace» released in Europe on June 15th via Mute. Look at available commercial formats:
«Peace» (7 inch)
7" Single
Cat. No.: BONG41
[01] Peace (Single Version) 3:36
[02] Come Back (Jonsi Remix) 4:02
«Peace» (CD)
CD
Cat. No.: CDBONG41
[01] Peace (Single Version) 3:36
[02] Fragile Tension (MGMT Remix) 5:15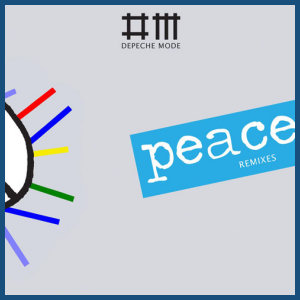 «Peace» (LCD)
LCD
Cat. No.: LCDBONG41
[01] Peace (Single Version) 3:36
[02] Peace (Hervé's 'Warehouse Frequencies' Remix) 5:10
[03] Peace (Sander Van Doorn Remix) 8:02
[04] Peace (Japanese Popstars Remix) 6:46
[05] Peace (Sid LeRock Remix) 6:35
[06] Peace (Justus Köhncke Extended Disco Club Vocal Remix) 6:24
The video was directed by Jonas & Francois, and features Romanian actress Maria Dinulescu.
Info submited by official Depeche Mode web site.
[
17.06.2009
] -
New releases from Marsheaux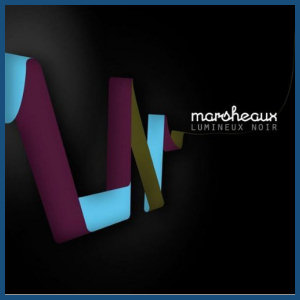 «Lumineux Noir»
New Marsheaux album «Lumineux Noir» will be released on July 3rd via Out Of Line. Marsheaux are a female electro pop duo from Thessaloniki (Greece). They make synthpop music in the tradition that Yazoo, Human League, Depeche Mode and OMD did.
Tracklisting:
[01] Exit
[02] Breakthrough
[03] Summer
[04] Stand By
[05] Radial Emotion
[06] Destroy Me
[07] Loss Of Heaven
[08] Faith
[09] It's Fine Now
[10] Thousand Leds
[11] So Far
[12] Sorrow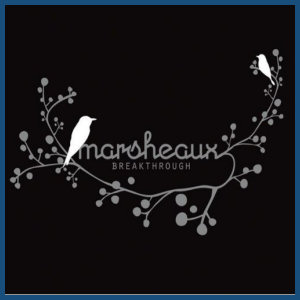 «Breakthrough»
«Breakthrough», first single from new album, released May 29th.
Tracklisting:
[01] Breakthrough (Radio Edit)
[02] How Does It Feel?
[03] Breakthrough (Fotonovela Remix)
[04] Breakthrough (Auto Auto Remix)
[05] Breakthrough (Marsheauxxxx Remixxxx)
Info submited by Out Of Line.
[
17.06.2009
] -
New great compilation from Major Records
«Orbit Electro»
German independent label Major Records again presents to all synthpop/electropop fans new great compilation! «Orbit Electro» will released on July 3rd as double CD.
Tracklisting:
CD1
:
[01] Dragons - Treasure (Danny Sober Mix)
[02] IAMX - Nightlife (People Theatre's Trip To Berlin Mix)
[03] Attery Squash - Devo Was Right About Everything (Devo Remix)
[04] Ladytron - Destroy Everything You Touch (Hot Chip Remix)
[05] Eden - Subhuman
[06] Onetwo - Cloud Nine
[07] Antilles- You And Me
[08] Aerophonics - My Space
[09] Scarlet Soho - Modern Radio
[10] Boytronic - Blue Velvet (Razormaid Mix)
[11] Mechanical Cabaret - Let's Go To Bed
[12] Electro Spectre - Six Strings From Hell
[13] Nono - Well Said
CD2
:
[01] The Strand - You Make Me Crazy
[02] Tenek - No More Time For Fighting
[03] Polaroid Kiss - Stop Motion
[04] Ultima Bleep - X The I's And Dot The T's (Haunebu Mix)
[05] Empire State Human - Seeing Stars
[06] Foretaste- Anachronic
[07] Celluloide - Audio Therapy
[08] Loic Rathscheck - Robots In Love
[09] Northern Kind - Into The Blue
[10] Motus Feat. Synthetik Form - Truth
[11] Mink - I Don't Care
[12] Janosch Moldau - Clear (Pt's Bright Mix)
[13] Lavantgarde - Take Me s.i.m.
[14] P 24 - Zu Weit Weg
[15] Die Loge - In Der Stille Der Nacht
Info submited by Major Records.
[
16.06.2009
] -
A message from Depeche Mode's guys regarding the cancelled shows
Depeche Mode
Below official statement written by band dedicated to all their fans who held tickets to the recently cancelled shows:
«We want to express our deep and heartfelt apology for having to cancel these shows and want to also provide a bit of explanation for why we are not able to replay these dates. We do not take cancelling shows lightly and understand your disappointment and frustration with the cancellations - we are disappointed as well.
After our successful Eastern and Southern European shows in 2006, we were excited to return to some of our favorite cities and to meet our devoted fans in new cities where we had never played. Once we realized we would not be able play the dates as originally scheduled, we started looking at all possible rescheduling options with our manager and booking agent. The delays in getting information to all of you during this period were due to our strong desire to fully explore all options, and the logistical difficulties of rescheduling shows on a tour of this size. All of this was made more difficult by the fact that the majority of the shows we were unable to play were stadiums, which meant that we could only replay the dates during the summer. As many of you are aware, we had already scheduled dates in North and South America following our current European tour, so our summer schedule is completely full. Unfortunately, in the end, we were only able to reschedule our missed shows that were to be played in indoor venues, as we could postpone these until our winter European tour leg. Although we were unable to reschedule the shows in Athens, Istanbul, Bucharest, Sofia, Belgrade, Warsaw, Riga and Vilnius, we will make it our priority to come back to these cities in the near future.
Again, we want to say thank you for you patience, understanding and support during this period. We apologize sincerely for not being able to perform for you as originally planned.
- Martin, Andy and Dave»»
Info submited by official Depeche Mode web site.
[
16.06.2009
] -
Second new single from Pet Shop Boys
Second new single from Pet Shop Boys titled «Did You See Me Coming?» out in UK on May 21st, 2009 via Parlophone / EMI. Look at available formats: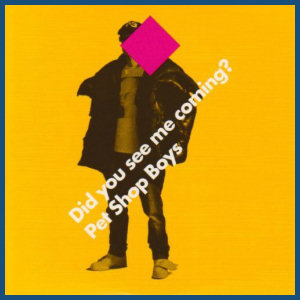 «Did You See Me Coming?» CD1
CD1
[01] Did You See Me Coming
[02] After The Event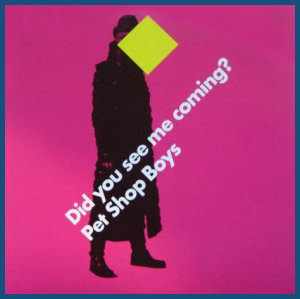 «Did You See Me Coming?» CD2
CD2
[01] Did You See Me Coming (PSB Possibly More Mix)
[02] The Former Enfant Terrible
[03] Up And Down
CD-Maxi
Release: June 19th, 2009
[01] Did You See Me Coming?
[02] After The Event
[03] The Former Enfant Terrible
[04] Up and Down
Info submited by official Pet Shop Boys web site.
[
16.06.2009
] -
«In Love We Trust» - new Clan of Xymox album
«In Love We Trust»
Clan of Xymox will release their new album «In Love We Trust» on August 18th via Metropolis in US and on August 28th via Trisol in Europe. The stunning new opus adroitly combines the early melancholic 4AD sound of the band with the glimmering synthesizer sounds of the 90s and the power of classic darkwave. Past and present are perfectly combined to showcase the music that has kept Clan of Xymox relevant and popular after all this time. With this release, Clan of Xymox demonstratively returns to its roots while nevertheless remaining up to date. After spending the past two and a half decades forging a path for others to follow in the dark music scene, «In Love We Trust» proves above all that their creative potential is a long way from coming to an end.
Tracklisting:
[01] Emily
[02] Hail Mary
[03] Desdemona
[04] Judas
[05] In Love We Trust
[06] Sea Of Doubt
[07] Morning Glow
[08] Home Sweet Home
[09] Love Got Lost
[10] On A Mission
Info submited by official Clan of Xymox web site.
[
16.06.2009
] -
Depeche Mode resumed their Tour of the Universe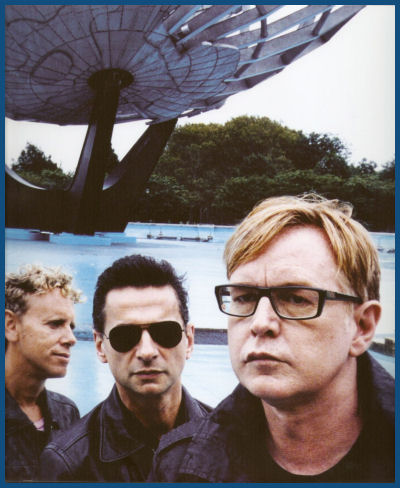 Depeche Mode
Depeche Mode resumed their Tour of the Universe on June 8th in Leipzig, Germany following singer Dave Gahan's recent illness. They followed up their return with a spectacular 65,000 sell out success in Berlin's Olympic Stadium on June 10th, and their European summer tour will now continue as per the original schedule.
Unfortunately, Depeche Mode are not able to reschedule 8 of the cancelled shows due to scheduling conflicts. Despite efforts to find a window in which to reschedule these dates, it has proven unfeasible to do so.
The eight cancelled shows are:
12.05 - Athens - Terra Vibe
14.05 - Istanbul - Santral Istanbul
16.05 - Bucharest - Parc Izvor
18.05 - Sofia - Vasil Levski Stadium
20.05 - Belgrade - USCE Park
23.05 - Warsaw - Gwardia Stadium
25.05 - Riga - Skonto Stadium
27.05 - Vilnius - Zalgirio Stadionas
Ticket holders should return their tickets to the point of purchase for a refund.
Depeche Mode have been able to reschedule the 4 shows listed below, which are indoor venues, for later in the year.
These rescheduled shows are:
21.05 - Zagreb - Arena
30.05 - London - O2 Arena
04.06 - Dusseldorf - LTU Arena
05.06 - Dusseldorf - LTU Arena
Information regarding the new, rescheduled dates will be announced shortly. More time is required to resolve venue availability and routing issues, before new dates can be announced. Ticket holders are advised to hold onto to their original tickets, which will be valid for the rescheduled shows.
Depeche Mode would like to apologise to their fans for any inconvenience this has caused and thank them for their support and patience during this time.
Also, 2 shows below have already been rescheduled:
02.06 - Hamburg - HSH Nordbank Arena
This show has been rescheduled to July 1st, 2009. All original tickets remain valid for this new rescheduled date.
02.07 - Bergen - Koengen
The show has been rescheduled to January 28th, 2010 at the Bergen Vestlandshallen. All original tickets remain valid for this new rescheduled date.
Info submited by official Depeche Mode web site.
[
16.06.2009
] -
«Of Faith, Power and Glory» - new VNV Nation album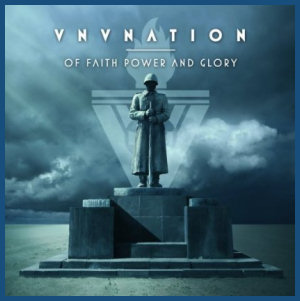 «Of Faith, Power and Glory»
Following on from the highly sucessful limited boxset «Reformation 01», Irish/English duo VNV Nation are ready to release the full length album «Of Faith, Power and Glory» - on June 26th via Anachron Sounds. This album sees the band reach a new level musically. More soulful and raw than ever before, VNV Nation are moving into new musical territories with their own distinctive sound. «Of Faith, Power and Glory» is set to be the band's strongest and most profoundly evocative release yet, taking a big leap beyond what they had achieved on their last album «Judgement».
The album features a cover designed by Polish graphic artist Michal Karcz, who also created the artwork for «Judgement». It is undoubtedly one of his finest works, featuring an image of a monument in the middle of a wasteland, a metaphor for all our greatest hopes and solemn intentions, as well as the brutal extremes that we are capable of, the schizophrenic nature of human beings and the eternal struggle to move forward.
In keeping with the band's environmental principles, the Limited Edition will come in extremely environmentally friendly packaging, using only recycled paper, vegetable ink and water based glue. Even the print on the CD uses vegetable ink. The packaging weighs 40-50% less than normal packaging which means it uses less fuel when it's transported, which reduces the carbon footprint of the CD production.
Tracklisting:
[01] Pro Victoria
[02] Sentinal
[03] Tomorrow Never Comes
[04] The Great Divide
[05] Ghost
[06] Art of Conflict
[07] In Defiance
[08] Verum Aeturnus
[09] From My Hands
[10] Where Is the Light
Info submited by official VNV Nation web site.
[
16.06.2009
] -
New album from Suicide Commando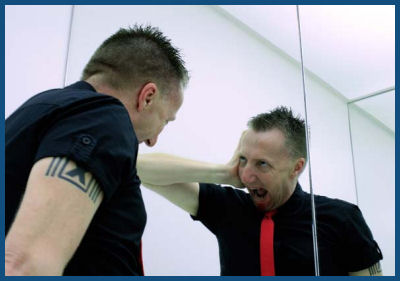 Suicide Commando
Suicide Commando will release their new album «Implements Of Hell» via Out Of Line in Europe and Metropolis Records in USA. More details will follow!
Info submited by Out Of Line web site.
[ © 2009 shout! - all right reserved. Compiled by alex davie. ]