The re-Invention World Tour '2004
Last updated 26.05.04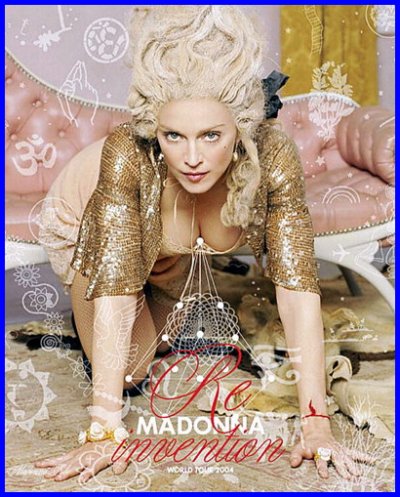 The re-Invention Tour
On March 22nd, in New York, Caresse Henry (long time Madonna's manager) announced that Madonna will be going out on tour this Spring and Summer. Clear Channel Entertainment is the promoter of Madonna's worldwide tour, which begins in Los Angeles on May 24th. The tour will sweep across major markets in the US including Los Angeles, San Francisco, New York, Boston, Philadelphia, Chicago, Atlanta and Miami and then continue with stops in London, Paris and proposed visits to Israel and Ireland.
According to Ms. Henry, «Madonna has already started rehearsals for The re-Invention Tour and she can't wait to get back on stage to recreate her songs from the earliest days of her career up until the present. There is no doubt that this tour will be the pinnacle of her long standing and well deserved reputation as one of the most exciting live performers of our time. And as a special treat to her fans, existing Icon fan club members will have access to tickets prior to the on-sale dates in local markets.»
The current schedule follows with additional shows announce at a later date:
May
24 - Los Angeles - Forum
29 - Las Vegas - MGM Grand
June
08 - San Jose - HP Pavilion
13 - Washington, DC - MCI Center
16 - New York - Madison Sq. Garden
17 - New York - Madison Sq. Garden
27 - Boston - Worcester Centrum
July
04 - Philadelphia - Wachovia Center
11 - Chicago - United Center
18 - Toronto - Air Canada Centre
24 - Atlanta - Philips Arena
28 - Fort Lauderdale - Office Depot Center
August
01 - Miami - American Airlines Arena
18 - London - Earls Court
September
01 - Paris - Bercy
On-sale dates to be announced in local markets.
Set-list
[01] The Beast Within
[02] Vogue
[03] Nobody Knows Me
[04] Frozen
[05] American Life
[06] Express Yourself
[07] Burning Up
[08] Material Girl
[09] Hollywood
[10] Hanky Panky
[11] Deeper and Deeper
[12] Die Another Day
[13] Lament
[14] Bedtime Story
[15] Nothing Fails
[16] Don't Tell Me
[17] Like A Prayer
[18] Mother and Father
[19] Imagine
[20] Into the Groove
[21] Papa Don't Preach
[22] Crazy For You
[23] Music
[24] Holiday
[ © 2004 shout! - all right reserved. Compiled on materials from official madonna web site and our own sources, by alex davie. ]