Releases 2009
Last updated 26.10.09
«Celebration» (single)
«Celebration» (single)
Madonna he released new single «Celebration» on September 4th, 2009 via Warner Bros. Records.
Tracklisting:
[01] Celebration (Album Version)
[02] Celebration (Benny Benassi Remix)
[03] Celebration (Benny Benassi Dub)
«CELEBRATION» (album)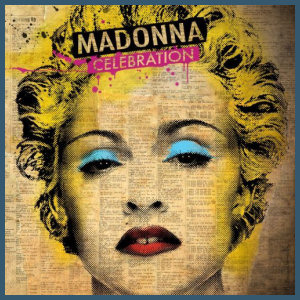 «Celebration»
Madonna, who has racked up a record 37 Top 10 hits as well as 7 No. 1 albums (including her last four) on the Billboard Pop Charts, has given her fans yet another opportunity to celebrate her musical achievements. Today, Warner Bros. Records officially confirmed the September 29th release in the US (September 28th worldwide) of «Celebration» – the ultimate compilation of Madonna songs. The songs on «Celebration» have all been remastered and selected by Madonna and her fans. They cover the expanse of the Material Girl's extraordinary career of hits including «Everybody», «Express Yourself», «Vogue» and «4 Minutes». «Celebration» will be available in a double CD set as well as a single CD. There will also be a «Celebration» DVD released simultaneously which includes the video visionary's best videos including several that have never before been available on DVD.
The «Celebration» CD will also include 2 new songs that were recently recorded in New York City. The first single, also titled «Celebration» co-produced by Madonna and Paul Oakenfold, will be released August 3rd. A video for the single, which will be included on the «Celebration» DVD was just filmed in Milan, Italy and was directed by long time Madonna collaborator Jonas Akerlund. Several dance club remixes of «Celebration» are already headed to the clubs. The song will also be available on CD and vinyl maxi. Radio will receive the «Celebration» single on August 3rd.
The cover for «Celebration» was created by street pop artist Mr. Brainwash.
Tracklisting:
CD1:
[01] Holiday
[02] Like A Virgin
[03] Material Girl
[04] Into The Groove
[05] Papa Don't Preach
[06] Who's That Girl?
[07] Like A Prayer
[08] Express Yourself
[09] Vogue
[10] Erotica
[11] Secret
[12] Frozen
[13] Ray Of Light
[14] Music
[15] Die Another Day
[16] Hung Up
[17] 4 Minutes
[18] Celebration
CD2:
[01] Everybody
[02] Borderline
[03] Crazy For You
[04] Dress You Up
[05] Live To Tell
[06] La Isla Bonita
[07] Cherish
[08] Justify My Love
[09] This Used To Be My Playground
[10] Deeper And Deeper
[11] Take A Bow
[12] Human Nature
[13] Beautiful Stranger
[14] Don't Tell Me
[15] American Life
[16] Sorry
[17] Give It 2 Me
[18] Revolver
«CELEBRATION» (DVD)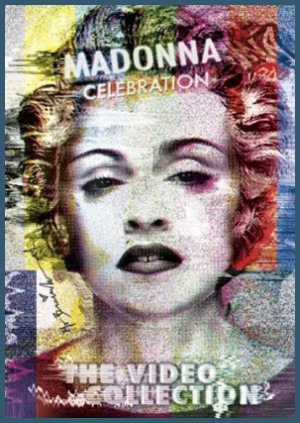 «Celebration» DVD
Madonna will release new video collection «Celebration» on September 25th, 2009 via Warner. Look a tracklisting:
[01] Burning Up
[02] Lucky Star
[03] Borderline
[04] Like A Virgin
[05] Material Girl
[06] Crazy For You
[07] Into The Groove
[08] Live To Tell
[09] Papa Don't Preach
[10] True Blue
[11] Open Your Heart
[12] La Isla Bonita
[13] Who's That Girl
[14] Like A Prayer
[15] Express Yourself
[16] Cherish
[17] Vogue
[18] Justify My Love
[19] Erotica
[20] Deeper and Deeper
[21] Rain
[22] I'll Remember
[23] Secret
[24] Take A Bow
[25] Bedtime Story
[26] Human Nature
[27] I Want You
[28] You'll See
[29] Frozen
[30] Ray Of Light
[31] The Power Of Good-Bye
[32] Beautiful Stranger
[33] American Pie
[34] Music
[35] Don't Tell Me
[36] What It Feels Like For A Girl
[37] Die Another Day
[38] Hollywood
[39] Love Profusion
[40] Hung Up
[41] Sorry
[42] Get Together
[43] Jump
[44] 4 Minutes
[45] Give It 2 Me
[46] Miles Away
[47] Celebration
[ Check releases 2000 | 2001 | 2002 | 2003 | 2005 | 2006 | 2007 | 2008 | 2009 ]
[ © 2009 shout! - all right reserved. Compiled on materials from official madonna web site and our own sources, by alex davie. ]