WOMAN: ANGEL VS. BAD GIRL
Last updated 26.10.09
LOVELY MADDY (1993)
WHO'S THAT GIRL?
Once she became an icon for female pop stars thanks to her proven ability to artistically reinvent herself while still retaining complete control of her career,
Madonna
is also one of the most commercially successful artists in the history of popular music.
Over the course of her extraordinary career, much has been made of
Madonna
's multi-faceted attributes and abilities: executive and entrepreneur, video pioneer and perpetual trendsetter, role model and devoted mother… the list goes on.
Yet, ultimately, the essence of this epochal icon is best, always and finally, captured in music. It is through lyrics, melody and rhythm that
Madonna
most fully expresses her deepest feelings, her most enduring insights. It is the language of her spirit, the essence of her creativity — the point at which who she is becomes what she does.
Madonna Louise Ciccone
was born on
August 16th, 1958
at
Bay City
, Michigan, USA. The third of eight children in a large traditional Italian family, she was named after her mother who passed away from breast cancer when
Madonna
was only six years old. Sylvio Ciccone raised his children not only with a solid Catholic background, but with a disciplined work ethic as well.
In high school
Madonna
was a cheerleader and straight-A student. She fell in love with dance and sometimes spent up to five hours a day taking dance classes and working out. Upon graduation she won a dance scholarship to the
University Of Michigan
. Finding the academic atmosphere stifling, after a year of college
Madonna
set off for
New York City
in
1977
with just $35 and her suitcase of leotards and toe shoes. Before long she had earned a spot with the
Alvin Ailey Dance Troupe
and, for a while, worked as the assistant to modern dance choreographer,
Pearl Lange
. Sometime she's working as a model. After struggling for several years in the dance world she began to broaden her artistic horizons.
Two years later,
Madonna
moved to France to join a show featuring disco singer
Patrick Hernandez
. There she met
Dan Gilroy
and, back in New York, the pair formed club band the
Breakfast Club
. Madonna played drums and sang with the band before setting up new band
Emmy
in 1980 with Detroit-born drummer and former boyfriend,
Steve Bray
. Together,
Madonna
and
Bray
created club tracks which led to a recording deal with
Sire Records
.
With leading NY DJ
Mark Kamins
as producer,
Madonna
recorded her first
«Everybody»
, a US club hit in
1982
.
Madonna
broke out from the disco scene into mainstream pop with
«Holiday»
, written and produced by
John 'Jellybean' Benitez
. It reached the
US Top 20
in late 1983 and
Top 10
hit across Europe the following year. By now, her tough, raunchy persona was coming across to international audiences and the attitude was underlined by the choice catchy «Like A Virgin» as a 1984 single. The track provided
Madonna
with the first of her subsequent
US No. 1st
.
The follow-up,
«Material Girl»
, included a promotional video which introduced one of
Madonna
's most characteristic visual styles, the mimicking of
Marilyn Monroe
's &laquoblonde bombshell&raquo image. By the time of her appearance at
1985
's
Live Aid
concert and her high-profile wedding to actor
Sean Penn
on
August 16th
the same year,
Madonna
had become an internationally recognized superstar, known to millions of tabloid newspaper readers without any interest in her music.
Among the fans of her work were a growing number of «wannabees», teenage girls who aped her independent and don't-care stance. From 1985-87,
Madonna
turned out a stream of irresistibly catchy transatlantic
Top 5
singles.
«Crazy For You»
, her second US chart-topper, was co-written by ex-
Carpenters
collaborator
John Bettis
, while she co-wrote her first
UK No. 1st
,
«Into The Groove»
, with
Steve Bray
. These were followed by
«Dress You Up»
,
«Live To Tell»
, and the transatlantic chart-topper,
«Papa Don't Preach»
.
«True Blue»
,
«Open Your Heart»
and
«La Isla Bonita»
were further successes taken from
1986
's LP
«True Blue»
. Like an increasing number of her songs,
«Who's That Girl»
(her second transatlantic
No. 1
) and
«Causing A Commotion»
were tied-in to a movie - in this instance, a poorly received comedy in which she starred with
John Mills
.
Madonna
's film career had begun with a minor role in the b-movie
«A Certain Sacrifice»
before she starred in the acclaimed
«Desperately Seeking Susan»
. The following year she appeared with husband
Penn
in her first real failure,
«Shanghai Surprise»
. She separated from
Penn
in
1988
, the same year she appeared on Broadway in David Mamet's play
«Speed The Plow»
. Back on the music scene, the singer continued to attract controversy when, in
1989
, the video for
«Like A Prayer»
(her third transatlantic chart-topper), with its links between religion and eroticism, was condemned by the
Vatican
and caused
Pepsi-Cola
to cancel a sponsorship deal with the star. The resulting publicity helped the album of the same title - co-produced with new collaborator
Patrick Leonard
- to become a global bestseller.
In
1990
, her career reached a new peak of publicity and commercial success. She starred with
Warren Beatty
in the blockbuster movie
«Dick Tracy»
, while the extravagant costumes and choreography of the
Blond Ambition World Tour
were the apotheosis of Madonna's uninhibited melange of sexuality, song, dance and religiosity. The tour was commemorated by the following year's documentary movie,
«Truth Or Dare»
. Among her hits of the early 90s were the transatlantic no. 1
«Vogue»
, devoted to a short-lived dance craze,
«Hanky Panky»
,
«Justify My Love»
(co-written with
Lenny Kravitz
),
«Rescue Me»
, and
«This Used To Be My Playground»
(from the soundtrack of
«A League Of Their Own»
film).
TRY TO PLAY WITH ME (1991)
Madonna
's reputation as a strong businesswoman, in control of each aspect of her career, was confirmed in
1992
when she signed a multi-million dollar deal with the
Time-Warner
conglomerate, parent company of
Sire
. This guaranteed the release of albums, films and books created by her own
Maverick
production company. The publication of her graphic and erotic book
«Sex»
put her back on top of the charts, though this time it was in the bestselling book lists. The book was an unprecedented success, selling out within hours and needing an immediate reprint. The attendant
«Erotica»
marked a slight creative downturn, and was her first album since her debut not to generate a US no. 1 single.
BAD GIRL (1994)
She returned to form on
«Bedtime Stories»
, on which she teamed up with
Soul II Soul
producer
Nellee Hooper
, who wrote the title track in conjunction with
Bjork
.
«Take A Bow»
returned
Madonna
to the top of the US singles chart, while the rest of the album boasted songs that combined, by her own description, «pop, R&B, hip-hop and Madonna». The
1995
compilation of her slower material,
«Something To Remember»
, featured the excellent new song,
«You'll See»
.
ANOTHER PLAY (1996)
In
1996
, her need to shock had mellowed considerably with a credible movie portrayal of
Eva Peron
in
Alan Parker
's film
«Evita»
. Later that year she became «with child» on
October 14th
with the birth of
Lourdes Maria Ciccone Leon
.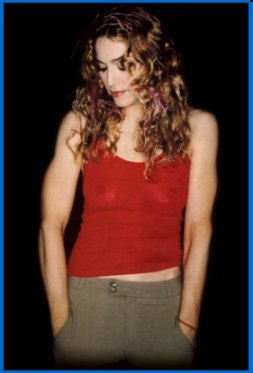 FOREVER YOUNG (1998)
She returned to music with
March 1998
's
«Ray Of Light»
, one of her finest recordings to date. Collaborating with producer
William Orbit
,
Madonna
positively revelled in a new-found musical freedom. Her voice had also matured into a rich and expressive instrument. The album generated several transatlantic hit singles, including
«Frozen»
(a UK chart-topper),
«Ray Of Light»
,
«Drowned World (Substitute For Love)»
,
«The Power Of Good-bye»
, and
«Nothing Really Matters»
.
«Beautiful Stranger»
, taken from the soundtrack to the Mike Myers' movie
«Austin Powers: The Spy Who Shagged Me»
, reached number 2 in the UK charts in June 1999. Another soundtrack, for the movie
«The Next Best Thing»
, co-written and co-produced by
Madonna
and
Orbit
, was released on the singer's
Maverick
label. It featured her new single, a reworking of
Don McLean
's classic
«American Pie»
.
JUST QUEEN (2001)
She worked with
Orbit
and French dance producer
Mirwai
on her next collection,
«Music»
, the title track of which was a transatlantic chart-topper in
September 2000
. Shortly before the release of the album, on
August 11
,
Madonna
gave birth to her second child,
Rocco
. On
December 22nd
, she married the UK film director
Guy Ritchie
in Scotland.
To be continued...
[ © 2006 shout! - all right reserved. Compiled on materials from official madonna web site and our own sources, by alex davie. ]