Virtual Server
Last updated 16.02.07
NEW RELEASE FROM VIRTUAL SERVER - «SETUP»
After an impressive collection of collaborative songs on the first album, «Installed», Russian producer DJ Ram is back with a new Virtual Server collection entitled «Setup», featuring songs recorded over a period of 3 years. The assembly of guest vocalists is even more impressive this time around, and the exciting songs are perfect for fans of synthpop and electronic dance music fans around the world.
Tracklisting:
[01] My Preservation (featuring Psyche)
[02] The Earth (featuring Iris)
[03] My Inner Peace (featuring Rename)
[04] Desperate Man (featuring Echo Image)
[05] Razor (featuring Assemblage 23)
[06] I Will Fly (featuring Colony 5)
[07] Its in All of Us (featuring Perfidious Words)
[08] Kept You (featuring Wave In Head)
[09] Apollo - Souyz
[10] Hopes (featuring The Promise)
[11] Tropfen Im Ozean (featuring P24)
[12] In A Hour From Now (featuring Color Theory)
[13] Never (featuring !distain)
Bonus CD (Limited Edition only)
[01] My Preservation (K.Kusaka & Kenichi T. Mix)
[02] Desperate Man (Nevarakka Mix)
[03] The Earth (Beborn Beton Remix)
[04] I Will Fly (Hot Rain Remix)
[05] It's In All Of Us (Digital Machine Remix)
[06] Tropfen im Ozean (Nico's Syntphonic-Remix)
[07] My Dimension feat. Syrian (Previously Unreleased)
[08] Kept You (Haloed Ghost Remix)
[09] Razor (P24 Mix)
[10] My Inner Peace (Rename - Outer Space Mix)
[11] Tropfen im Ozean (Mad M – Megabounce Mix)
[12] Razor (People Theatre - Punishment Mix)
[13] Desperate Man (Desperate Mix)
[14] In An Hour From Now (S.cr - Potential Energy Mix)
[15] Hopes (BBM Mix)
[16] Tropfen im Ozean (F.P. - Sensible Touch RMX)
[17] Never (Arnold Stolting's Reggae Mix)
[ Look details about «SETUP» - here ]
«UPGRADED»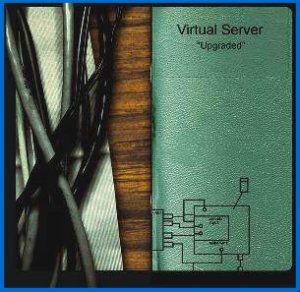 «UPGRADED»
Follow after successful debut VIRTUAL SERVER «Installed», new project features re-newed and upgraded version. Since date of «Installed» release it's creator DJ RAM made a new look on some tracks, and as result we have «UPGRADED». Songs sounds more harder and darker, they have different atmosphere and energy, their sound has more future-pop and techno elements. «UPGRADED» album consist of two logically splitted parts. «Upgrade Pack#1: Upgraded by DJ RAM» - new versions, made by DJ RAM, and «Upgrade Pack#2: «Fallen» - club-oriented versions of «Fallen» track, which received a lot of good from various DJ around the globe. Among remixers, who worked on 2 part of release, were famous Russian trance projects Cosmonautica and Alina Sequence.
In the same time DJ RAM is working on next album of VIRTUAL SERVER, which will feature a lot of stars of electro scene. DJ RAM said that new product will be different to «Installed», and it will be excellent work. Release date is not set yet, but two tracks, with COLONY 5 and Darrin Huss from PSYCHE are already done.
[ Look details about «UPGRADED» - here ]
LONG-AWAITED RELEASE FROM VIRTUAL SERVER!
«INSTALLED» from Virtual Server
Long awaited «Installed» album of Virtual Server project will go on sale in close future. It was delayed for technical reasons but finally it saw light of day and soon you will be able to buy this CD (plus limited double CD edition) in Internet or offline shops.
Via Internet:
-
A Different Drum Online Shop (US)
-
SPR-Kleefeld Online Shop (Germany)
Made up by famous Russian musician DJ RAM, international Virtual Server project utilize a very innovative band concept, where music, mixing and programing are doing by one person - in this case by DJ RAM, and lyrics and vocals are doing by guest singers pulled from different bands from around the world (Neuropa, B! Machine, Beborn Beton, No Comment etc.)
First single «Wide Awake» (vocals by Stefan Netschio from german band Beborn Beton) was out April 16th 2002, second - «Fallen» (vocals Chrissy Franklin from The Echoing Green) - was released May 14th.
[ © 2002 shout! - all right reserved. Compiled on materials from official Virtual Server web site and our own sources, by alex davie. ]