GARBAGE: BLEED LIKE ME
Last updated 10.06.07
Garbage
On the day Garbage gathered in Wisconsin to start work on their fourth record, they came up with the glittering and steely «Right Between the Eyes» in all of 30 minutes. Things would not go quite so well with BLEED LIKE ME again.
The band battled illness, surgery, creative disagreements, major life changes and — depending who you ask — either a break - up or a much-needed sabbatical. But nothing good comes easy… and BLEED LIKE ME is simply smashing. From the lusty, masochistic skronk of album opener «Bad Boyfriend» to the industrial-strength protest-pop of «Metal Heart» to the hauntingly transgressive title track, it's everything that you'd expect from one of the past decade's most acclaimed and innovative bands: Sexy, sonically ambitious, loud, emotionally fraught and catchy as can be.
«To me, personally, the very fact that it got finished is a miracle,» says singer Shirley Manson. But then, so is the very fact that Garbage has been at it for ten years. When Manson first hooked up with Butch Vig, Steve Marker and Duke Erikson, the band was pegged as «three producers and a girl.» Vig and Erikson had been, respectively, the drummer and the frontman for Midwestern guitar-pop favorites Spooner, as well as mid-'80s college radio successes «Fire Town». Vig's old college buddy Marker engineered Spooner's very first recordings on a four-track in his basement; the two men went on to found Smart Studios, producing and engineering such seminal post-hardcore bands as Killdozer and Die Kreuzen. Then Vig manned the console for such landmark records as the Smashing Pumpkins' «Gish» and of course, Nirvana's «Nevermind», as well as discs by Sonic Youth, L7, House of Pain and Freedy Johnston.
Garbage was meant to be a lark, a way for three old friends to take advantage of success and have fun on the other side of the control room. But someone had to sing. «It was just going to be a blip in our personal history,» says Manson, who began her career playing keyboards in the Scottish combo Goodbye Mr. MacKenzie, then fronted her own band Angelfish.
Shirley Manson
Three records later — 1995's «Garbage», 1998's «Version 2.0» and 2001's «Beautiful Garbage» — Garbage has seen their albums top the charts around the world, had countless hit singles («Queer», «Happy When It Rains», «Stupid Girl», «Special» and «Cherry Lips»), graced every year-end best-of you can name, earned several Grammy nominations (including Best New Artist in 1997 and Album of the Year for «Version 2.0» in 2001) and cut a James Bond movie theme («The World Is Not Enough»). They've also played close to 1000 shows, from dives to sheds to giant festivals, as well as tours with Smashing Pumpkins, Alanis Morrisette, U2 and No Doubt.
Manson, Vig, Erikson and Marker are true musical soulmates, equally in love with experiments and bubblegum, with noise and beauty, always welding bright sounds, big hooks and bigger melodies to Manson's goth-glam sensibility and innate Scottish pessimism. They were, in fact, a family — and in a family, there's always gonna be some conflict and dysfunction.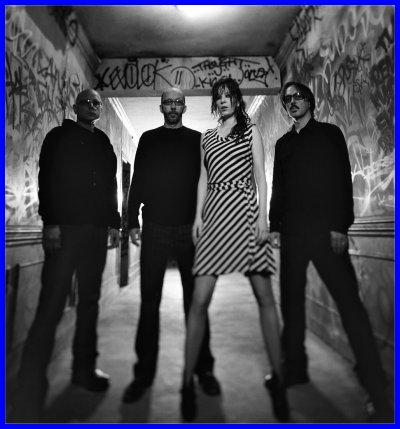 Garbage
It was already brewing at the time of «Beautiful Garbage&lraquo;, which came out on September 4th, 2001. Then came 9/11. Suddenly, doing interviews and promo tours felt inappropriate, and certainly not fun. Even an American support slot with U2, at a time when Bono truly tapped into the nation's grief, turned into a trial—midway through, Vig was diagnosed with a serious case of Type A hepatitis. The band continued on with replacement drummers Matt Chamberlain and Matt Walker, something Vig encouraged, but it surely added to the weirdness («First time I've played with another drummer in 20 years,» says Erikson). And on top of all of that, Vig wed his longtime girlfriend, Marker and his wife had their first child, Erikson married off a daughter and Manson lost her voice — a terrifying ordeal that ultimately resulted in successful surgery to remove a cyst on her vocal chord.
When the time came to think about another record, Garbage dutifully returned to Madison. But things just weren't happening — particularly for Vig. After a frustrating few weeks he retreated to L.A. «On a psychological level, my heart just wasn't in it,» he says. «It was like, 'I gotta go.' If we're gonna finish this record we gotta take a break and re-build the creative juices.» Then there's Marker's take: «We broke up,» he says, which is also Manson's point of view. «It got pretty dark there, that's for sure,» says Erikson, ever the voice of reason. «All four of us might have been willing to just let it go.» It wasn't so much the drama as «no one was agreeing on the direction of the music,» he continues. «At different times, different band members would come up with stuff, but the other three wouldn't be on board. When you lose that common bond of the music, you've got nothing.»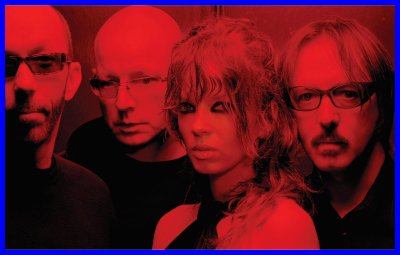 Garbage
Good thing this story has a happy ending. «What we realized, after we did take five months off to sort of reassess,» says Marker, «was, we've been through all this other bullshit...» «And we still want to do it,» finishes Manson. «All the bands that came out back when we did are gone, but we're still standing, wanting to make records, regardless of success or expectations or other outside forces. That's a really empowering feeling, and I think it helped us make the record that we wanted in the end.»
What also helped was one last failed experiment: They went into the studio with Dust Brother John King, a session that produced «Bad Boyfriend» but no more. «No disrespect to him,» says Erikson. «It was an interesting experience, learning someone else's way of doing things, but we're pretty set in our ways. And what we figured out is, our ways are pretty damn good.» «It just kind of made us realize, we're the only ones who can make a Garbage record,» says Vig. So after a flurry of Fed Exed discs and e-mailed sound files from everyone's respective home studios, they reconvened at Smart for what most bands would call «mixing» — a process of selection and collage and re-recording that is key to the way Garbage puts their songs together. But this time out, they did so without bombast: fewer tracks, fewer loops, fewer samples, fewer keyboards.
«The operating word was 'simple,'» Erikson says. «I think it's the strongest body of work we've put together as far as just the songs. We depended on the songs, rather than production.» They also depended on guitars, guitars and more guitars. «That's what I'm most proud of on this record,» Marker says. «I think we really nailed the fact that we're a loud rock band more than anything else — a guitar band behind Shirley's voice. When we made the first record, we hadn't played live at all.» «When people come to see us, nobody expects us to be that loud,» says Manson. «It's like, 'oh my god, a rock band!' I don't think we've ever captured that on a record, but this one is the closest we have gotten.»
She can take some credit for that vibe — after watching her compadres sit around the control room in their chairs, guitars around their necks, tinkering with parts, Manson put her foot down. «I felt like, where's the energy?,» she says. «So for the first time in a long time, the boys went in and set up amps and made it super loud and just played. I think you can feel that. The guitars sound great because of that.»
All of BLEED LIKE ME sounds great. Buzzsaw guitars give «Why Do You Love Me» an overtone that's sinister as much as pleading, with a melody that Vig describes as Spectoresque. «Sped-up girl group,» Erikson agrees. The funky, destined-to-be-a-dancefloor-classic «Boys Wanna Fight» takes a sassy, indirect jab at world affairs, while the cutting, sing-song «Sex Is Not the Enemy» takes a direct one at so-called moral leaders. The slow-building sparks of «Happy Home» and the ballad «It's All Over But the Crying» are all the more gorgeously vulnerable amidst the anger and distortion of the other songs.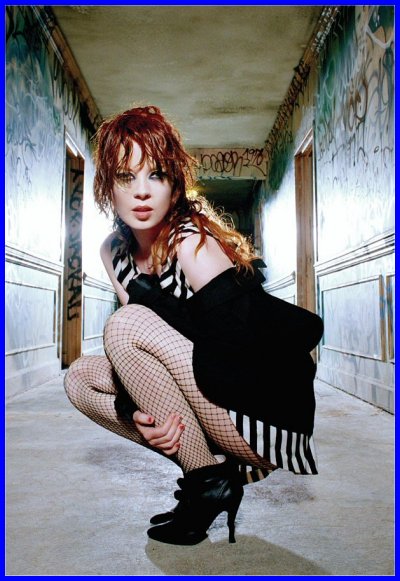 Shirley Manson
The record includes contributions from Matt Walker (Filter, The Smashing Pumpkins), bassist Justin Meldel Johnson (ImaRobot, Beck) and most notably, a certain part-time drummer Vig has worked with in the past. «It was great,» he says of former Nirvana drummer turned Foo Fighters frontman Dave Grohl's visit to the studio to guest star on «Bad Boyfriend.» «He played it down a couple of times, and then came back into the control room to listen to playback. In the middle of the break, he looked at Duke, and he asked, what should I do here, should I go wild? We told him, go wild. And the next take, he went crazy! That's the drum fill over the guitar break, it's a pretty chaotic moment. He had a shit-eating grin on his face, it was just awesome to see him play again, to come full circle.»
And just as that moment prompted Vig to reflect on where he's been and what he's done as a producer, BLEED LIKE ME has him marveling at Garbage. «We have accomplished a lot more as a band than I ever thought we would,» he says. «To even get to make a fourth record is incredibly lucky,» Manson echoes. «We have this incredibly long history. I think we're amazed by that, and proud of it.»
«It really is hard to stay together as a group, it'd be so easy to just pursue our own individual desires,» she continues. «But I still believe in the notion of a band - that people can come together and find a way to work on something together. I'm still in love with the romance of rock'n'roll.»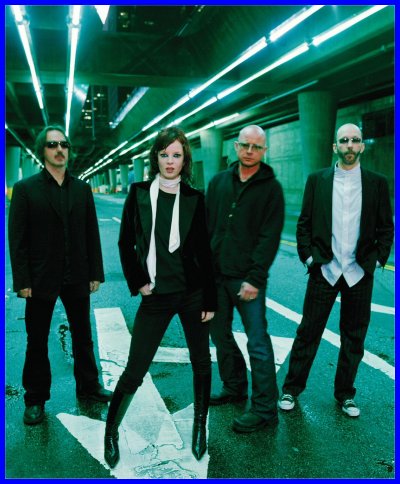 Garbage
[ © 2005 shout! - all right reserved. Compiled on materials from official garbage web site and our own sources, by alex davie. ]