Latest News - April 2002
Last updated 27.04.02
[
27.04.2002
] -
New releases and tour from A-ha
.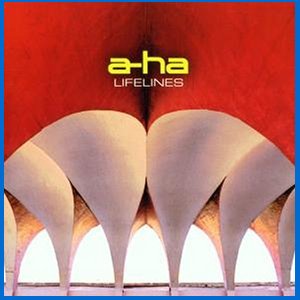 «LIFELINES» - new A-ha album
New album of famous norvegians A-HA titled «LIFELINES» will be released on April 29, 2002. CD contains following tracks:
[01] Lifelines
[02] You Wanted More
[03] Forever Not Yours (Album Version - Ny Mix II)
[04] There's A Reason For It
[05] Time & Again
[06] Did Anyone Approach You
[07] Afternoon High
[08] Oranges On Appletrees (London Mix)
[09] A Little Bit
[10] Less Than Pure
[11] Turn The Lights Down
[12] Cannot Hide
[13] White Canvas
[14] Dragonfly
[15] Solace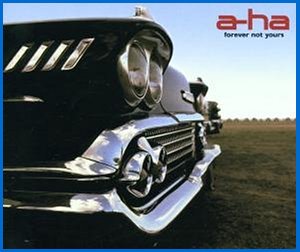 «Forever Not Yours» - new A-ha single
Prior album there was released a single - «Forever Not Yours» - on April 3nd, 2002.
Tracklisting:
[01] Forever not yours
[02] Differences (Original Demo)
[03] Hunting high and low (Live in Oslo)
[04] Manhattan Skyline (Live in Oslo)
A-HA CONCERT INFORMATION
EUROPE
08.06 -
Oslo
, Norway -
Ullevaal
11.06 -
Helsinki
, Finland -
House of Culture
13.06 -
Stockholm
, Sweden -
Arena
14.06 -
Copenhagen
, Denmark -
Vega
15.06 -
Aarhus
, Denmark -
Train
17.06 -
Utrecht
, Holland -
Muziekcentrum
18.06 -
Brussels
, Belgium -
Ancienne Belgique
19.06 -
Paris
, France -
Casino de Paris
21.06 -
Barcelona
, Spain -
Luz de Gaz
22.06 -
Madrid
, Spain -
Sala Arena
25.06 -
London
, UK -
Royal Albert Hall
BRAZIL
14.08 -
Sao Paulo
-
Credicard Hall
15.08 -
Sao Paulo
-
Credicard Hall
16.08 -
Rio de Janeiro
-
ATL Hall
17.08 -
Barretos
-
Rodeio de Barretos
GERMANY
15.09 -
Leipzig
-
Arena
17.09 -
Munchen
-
Olympiahalle
18.09 -
Stuttgart
-
Schleyerhalle
19.09 -
Nurnberg
-
Arena
21.09 -
Halle
-
Gerry-Weber-Stadion
22.09 -
Hannover
-
Eilenriedehalle
23.09 -
Koln
-
Kolnarena
25.09 -
Oberhausen
-
Konig-Pilsener-Arena
27.09 -
Bremen
-
Stadthalle
28.09 -
Berlin
-
Velodrom
29.09 -
Hamburg
- Sporthalle
01.10 -
Frankfurt
-
Festhalle
UK
11.10 -
Manchester
- Apollo
12.10 -
London
-
Wembley Arena
Info taken from official A-ha web site.
[
27.04.2002
] -
Psyche - Remixed Electro
.
Now classic electro duo Psyche released on April 12th a nice full length remix album «Endangered Species» (on Accession Records). This band features future dance pop with visual and intensely reflective lyrics.
«Endangered Species»
Tracklisting:
[01] The Beyond
[02] Damaged Soul
[03] Memento
[04] The Hiding Place (Gruedde Mix: Massiv in Mensch)
[05] Damaged Soul (Radio Mix: Sixty Winters)
[06] Renegades (Streets Of Tomorrow Mix: Remi. X)
[07] Goodbye Horses (Tokyo Club Mix: Sushiboy)
[08] Sanctuary (Arcade Mix: Negative Format)
[09] Memento (Amnesia Break Mix: Sixty winters)
[10] Looking Glass (Trance Mix: Psyche)
[11] Eleven
[12] Renegades (2 Dirty 4 U: Elektrohandel)
Some their live dates:
27.04 - Bordeaux, France - Rjslow
11.05 - Aachen, Germany - Music Bunker
24.05 - Hollywood, USA - SYNTHCON Festival
26.05 - Montreal, Canada - Foufounes Electrique
31.05 - Poznan, Poland - Eskulap
08.06 - Hamburg, Germany - Markthalle
29.06 - 8.07 - US Tour
23.08 - Bradford, UK - Infest
Info taken from official Psyche web site.
[
26.04.2002
] -
Rammstein show in Moscow can be cancelled
!
As said by very reliable sources, great Rammstein open air show on Tushino airdrome in Moscow on Juny 19th can be cancelled by Moscow Government. The reason is easy: officials afraid possible riots during show and a lot of Nazi among Rammstein fans. Today we received an official confirmation of this info from T.C.I. (organizer and promoter).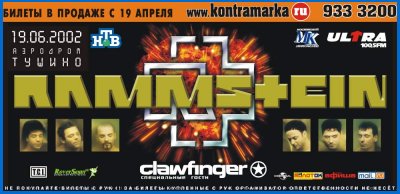 «RAMMSTEIN IN TUSHINO» Banner
By the way, you have no ability to read any official information on official Rammstein web site 'cos it was closed with very strange words on its start page: «www.rammstein.com is currently not available».
Info taken from our own sources.
[
26.04.2002
] -
A lot of news from De/Vision
.
On May 21th our progressive pop favorites De/Vision will re-release their 2 already classic live CDs from 1995 and 1996. As you might know, De/Vision released two Digipak VHS + CD packages «Live Moments We Shared» (1995) and «Fairylive» (1996). Music from both packages will available now as double CD titled «Live 95 & 96».
At present time De/Vision are working on a Remix CD, set to release at the end of July. Tracks from their first 3 albums were remixed by old De/Vision producer Jose Alvarez Brill. So you can imagine how the sound will be...
«Unplugged EP»
On April 22th De/Vision released the «Unplugged EP», with 8 songs and the videoclip for «Heart-Shaped Tumor» as bonus. Details - here.
As you know, earlier this year De/Vision provided some european clubs with several remixes of «Lonely Day». Unfortunately it seems no second single to be released commercially so feel free to download one of remixes from www.drakkar.de - Lonely Day (el Nino Mix) [04:45].
In other news the band will perform in Leipzig, Germany during the Wave Gothic Treffen festival (May 19th). There are no other shows confirmed, but band planned to visit some countries far outside Germany in Autumn. Please note, that Russia is possible too!
Info taken from De/Vision mailing list.
[
19.04.2002
] -
Garbage will perform in Russia soon
!
Wow! Garbage will tour Russia - in St. Petersburg on July 2nd and in Moscow on July 3rd! Live show in Moscow is promoted by concert agency T.C.I., and it will take a place in Luzhniki Sport Palace. Please see future details about tickets soon on www.kontramarka.ru.
Plus some Garbage news: Shirley confirmed during the UK tour that the next single is to be «Shut Your Mouth».
Info submitted by concert agency T.C.I.
[
19.04.2002
] -
News from Ministry
.
As we informed you before, industrial stars Ministry released «Sphinctour» live CD on March 19th (DVD/VHS version are available onsale since April 9th).
«SPHINCTOUR» live CD
The DVD/VHS was filmed throughout the band's 1996 SPHINCTOUR Tour in support of the «Filth Pig» album, with just one hi-8 camera, by filmmakers Jeffrey Kinart and Doug Freel.
Band has plans to tour later in 2002 and release their new «ANIMOSITISOMINA» CD (As said Al Jourgenson, «It's the word 'animosity' spelled forwards and backwards, minus the 'y.' It's double the hatred and double the time on my hands...»)
Info taken from official Ministry site.
[
19.04.2002
] -
Melotron - new single and tour
.
As reported, german band Melotron (well-known by And One fans ;) will release new single «GIB MIR ALLES» (it means «Give me everything») in May or June 2002.
Melotron announced Europe club tour titled GIVE US EVERYTHING, there are confirmed dates:
08.05 - Braunschweig, Germany - Meier-Music-Hall
11.05 - Poznan, Poland - C.K. ZAMEK
24.05 - Leipzig, Germany - Moritzbastei
25.05 - Erfurt, Germany - PH
26.05 - Berlin, Germany - Kesselhouse
28.05 - Hannover, Germany - Musikcentrum
29.05 - Bremen, Germany - Tower
30.05 - Bochum, Germany - Matrix
31.05 - Bielefeld, Germany - PC 69
01.06 - Gent, Germany - Kuipke
02.06 - London, UK - The Ocean
03.06 - London, UK - The Ocean
04.06 - Koln, Germany - Prime Club
05.06 - Stuttgart, Germany - Rohre
06.06 - Zurich, Swiss - Abart
07.06 - Italy - t.b.a.
08.06 - Italy - t.b.a.
09.06 - Munich, Germany - Backstage
11.06 - Frankfurt, Germany - Batschkapp
12.06 - Magdeburg, Germany - Factory
13.06 - Hamburg, Germany - Schlachthof
14.06 - Kopenhagen, Denmark - Templet
28.06 - Toronto, Canada - Palais Royale
29.06 - Toronto, Canada - Palais Royale
30.06 - Toronto, Canada - Palais Royale
Info taken from official Melotron site.
[
15.04.2002
] -
Some info about Gahan's solo album
!
Recently Dave Gahan did some radio interviews where he told some interesting things about his first solo album:
- it set to release in
March 2003
- demoed already
15
songs
- he would like to invite
Alan Wilder
to do something on the album
- this album will be less electronic, more acoustic:
jazz
,
blues
,
rock
- the album title might be something about
New York City
, in memorial of
September 11th
- Known after «Exciter»
Knox Chandler
possibly will be appeared again
- LA friend of Dave will be drummer for this album
- After release he
will tour
and play some DM songs
So, it's not rumours, that's from Dave's mouth.
Info taken from various radio interviews with Dave, available to download on Depeche Mode site.
[
10.04.2002
] -
Sad news... Frank Tovey died
...
Sad news received this week was the death of Frank Tovey, the man behind Fad Gadget and the first artist signed to Mute Records in 1979. Frank died, apparently, from a heart attack on April 3rd.
Frank Tovey
He will be best remembered as one of the early Electronic pioneers who, alongside Human League, Cabaret Voltaire and The Normal, were at the forefront of the movement in the late '70s/early '80s.
He recently toured Europe in support of DM's Exciter Tour and was working on new material at the time of his death. Our deepest sympathy and condolences go out to his family and friends.
Info taken from official Recoil site.
[
05.04.2002
] -
Re-issue of KMFDM's «OPIUM»
.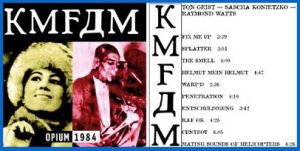 «OPIUM»
Re-issued KMFDM's «OPIUM» album is available for pre-order on KMFDM web site! For the first time in 18 years, the long-lost first KMFDM recordings - «OPIUM» The recently discovered tapes were digitized, reconstituted, and remastered by Sascha K. himself. Recorded in 1984, and featuring Sascha Konietzko, Raymond Watts and Ton Geist, «OPIUM» brings full circle nearly two decades of conceptual continuity.
Tracklisting:
[01] Fix Me Up
[02] Splatter
[03] The Smell
[04] Helmut Mein Helmut
[05] Warp'd
[06] Penetration
[07] Entschuldigung
[08] Cuntboy
[09] RAF OK
[10] Mating Sounds Of Helicopters
By the way, KMFDM are still committed to tour in Europe from early to mid-July.
Info taken from official KMFDM site.
[
05.04.2002
] -
News from DJ RAM's Virtual Server
.
Virtual Server's official site is now launched. The address is www.virtualserver.cd
Virtual Server is a band project produced and co-ordinated by famous russian DJ RAM. Virtual Server unites musicians from all over the world: USA, Germany, Russia, Canada, Australia, Switzerland and other countries. DJ RAM heads the Virtual Server - he writes music. Lyrics being submitted by different artists. Vocals being performed by vocalists from bands like Neuropa, B! Machine, Beborn Beton, No Comment etc.
All tracks are new tracks written especially for the », first full-length album. The first single «Wide Awake» from the forthcoming album will be released on April 16th 2002. The tracklisting for the single is:
[01] Wide Awake (single version)
[02] Wide Awake (the cinsault assault mix) / by Tom Kramer of Shades Of Grey
[03] A Voice (original version)
[04] Wide Awake (frequently asked mix) / by Carpe Diem (F.A.Q)
[05] Wide Awake ("ghost train" - pedigree version) / by Pedigree
[06] A Voice (broken mix) / by Todd Durrant
[07] Wide Awake (nocomment mix) by No Comment
[08] A Voice (fidgital's peace at last remix) / by Keith Gillard of Fidgital
[09] Wide Awake (clan of xymox sleepy mix) / by Ronny Moorings of Clan Of Xymox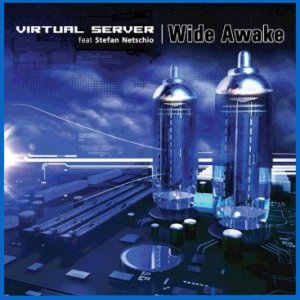 «Wide Awake»
«Wide Awake» music by DJ RAM, lyrics and vocals by Stefan Netschio (Beborn Beton)
«A Voice» music by DJ RAM, lyrics and vocals by Nathaniel Nicoll (B! Machine)
Virtual Server releases will come out through A Different Drum in US.
Info submitted by DJ RAM.
[
05.04.2002
] -
All about «One Night In Paris» DVD
!
We've just received the official information about forthcoming «One Night In Paris» DVD, from Gala Records, Mute label in Russia. There's no official release date yet, possible May 27th in Europe and May 28th in the USA. You can find complete and official info about release here.
Info exclusively submitted by Gala Records, Russia.
[ © 2002 shout! - all right reserved. Compiled by alex davie. ]