Parties 2002
Last updated 5.04.02
Our launch party in MATRIX Club
Independent electro fanzine SHOUT!, Or.M.F.DM (Moscow devision of Depeche Mode fans ) and Alexei Extra presents party in MATRIX club - SHOUT! NIGHT PARTY II !
Inside new and the best from: De/Vision, And One, MESH, Wolfsheim, Apoptygma Berzerk, Project Pitchfork, nitzer ebb, KMFDM, S.P.O.C.K., Camouflage, Rammstein etc. All world of electro - synth-pop, EBM, industrial, new wave, alternative - and more!
By the way, Mark (from great english band Mesh) record a short ID for our party - click here.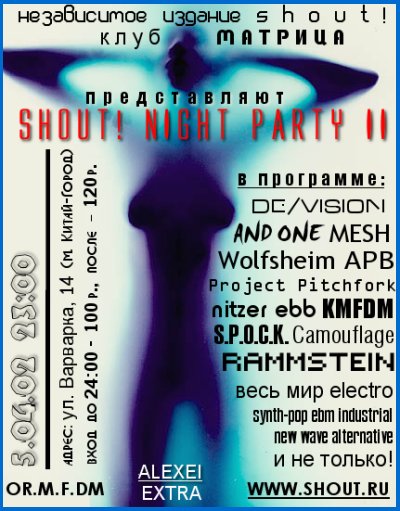 SHOUT NIGHT PARTY II - in MATRIX Club!
Party will be on April 5th, 2002, doors open at 11 pm, and till 6 am!
Club address: Moscow, Varvarka Str, 14 (m. Kitai-Gorod). Price at doors - 100 r. till midnight, and 120 r. after midnight.
Additional information: www.shout.ru and www.dmfan.ru.
[ © 2002 shout! - all right reserved. ]