Annual convention of Depeche Mode fans
Last updated 22.04.02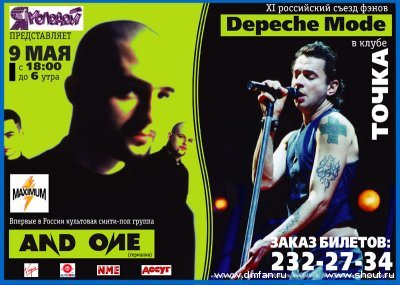 Annual convention of DM fans
On May 9th, russian devision of Depeche Mode fans present annual convention devoted to Dave Gahan's birthday - in Tochka club, Moscow.
This year event will be greater than ever: Dave will be 40 yrs old. There will be a foreign headliner for a first time - well known german synth-pop band And One.
AND ONE:
Steve Naghavi
(vocal)
Gio Van Oli
(keyboards)
Chris Ruiz
(keyboards)
Jorgen Strandquist (sound engineer)
As planned, And One's show will start at 10pm, with 1.5 hrs set of specially selected great hits.
Also in program:
- DJ
Oleg Konovalov
and DJ
Nick Hodgkins
with remix set of DM hits
- russian synth-pop
Modul
with DM covers
- special dance DM-show by
Nirmala-Dance
- open of football championship between industrial and synth-pop lovers
- you will be able to win a lot of
Depeche Mode
rare stuff and more
OLD SYNTH ROCKER DAVE GAHAN
Ticket price for all night event - 700 rubles (25 USD), so you can order your ticket by e-mail DMFAN.ru or by phone: +7 095 232 2734.
Additional information: www.dmfan.ru and www.shout.ru.
---
Special offer for people, who will arrive to And One concert from afar - we can suggest you accomodation in Izmailovo-Beta Hotel (***), placed near «Izmaylovskiy Park» metro station.

2person apartments - 650 rubles (20 USD)
Comfortable rooms with phone and TV

Plus you can order transfer:
from train to hotel - 300 rubles (10 USD)
from airport to hotel - 700 rubles (23 USD)

For more info please call to «Bonus +» travel agency
105613 Russia, Moscow, Izmaylovskoe shosse, 71, hotel «Izmailovo», block «Delta», office 18-05. Tel / fax +7(095)166-4889, e-mail: bonusp@dol.ru
---
[ © 2002 shout! - all right reserved. ]