Latest News - September 2003
Last updated 21.09.03
[
21.09.2003
] -
Camouflage will tour Russia!
Camouflage
As we're informed, electronic classics Camouflage just confirmed 3 shows in Russia:
31.10
-
Moscow
- DK Gorbunova
01.11 - St. Petersburg - DK Lensoveta
02.11 - Kaliningrad - City Park
Band:
Marcus Meyn (singer)
Heiko Maile (keyboard)
Oliver Kreyssig (keyboard)
Jochen Schmalbach (drums)
Touring team:
Kai Lotze (tour manager)
Guido Fricke (foh engineer)
Michael Weber (monitor engineer)
Stephan Aue (lighting engineer)
Local production - HOBBOTT.RU concert agency.
More details - very soon.
Info submitted by tour promoters.
[
21.09.2003
] -
«Loverman» - second single from «Counterfeit²»?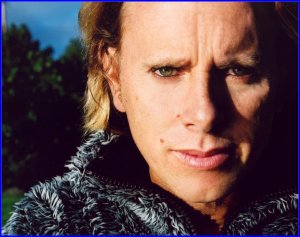 Martin L. Gore
As announced several online music stores Martin L. Gore will release a special CD/DVD EP for the track «Loverman» on November 17th 2003 (Cat. no. MUTE322). More details to follow.
Info taken from various sources.
[
21.09.2003
] -
And One official news
Steve Naghavi
As was written in recent And One mailing list, there will Aggressor German Tour at the end of January 2004 (no dates yet). Also Steve Naghavi will doing DJ Tour next year. Maybe band will release new album in 2004. Also was said that And One did not know anything about «Aggressor» release parties, they read about it the newspaper! Very strange news...
Info taken from And One mailing list.
[
21.09.2003
] -
«The English Roses» is onsale now!
Madonna's book about the friendship shared by four girls, was released on Monday and was set to hit bookshelves in 30 languages in 100 countries.
«The English Roses»
«The English Roses»
by
Madonna
Reading level: Ages 4-8
Hardcover: 48 pages
Publisher: Callaway Editions (September 15th, 2003)
ISBN: 0670036781
Info submitted by Amazon web store.
[
18.09.2003
] -
Kraftwerk in Russia!
As were announced by TCI concert agency, German electronic pioneers Kraftwerk will do a live concert in Moscow, Russia in February 2004! Check our site for future details!
Info submitted by T.C.I. web site.
[
18.09.2003
] -
«Bottle Living / Hold On» - third David Gahan's single
Recently it was officially confirmed that third single taken from David Gahan's «Paper Monsters» is the already much talked about double A-side featuring «Bottle Living» and «Hold On».
The release date is set to October 27th in UK. The single (Cat. no. Mute301) will be released as 2 CDs and a DVD, just like the two previous singles.
Tracklistings: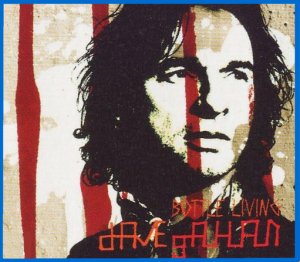 «Bottle Living / Hold On» CD
CD
(CDMUTE310)
[01] Bottle Living
[02] Hold On
[03] Bottle Living (Tomcraft Vocal)
LCD
(LCDMUTE310)
[01] Bottle Living (Machinehead Lyric Mix)
[02] Bottle Living (Raumschmiere Vocal Mix)
[03] Hidden Houses (Kowlaski Remix)
DVD
(DVDMUTE310)
[01] Bottle Living (Video)
[02] Bottle Living (Tomcraft Dub)
[03] Bottle Living (Machinehead Synth Mix)
As you can see, there will be a promo video for «Bottle Living».
Info taken from official David Gahan web site.
[
18.09.2003
] -
«101» as Super Audio CD
Sweet news for Depeche Mode collectors! Seems that DM's live album «101» will be re-released as Super Audio CD on the same date as the «101» DVD hits the streets (on October 20th). The «101» SACD will be released as «hybrid CD». This format allow you put this disk in your SACD Player (with perfect SACD sound) and in your standard CD Player (standard CD audio sound). Catalog number is LCDSTUMM101.
Info taken from various sources.
[
18.09.2003
] -
Re-release of «Original 91-93» from mesh
At the end of the summer Mesh re-recorded their early album «Original 91-93» as CD and released it on August 25th via SPR/Indigo. This CD contains demo version of «My Defender» (with another title!) and unreleased song «My Perfection» which they performed only on their last live concerts.
«Original 91-93»
Tracklistings:
[01] Waste Of Time
[02] My Perfection
[03] Just One
[04] It Was A Great Big Some Kind Of Place
[05] Thinking Aloud
[06] Mommy
[07] Crisis
[08] Remember Who You Were
[09] Time Enough
[10] Talk Down
Info taken from various sources.
[
11.09.2003
] -
Official «101» DVD press-release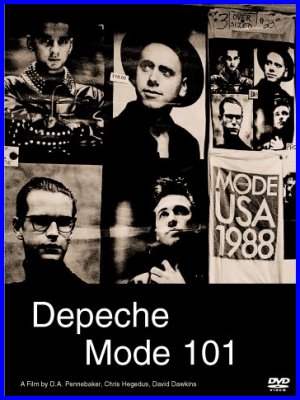 «101» DVD
Depeche Mode Release Classic 2 Disc DVD Set
«101» + Live 1988 Rose Bowl Show - released October 13th
Depeche Mode release the legendary DA Pennebaker film «101» for the first time ever on DVD coupled with their classic concert «Live At The Rose Bowl - June 18th 1988» on October 13th in UK and October 20th in US. This highly collectable DVD package features over 3 hours of footage and includes recent interviews with Martin Gore, Andrew Fletcher and Dave Gahan filmed by DA Pennebaker especially for this DVD.
1988 was a pivotal year for Depeche Mode. It was during their «Music For the Masses» world tour that they exploded into the musical mainstream. The Rose Bowl concert was the 101st and last date of the tour and both discs capture a band and their audience at the height of their love affair.
Acclaimed film-maker DA Pennebaker was best known for his seminal Dylan film «Don't Look Back» in addition to his work with Hendrix and John Lennon. Yet it was his marriage with alternative pioneers Depeche Mode that produced the frank and honest film «101».
«It was the most interesting, fun film we've ever done,» Pennebaker said.
«That tour and that film was so important, especially for the perception of the band,» says Martin Gore. «We'd always been on the brink, especially in America but that 1988 tour was the first time we headlined big arenas, the first time the band really took off.»
«There was something special about that whole time,» Dave Gahan adds. «After that concert I remember sitting down in the dressing room and I just cried. It was just so emotional.»
Andrew Fletcher echoes those sentiments: «It was one of the most amazing tours I've ever been on and a breaking point for alternative music in the US. The Rose Bowl was the first time that alternative radio sold out a big show in the US.»
Integral to both the DVD and the concert was the relationship between band and audience. A competition was held nationwide where a bus load of winners followed the band around. Some of those fans are interviewed for this DVD and still remain in touch with Depeche Mode.
June 18, 1988 was a day to remember for the 60 453 fans who attended the show. Now we can relive the day through the eyes of one of cinema's most accomplished documentary makers.
Info taken from official Depeche Mode web site.
[
11.09.2003
] -
Limited edition new album Melotron
As we were informed by Andy Krüger, «Sternenstaub», upcoming album of our German synthpop favorites Melotron, will be released as limited edition in its first pressing. The album will come in a special digipak including some extras and an exclusive bonus track.
Info submitted by Melotron.
[
11.09.2003
] -
A lot of covers from Placebo, including «I Feel You»!
Nice news for all who loves Depeche Mode cover versions. Well known British alternatives Placebo will soon release a CD, containing all cover versions they done for years, including never commercially released fantastic «I Feel You» by Depeche Mode. This set will appear on special 2 disc edition of their recent «Sleeping With Ghosts» album (on Hut Recordings). Release is set on September 22nd in UK. Disc 1 includes all tracks from original album, incl. hit singles «Bitter End», «This Picture» and newest «Special Needs» (set to to release on September 15th). Disc 2 is a cover album of 10 tracks.
«Sleeping With Ghosts»
Disc 1
[01] Bulletproof Cupid
[02] English Summer Rain
[03] This Picture
[04] Sleeping With Ghosts
[05] The Bitter End
[06] Something Rotten
[07] Plasticine
[08] Special Needs
[09] I'll Be Yours
[10] Second Sight
[11] Protect Me From What I Want
[12] Centrefolds
Disc 2
[01] Running Up That Hill (Kate Bush)
[02] Where Is My Mind (The Pixies)
[03] Bigmouth Strikes Again (The Smiths)
[04] Johnny And Mary (Robert Palmer)
[05] 20th Century Boy (T-Rex)
[06] The Ballad Of Melody Nelson (Serge Gainsbourg)
[07] Holocaust (Alex Chilton)
[08] I Feel You (Depeche Mode)
[09] Daddy Cool (Boney M)
[10] Jackie (by Sinead O' Connor)
Info taken from official Placebo web site.
[
04.09.2003
] -
«Kein Problem» - new Melotron single
New Melotron single «Kein Problem» will out very soon - on September 8th, 2003 on Synthetic /SPV.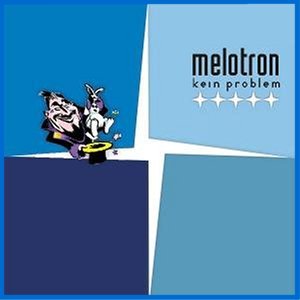 «Kein Problem»
Tracklisting:
[01] Kein Problem
[02] Kein Problem (Problemzonen - Mix)
[03] Wir warten
[04] Manchmal
Info taken from official Melotron web site.
[
03.09.2003
] -
Second new single from Wolfsheim
As said at e-lectric, in October german synth-idols Wolfsheim are planning to release second single «Find You're Here» from their recent album, «Casting Shadows». Among some remixes of this track, it will contain live version of «Kunstliche Welten» and «Kein Zuruck», recorded during their current Casting Shadows Tour.
Info taken from e-lectric.
[
03.09.2003
] -
«Pastperfect» delayed
Due to unforeseen technical problems the production schedule for the forthcoming VNV Nation DVD «Pastperfect» has been delayed by a number of weeks. Ronan Harris has been overseeing the production and is co-directing.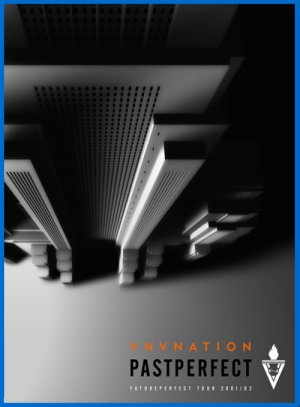 «Pastperfect»
«Pastperfect» (Special Edition) includes the following items: 2 x DVD's, 1 x Audio CD with CD Rom track, 1 x poster (A3 size), 1 x sticker (A6 size), 12 page DVD booklet (including photos, index, credits, tour information and articles). Release by Anachron / Metropolis.
In order to ensure the completion of the DVD for release in the next few months Ronan Harris has now postponed the first 2.5 weeks of Pastperfect Release Parties planned in the USA. Look at new dates below:
PASTPERFECT PARTIES
(USA)
September
20 - Toronto - Funhaus
21 - Montreal - Les Foufounes Electriques
24 - San Antonio - SIN13
26 - Atlanta - Chamber
27 - Tampa - The Castle
October
01 - Boston - Manray
03 - West Palm Beath - Respectables
04 - NYC
05 - Detroit - Alvins
09 - Mexico City - Dada-X
10 - Los Angeles - Peepshow
11 - San Diego - Club Therapy, Hollywood Star
14 - Seattle - The Vogue
15 - Denver - Onyx
16 - Washington - Nation
17 - Philadelphia - cinema show
19 - Chicago - Club Metro
Info taken from official VNV Nation web site.
[
03.09.2003
] -
Famous Moby's «18» in DVD version
Later this Autemn, Moby will release a DVD version of his popular album «18». DVD titled «18 DVD Plus B-Sides» set to release on November 3rd. It contains behind the scenes footage, the videos for the singles from «18» (including the promo for «Jam For The Ladies» featuring Princess Superstar), sketches, outtakes, footage from the recent South Bank Show special on the star plus live footage, including highlights from Moby's closing performance at the Glastonbury Festival 2003. The DVD also has an audio section with over 20 outtakes and bonus songs and an hour long megamix by Moby of his favourite remixes from «18», plus a photo section with hundreds of the dance star's own digital photographs. The «B-Sides» CD contains, for the first time, all the b-sides of the singles from the record on one CD plus four exclusive new tracks: «Nearer», «Afterlife», «String Electro» and «Stay».
Info taken from official Moby web site.
[
03.09.2003
] -
New FLA single
As said in info submitted by Metropolis Records, the new Front Line Assembly single «Maniacal» set to release on October 21th, 2003, cat. no. MET 298. This release sees FLA with a changed line-up since their 2001 release, «Epitaph». Chris Peterson has left while Rhys Fullber (original member of FLA) has returned to work once again with Bill Leeb. The single has been described as "dark, futuristic and melodic». The single will feature original and remixed versions of «Maniacal» and an b-side called «Anti».
Tracklisting:
[01] Maniacal
[02] Maniacal (Repercussion Mix)
[03] Anti
Info submitted by Metropolis Records web site.
[
03.09.2003
] -
New dark album from The Crüxshadows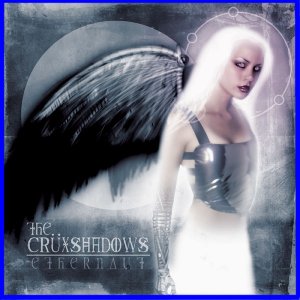 «Ethernaut»
Famous darkwave band The Crüxshadows will release their new album «Ethernaut» on October 24th, 2003. Tracklisting:
[01] Into the Ether
[02] Cassandra
[03] Love and Hatred
[04] Flames
[05] The Sentiment Inside
[06] Winterborn (This Sacrifice)
[07] Untrue
[08] A Stranger Moment
[09] Waiting to Leave
[10] East
[11] Citadel
[12] Afterall
Info taken from official The Crüxshadows web site.
[
03.09.2003
] -
Melotron - Sternenstaub Tour
Melotron - Sternenstaub Tour
2003
September
20 - Rom, Italy - Circolo degli Artisti
26 - Goteborg, Sweden - Tradgar'n
Oktober
02 - Braunschweig, Germany - Meier-Music-Hall
10 - Koblenz, Germany - Suppkultur
11 - Speyer, Germany - Halle 101
17 - Neubrandenburg, Germany - Schauspielhaus (Record-Release-Party)
18 - Neubrandenburg, Germany - Schauspielhaus
25 - Athen, Greece - Gagarin 205
November
01 - Rostock, Germany - Mau Club
06 - Haifa, Israel - City Hall
21 - Leipzig, Germany - Moritzbastei
22 - Erfurt, Germany - Spot
28 - Duisburg, Germany - Soundgarden
29 - Stockholm, Sweden - Kolingsborg
December
11 - Munchen, Germany - Backstage
12 - Winterthur, Switzerland - Endstation
13 - Laupheim, Germany - Schloss Laupheim
20 - Bielefeld, Germany - Elfenbein
25 - Bremen, Germany - Modernes
27 - Hanau, Germany - Audion
2004
January
10 - Gorlitz, Germany - Kulturbrauerei
23 - Mannheim, Germany - Lagerhaus
24 - Erfurt, Germany - Presseklub (Acoustic Show)
February
13 - Schwerin, Germany - Thalia
15 - Koln, Germany - Alter Wartesaal
21 - Hamburg, Germany - Kir
27 - Berlin, Germany - BKA Luftschloss
Info taken from official Melotron web site.
[
03.09.2003
] -
KMFDM - new album and tour!
Some news about upcoming KMFDM's 13th full-length studio album titled «WWIII». It features 11 brand new tracks, release date set to September 22th, 2003 (on Sanctuary Records).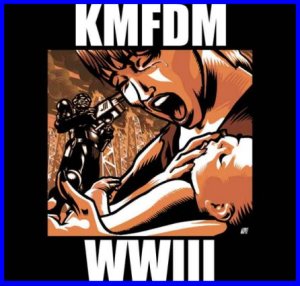 «WWIII»
Tracklisting:
[01] WWIII
[02] From Here On Out
[03] Blackball
[04] Jihad
[05] Last Things
[06] Pity For The Pious
[07] Stars & Stripes
[08] Bullets, Bombs, Bigotry
[09] Moron
[10] Revenge
[11] Intro
Some album details:
Mixed by Chris Shepard & KMFDM
Produced by KMFDM INC.
Art by BRUTE!
Lineup:
Lucia Cifarelli
Joolz Hodgson
Sascha Konietzko
Andy Selway
Raymond Watts
Guest Appearances:
Cheryl Wilson
Mona Mur
Curt Golden
KMFDM are planning to go on the road right on top of this release:
WWIII TOUR
First leg (USA)
October
17 - Seattle - Catwalk
18 - Boise - Big Easy
19 - Salt Lake City - Bricks
20 - Denver - Ogden Theatre
21 - Lawrence - Granada Theatre
22 - St. Louis - Mississippi Nights
23 - Minneapolis - First Ave.
24 - Milwaukee - Rave
26 - Chicago - House of Blues
27 - Chicago - House of Blues
28 - Cincinnati - Bogart's
29 - Detroit - Clutch Cargo's
30 - Cleveland - Odeon
31 - Rochester - Waterstreet Music Hall
November
01 - Boston - Axis
02 - Providence - Lupo's
03 - NYC - Irving Plaza
05 - Philadelphia - Trocadero
06 - D.C. - 9:30
07 - Charlotte - Tremont
08 - Atlanta - Masquerade
09 - Tampa - Masquerade
10 - Ft. Lauderdale - Venu
12 - New Orleans- Howlin'
13 - Houston - Numbers
14 - San Antonio- White Rabbit
15 - Dallas - Deep Ellum Live
16 - Tulsa - Cain's Ballroom
18 - Phoenix - Marquee Theatre
19 - Los Angeles - House of Blues
20 - Las Vegas - House of Blues
21 - Anaheim - House of Blues
22 - San Francisco - Slim's
23 - San Francisco - Slim's
24 - Portland - Roseland
25 - Seattle - Fenix
Info taken from official KMFDM web site.
[ © 2003 shout! - all right reserved. Compiled by alex davie. ]