Latest News - July 2007
Last updated 31.07.07
[
31.07.2007
] -
Ayria will join Combichrist on their North Americian Tour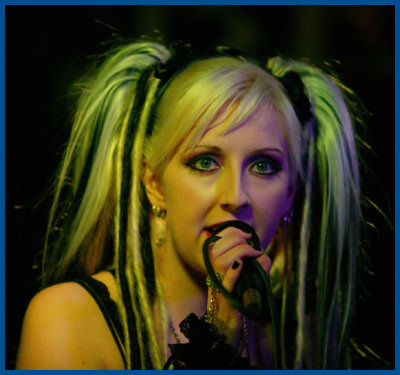 Ayria
Canadian industrial diva Ayria (Jennifer Parkin) will join Combichrist on their North Americian Tour. Look at some confirmed dates:
August
02 - Jacksonville, USA - French Quarter
03 - Miami, USA - Studio A
04 - Tampa, USA - Network (Code)
06 - Houston, USA - Engine Room
07 - Dallas, USA - Lizard Lounge
08 - Austin, USA - Elysium
09 - El Paso, USA - Devil's Bar
10 - Phoenix, USA - Sadisco
September
02 - Detroit, USA - Motor Pop Festival
04 - Toronto, Canada - The Funhaus
Info submited by official Ayria web site.
[
31.07.2007
] -
De/Vision's petition for their fans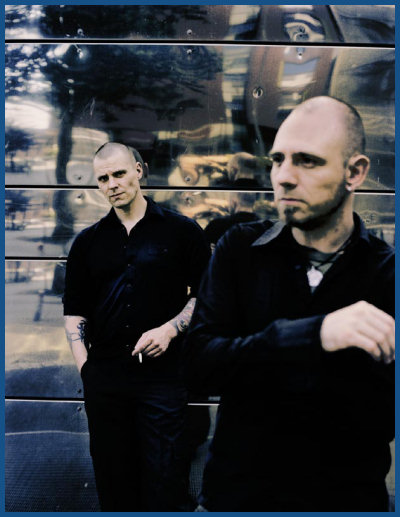 De/Vision
Attention of every De/Vision fan! Because the CD sales have dropped down dramatically, the label and the band have come to the point to deliver «Noob» only to chart relevant music stores and traders at the sale beginning. Where does that lead to?
If «Noob» is as close to your heart as it is to the band's, then please buy your copy at Amazon.de or one of the chart relevant musicstores, such as Media Markt, Saturn, Müller, Karstadt, Kaufhof, WOM and the Amm.de franchise.
If you are customers of smaller and cheaper mail order stores or especially of POPoNAUT you may think this is not a good idea - band understand this, but with this campaign we all must try to provide the neccessary attention in the media world to the band. Only by a high chart entry it is possible to place a band like De/Vision in several media like radio or TV. And that is the only way to support good electronic music.
We would be glad to see you supporting this campaign!
Info submited by official De/Vision web site.
[
31.07.2007
] -
The Cure: new album and tour
The Cure
The Cure's frontman Robert Smith has confirmed that the new The Cure yet-not-titled album will not be released before October or November 2007. The band's 13th studio album, which seems to be a double limited CD, will be preceded by a (possibly download only) single to be released in early September. The album has been recorded in the UK with Robert Smith on the producing helm and will be released on Suretone/Geffen.
Robert Smith
said:
«What will probably happen is that a double album will come out like a limited edition, mixed by me. A single-disc version, which I assume will be primarily chosen by the label, might get mixed by someone else in order to have a different thing. There's a concern Cure fans will feel like they have to get both, but the fact is, I've agreed to sell the double version at a single album price, because I feel that strongly about it. It is almost impossible to get a double album nowadays. I naively thought my standing as an artist would push aside all objections, but the world gets ever more commercial as it turns.»
Tracks include «Lusting Here In Your Mind», «The Hungry Ghost», «The Perfect Boy», «Christmas Without You» and «Please Come Home». «There are songs about relationships, the material world, politics and religion. They're very upfront and dynamic,» says Smith of the new songs. «People will be surprised how stripped-down and in-your-face the record is.»
The Cure started their new World Tour on July 27th at the Fuji Rock Festival (Japan). The still tentative schedule would have the band in Hong Kong and Singapore in late July/early August, then a few shows in Australia and New Zealand in August, North America in September and October, Europe in Spring 2008 and South America after that.
Smith promises The Cure will play new material during North American Tour, but not too much. «A lot of people who come to Cure shows want to hear something they haven't heard before, but they also want to hear old songs,» he offers. «I enjoy playing them. But the idea of going out and doing a two-and-a-half hour show and including 10 or 12 new songs would actually be really awful, I think. A show is an experience. Anyone coming to a Cure show isn't going to go home and think about buying the album. They've already made their minds up by the fact they've bought a ticket to see us.»
Info taken from various sources.
[
31.07.2007
] -
Exclusive MCD set from [:SITD:] and Painbastard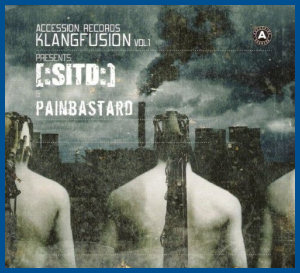 «Klangfusion Vol. 1»
On July 27th, 2007 the new [:SITD:] «Kreuzgang» MCD was released on «Klangfusion Vol. 1» via Accession Records.
«Klangfusion Vol. 1» is an exclusive melange of two brand new MCD's: [:SITD:] «Kreuz:Gang» and Painbastard «Nyctophobia». This combined release serves as a harbinger for the upcoming albums «Bestie:Mensch» by [:SITD:] and «Borderline» by Painbastard, and it is also a brilliant overture for [:SITD:]'s Bestie Mensch Tour 2007 – feat. Painbastard and special guest Destroid. The musical bandwidth ranges from hard to melodic, from experimental to highly danceable.
The two MCD's will not be available in the shops on their own, only in this special combination. «Klangfusion Vol. 1» MCD set – packaged in an attractive six panel digipak and cardboard slipcase – is limited to 3000 and contains 18 tracks (8 by [:SITD:], 10 by Painbastard) – a total runtime of almost 100 minutes.
Tracklisting:
Disc 1
SITD - «Kreuz:Gang»
[01] Kreuzgang (Single Version)
[02] Kreuzgang (Rotersand's Steinerized Rework)
[03] Atonement
[04] Kreuzgang (Dolorosa Version By Angels & Agony)
[05] Kreuzgang (Remix By Agonoize)
[06] Metamorphosis
[07] Kreuzgang (Bestie Mensch Remix By Painbastard)
[08] Kreuzgang (Laufwerk Remix By Diorama Feat. Klangstabil & Va:See)
Disc 2
Painbastard - «Nyctophobia»
[01] Nyctophobia
[02] Psychological Disintegration
[03] Torn (Feat. & Remixed By Diorama)
[04] Menschfeind (Feat. Diary Of Dreams)
[05] Nyctophobia (Remixed By SITD)
[06] Nyctophobia (Remixed By Assemblage 23)
[07] Nyctophobia (Eleven Years Mix By In The Nursery)
[08] Nyctophobia (Remixed By This Morn'Omnia)
[09] Nyctophobia (Remixed By Straftanz)
[10] Nyctophobia (Remixed By Supreme Court)
Info submited by Music Non Stop online music store.
[
20.07.2007
] -
Final chapter Of Collector's Edition Remasters from Depeche Mode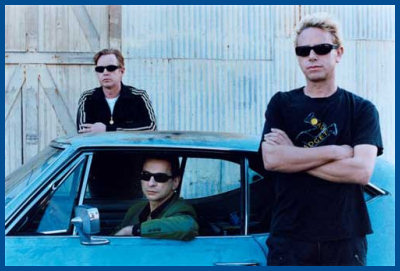 Depeche Mode
In the final chapter of their acclaimed remasters series, Depeche Mode return on October 1st with two more classic LPs: «Ultra» and «Exciter». Celebrating the band's luminous 25-year career, they follow: «A Broken Frame», «Songs Of Faith And Devotion», «Some Great Reward», «Speak and Spell», «Music for the Masses», «Violator», «Black Celebration» and «Construction Time Again».
Together, these reissues present one of the most significant catalogues in modern music in a remarkable and exciting new light. Each beautifully packaged, deluxe double-disc Collector's Edition contains the re-mastered stereo album, the new surround mix, all the B-sides from the singles and a specially commissioned 30 minute short film featuring new interviews with band members past and present, chronicling that period of the Depeche Mode's hugely influential career.
Info submited by Mute Records.
[
20.07.2007
] -
And One will perform in Russia in November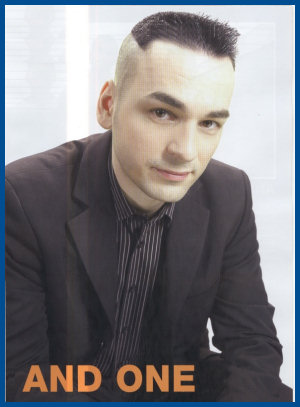 Steve Naghavi
German body-pop band And One will return to Russia with two concerts in November 2007. They will perform on November 10th at Red Club, St. Petersburg and on November 11th at «Tochka» club, Moscow. More details - soon!
Info submited by Project Management.
[
20.07.2007
] -
«About A Dead» - new Hocico's single
«About A Dead»
«God Is Dead!» - when Erk Aicrag of Hocico screams out these words in his typical blood-curdling manner, their is no doubt that the latest offering from Mexico's premiere harsh electro / industrialists is intended as a full-frontal assault... and not just musically. The song is a merciless romp against religious fanatics wrapped up in an incessant dance track which sees Erk and Racso returning to the raw, beat-laden power of their early releases. Stripping the track of anything that might inhibit their pure, aggressive energy «About A Dead» kicks in with a catchy sequencer line and a mighty chorus part that is destined to burn into your skull: «About A Dead» combines all the strengths of the Mexican duo and is a mandatory item for any electro club. The b-side «The Last Warning» is a dark monumental soundscape building up to a furious finale - the ideal counterpart to the unleashed aggression of the title track.
«About A Dead» will be released on August 10th, 2007 via Out of Line.
Tracklisting:
[01] About A Dead
[02] The Last Warning
[03] About A Dead (Killed by Proceed)
[04] About A Dead (Speedy Gonzales Remix by Lola Angst)
[05] About A Dead (Remix by Cephalgy)
Info submited by Music Non Stop online music store.
[
20.07.2007
] -
Duran Duran will release new album this Autumn
Duran Duran
This Autumn British new wave legends Duran Duran will release new album «Red Carpet Massacre» - via Epic Records. The band just completed album mixing in New York and now have returned to the UK to do final mastering. The band (Simon Le Bon, Nick Rhodes, John Taylor and Roger Taylor) were joined in the studio by Dom Brown on guitar. «Red Carpet Massacre» has been recorded over the past year, starting in New York City last September with Justin Timberlake and Timbaland at The Manhattan Centre and then in the UK with producer Nate Hills and engineer Jimmy Douglass.
Info submited by official Duran Duran web site.
[
20.07.2007
] -
New single from Mobile Homes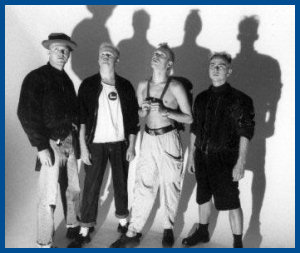 Mobile Homes
Recently Hans Erkendahl from Swedish synthpop band Mobile Homes announced new single «Close» produced by Sami Sirviö from Kent and mixed by electronica artist Andreas Tilliander.
Mobile Homes performed new songs at Debaser Medis in Stockholm on July 7th, together with ex-Kraftwerk Wolfgang Flür via his Electro Knirsch Tour.
Info submited by Popjustice.
[
20.07.2007
] -
New album from Mind.In.A.Box
«Crossroads»
New album from Mind.In.A.Box titled «Crossroads» will released on August 31st, 2007 via Dependent. Their debut, «Lost Alone», and the follow up «Dreamweb» garnered praise from critics for their innovative, hard to categorize sound and story concepts. Instead of simply creating songs, Mind.in.A.Box pulls you into its world and stories, exploring themes of solitude, fear, self control, ego, and loss. «Crossroads» takes up the story and themes explored in «Dreamweb» and expand them. With the dense, complex electronics MIAB is known for, they masterfully create moods and atmospheres on tracks such as «Fear» and «The Place» and mix them with highly danceable tracks such as «Identity», «What Used To Be», and «Introspection» to create a 65 minute musical journey. To compliment the music, «Crossroads» includes a 24 page booklet containing a short story, lyrics, and a code to unlock bonus content on their website.
Tracklisting:
[01] Introspection
[02] Amnesia
[03] Into The Night
[04] Identity
[05] Lucid Dreams 1
[06] Fear
[07] Stalkers
[08] What Used To Be
[09] The Place
[10] Redefined
[11] Lucid Dreams 2
[12] Crossroads
[13] Run For Your Life
Info submited by Music Non Stop online music store.
[ © 2007 shout! - all right reserved. Compiled by alex davie. ]