Latest News - July 2002
Last updated 18.07.02
[
18.07.2002
] -
Project Pitchfork DVD release date delayed
.
Unfortunately, the master copy of the new Project Pitchfork DVD contained some deficiencies, which will require some reworking. Therefore, the release date of the DVD has been delayed. When a new date is confirmed it will be posted here, as soon as it is available.
Info taken from official Project Pitchfork website.
[
18.07.2002
] -
Bjork announces «Best Of» CD
.
Bjork announces «Best Of» CD, tracks were picked by fans on her website. Release is set for September 3rd.
[01] All Is Full of Love
[02] Hyperballad
[03] Human Behaviour
[04] Joga
[05] Bachelorette
[06] Army of Me
[07] Pagan Poetry
[08] Big Time Sensuality
[09] Venus As a Boy
[10] Hunter
[11] Hidden Place
[12] Isobel
[13] Possibly Maybe
[14] Play Dead
[15] It's in Our Hands
Info taken from official Bjork website.
[
18.07.2002
] -
«Triple X» soundtrack tracklisting
.
As recently reported, soundtrack of «Triple X» movie includes following tracks:
CD 1
:
[01] Rammstein - «Feuer Frei»
[02] Drowning Pool - «Bodies» (Vrenna XXX Mix)
[03] Hatebreed - «I Will Be Heard»
[04] Queens of the Stone Age - «Millionaire»
[05] Mushroomhead - «Before I Die»
[06] Flaw - «Get Up Again»
[07] Moby - «Landing»
[08] Gavin Rossdale - «Adrenaline»
[09] Fermin IV - «004»
[10] Orbital - «Technologicque Park»
CD 2
:
[01] Nelly, featuring Toya - «Stick Out Ya Wrist»
[02] Lil' Wayne - «Look at Me»
[03] N.E.R.D., featuring Kelis and Pusha T - «Truth or Dare»
[04] Pastor Troy, featuring Ms. Jade - «Are We Cuttin'»
[05] Big Tymers - «Still Fly»
[06] Mack 10, featuring Ice Cube, W.C. and Butch Cassidy - «Connected for Life»
[07] Mr. Cheeks, featuring Missy Elliott and P. Diddy - «Lights, Camera, Action!» (Remix)
[08] Postaboy, featuring Rashad - «I'm Okay»
[09] Dani Stevenson - «Yo, Yo, Yo»
[10] Joi - «Lick»
Info taken from Rollingstone's website.
[
07.07.2002
] -
Exclusive CD - with final issue of BONG
.
As you already know, Bong 52 became a final issue of this official DM fanzine. All Bong subscribers are very sad... and Bong Team gave them a kindly farewell surprise - exclusive CD with rare Exciter promo remixes (CD Bongfan2).
Exclusive CD (Bongfan2)
Tracklisting:
[01] Dream On (The BRAT Mix) 8:26
[02] Dream On (Pink Noise Vocal Mix) 7:44
[03] Dream On (Pink Noise Pain Is Waiting Mix) 4:57
[04] I Feel Loved (Fafa Monteco Mix - Edit Version) 4:04
[05] I Feel Loved (Laurent F. Remix) 3:04
[06] I Feel Loved (Desert After Hours Dub) 7:03
[07] I Feel Loved (Tenaglia Labour Of Love Dub) 12:05
[08] Freelove (Powder Productions Remix) 7:52
[09] Freelove (Deep Dish Freedom Remix) 11:44
[10] Freelove (David Bascombe Remix) 4:06
The Bong 52 CD was made from digital sources (CDR and DAT), it was compiled/mastered by BRAT, who originally proposed it as a bonus disc for «Exciter». Unfortunately the french Labels was late with the Fafa Monteco Club Mix, so it didn't make it to the disc.
Info taken from our own sources.
[
07.07.2002
] -
Rammstein in the film and possibly new single
.
The opening scene of the american action film «Triple X», with Samuel L. Jackson and Vin Disel in the main roles (director Rob Cohen), shows a short Rammstein performance which was filmed in January near Prague. The film is due to be released in August this year.
In other Rammstein news: the next single will probably be «Feuer Frei» to go along with Rammstein's appearance in the movie «Triple X», as many people have guessed and was recently suggested by the Fanarea of official site. Nothing seems to be set in stone yet, but there should at least be a video for it.
Info taken from various sources.
[
07.07.2002
] -
Fletch manage his own record label
!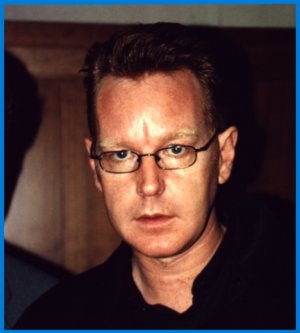 Fletch
Fletch is currently putting his time into his new record label (Toast Hawaii, through Mute). The first group on the new label is called Client. Their first single is a DJ-only white label 10" single. The tracks are «Client» (Harder Sex Mix) and «The Price Of Love» (Dub). You can download sample track of «Client» from their web site.
Info taken from official Depeche Mode site.
[
07.07.2002
] -
And One will perform at Woodstage Festival
!
And One + Nirmala Dance + alex davie (09.05.02)
On
July 13
our favorites
AND ONE
will perform at
Woodstage Festival
in Glauchau, Germany. They goona to play live for a first time some tracks from upcoming
«Aggressor»
album. And it's real fantastic - they will be supported by two beautiful russian girls from dance duo
Nirmala Dance
.
Beside And One, this festival will be headlined by another our favorites, incl. The Cure and Project Pitchfork.
Info taken from our own sources.
[ © 2002 shout! - all right reserved. Compiled by alex davie. ]