Latest News - December 2002
Last updated 23.12.02
[
23.12.2002
] -
Wolfsheim changed title of their new album!
As we just were informed, Wolfsheim have decided to give their new album a new title: «Casting Shadows» now is the final and definitive name of the new Wolfsheim album which will be released on April 7th, 2003. Therefore the tour next spring will be called CASTING SHADOWS TOUR 2003.
By the way, the new Wolfsheim video for the forthcoming single «Kein zurück» has just been finished. Director Detlev Buck filmed the spectacular clip with Peter and Markus together with actress Esther Zimmering in a laundry of a hospital in Hamburg.
Info submitted by official Wolfsheim web site.
[
19.12.2002
] -
«Folge Mir Ins Licht» tracklisting and more
«Folge Mir Ins Licht»
On January 27th, 2003 will be released «Folge Mir Ins Licht», the second single from Melotron's «Weltfrieden» album. It will be out out as an E.P.-CD and not as a pair of 2 CDs as it was originally planned. It will feature 4 new unreleased tracks. Here is the tracklisting:
[01] Folge Mir Ins Licht (Radio Version)
[02] Folge Mir Ins Licht (Verdienter Mix des Volkes)
[03] Du
[04] Tabak
[05] Mir Wird Kalt, Wenn Ich An Dich Denke
[06] Viel Zu Fruh
On recent weekend the guys had trip to Moscow, Russia and successufully performed here, in Tochka club. Detailed story will be published in Melotron section soon.
By the way, we publish dates of Weltfrieden Promo Tour 2002/03:
02.09.2002 - Schwerin, Germany - Thalia
02.10.2002 - Hamburg, Germany - Markthalle
19.10.2002 - Mannheim, Germany - MS Connexion (with NamNamBulu)
02.11.2002 - Stockholm, Sweden - Munchenbryggeriet (with COVENANT, FRONT 242)
09.11.2002 - Rostock, Germany - MAU-Club
07.12.2002 - Krefeld, Germany - Kulturfabrik (with MESH, IN STRICT CONFIDENCE)
15.12.2002 - Moscow, Russia - Tochka Club
26.12.2002 - Neubrandenburg, Germany - Alter Schlachthof (with AND ONE)
27.12.2002 - Hanau, Germany - Audion (with IN STRICT CONFIDENCE)
08.02.2003 - Erfurt, Germany - Alte Druckerei
15.03.2003 - Freiberg, Germany - Tivoli
22.03.2003 - Berlin, Germany - BKA Luftschloss
Info taken official Melotron web site.
[
19.12.2002
] -
A lot of news from Wolfsheim!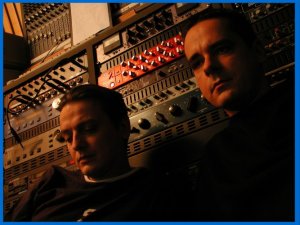 WOLFSHEIM
Currently Wolfsheim are in the studios in Berlin to finish producing their album «Close Enough» and the single «Kein Zurück».
Peter Heppner and Markus Reinhardt are working on 14 new tracks for upcoming releases. Obviously that the band has been sticking to their style, including both quiet as well as dance-oriented songs. Despite the use of guitars all tracks will be very much electronic.
The single «Kein Zurück» will be released in Germany on February 17th. It will contain «Kein Zurück» (album version), «Kein Zurück» (remix), an exclusive non-album track, an album track and «Kein Zurück» (instrumental).
There will be a video for the single which will be shot in December, directed by Detlev Buck (also he did «It's Hurting For The First Time» video).
The album «Close Enough» will be released on April 7th, containing 11-12 songs. Album produced by Andreas Herbig.
Unfortunately the band has to announce that the tour dates will have to be postponed again. New tourdates:
April
24.04. Hamburg - Grosse Freiheit
25.04. Bremen - Pier 2
26.04. Mainz - Eltzer Hof
28.04. Hannover - Capitol
29.04. Berlin - Columbiahalle
30.04. Erfurt - Thuringenhalle
May
02.05. Dresden - Alter Schlachthof
03.05. Wien - Planet Music
04.05. Zurich - X-Tra Limmathaus
06.05. Munchen - Elserhalle
07.05. Koln - E-Werk
09.05. Magdeburg - AMO
10.05. Nurnberg - Lowensaal
All tickets will remain valid. Peter Heppner, Markus Reinhardt and Strange Ways want to thank the fans for their support and their patience during the long wait and the delay.
Info submitted by official Wolfsheim web site.
[
19.12.2002
] -
«ROCK MASTERS: THE CURE» - new The Cure DVD!
Soon BBC will released new The Cure DVD titled «ROCK MASTERS: THE CURE». Release date set to February 18th, 2003. This live show was recorded in Barrowlands, Glasgow (Scotland) on August 25th 1984, length is 57 minutes.
«ROCK MASTERS: THE CURE»
Tracklisting:
[01] Shake Dog Shake
[02] Primary
[03] The Walk
[04] The Hanging Garden
[05] One Hundred Years
[06] Give Me It
[07] A Forest
[08] Piggy In The Mirror
[09] Happy The Man
[10] Play For Today
[11] The Caterpillar
[12] 10:15 Saturday Night
[13] Killing An Arab
Also it will be released in VHS format.
Info taken CloseToCure fan site.
[ © 2002 shout! - all right reserved. Compiled by alex davie. ]