Latest News - August 2007
Last updated 28.08.07
[
28.08.2007
] -
«Raise The Level» - new !distain album
«Raise The Level»
German synth-pop duo !distain will release fifth studio album «Raise The Level» on September 1st via Synthphony Records. The first edition will be released as a double CD. The first disc of «Raise The Level» contains 11 brand new tracks by Alexander Braun and Manfred Thomaser plus a cover-version of the Pet Shop Boys classic «West End Girls». The album was produced by DJ Ram, Ingo Nordloh and !distain. The second disc is called «Mandragore EP» and contains 5 previously unreleased remixes, the rare remix History Forecast (Time Code Mix) and 4 new !distain songs.
Tracklisting:
[01] SynthPopGirl
[02] Here In Silence
[03] From Horizon To Horizon
[04] Mandagore
[05] 21st Century Girl
[06] West End Girls (feat. Katrin P)
[07] Lighthouse Over The Horizon
[08] Pop Song
[09] Love Machine
[10] Inquisition (feat. Sara Noxx)
[11] The FLA
[12] East At Last (feat. Seyhan)
Bonus Disc «Mandragore EP»
[01] Mandagore (Silica Gel Mix)
[02] Recruit My Soul
[03] Gatorator
[04] From Horizon To Horizon (DJ Feel Mix)
[05] Mandagore (Hajas Mix)
[06] The FLA (Peter Rainman Turned On Mix)
[07] History Forecast (Chines Theatre feat. !distain / Peter Rainman Time Code Mix)
[08] Mandagore (Peter Rainman High Hopes Mix)
[09] Typical B-Side (Original demo)
[10] Facing The Rain (Instrumental)
Info submited by official !distain web site.
[
28.08.2007
] -
«In Transit» DVD details
«In Transit» (DVD)
Hot Swedish electro guys Covenant will release their long awaited concert «In Transit» DVD on October 19th via Synthetic Symphony / SPV in Europe and October 23rd via Metropolis Records in the USA. Double DVD + Live CD 3 disc set comes presented in a high class Deluxe Digipak and contains not only the «In Transit - The Movie» DVD but also a full length Bonus DVD including additional live performances, additional scenes from their world tour, the videoclip for «Happy Man» and much more plus a bonus Live CD featuring songs taken from the tour and a completely different tracklisting to the one on DVD2.
Tracklisting:
DVD 1
«In Transit - The Movie»
[01] Intro
[02] 20 HZ
[03] Hello & Welcome
[04] Building Up
[05] Bullet
[06] Germans Are Spoilt
[07] Leviathian
[08] Skyshaper Revisited
[09] Men Or Mice?
[10] Aftershow Party
[11] Swimming
[12] Making Interviews In Hamburg
[13] Der Leiermann
[14] Can Noise Be Ritual?
[15] On The Road
[16] Prometheus
[17] The Matrix And Its Masters
[18] We Stand Alone
[19] Are We Happy Men?
[20] The Skyshaper World Tour
[21] Mexico
[22] Stalker
[23] Aftershow Party 2
[24] About Falling Out Of Cars And The Pulse
[25] North America - NYC To Ogalalla And Beyond
[26] Babel - Past Present & Future
[27] Russia - Earth, Sky, Cosmos
[28] Is The New World Brave?
[29] South America - Eva Peron Never Cried For Us
[30] Call The Ships To Port
[31] Dead Stars
[32] After All...
[33] Credits
[34] Outro
DVD 2
«In Transit - Bonus Disc»
- Live In Germany
[01] Intro
[02] Bullet
[03] Leviathan
[04] Like Tears In Rain
[05] Prometheus
[06] The Men
[07] We Stand Alone
[08] Ritual Noise
[09] Stalker
[10] Happy Man
[11] Dead Stars
[12] Brave New World
[13] Call The Ships To Port
- Live At Wave Gothic Treffen In Leipzig 2004
[14] Call The Ships To Port
[15] Edge Of Dawn
[16] Invisible & Silent
- Bonus Material
[17] New York City
[18] Mexico City
[19] Happy Man (Video Clip)
- Deleted Scene
[20] South America
Bonus Live CD
[01] Intro
[02] 20 Hz
[03] Bullet
[04] Leviathan
[05] Go Film
[06] The Men
[07] We Stand Alone
[08] Ritual Noise
[09] Happy Man
[10] Call The Ships To Port
[11] Dead Stars
[12] Pulse
[13] Babel
Info submited by SPV.
[
28.08.2007
] -
Support bands for De/Vision's Noob Tour
De/Vision
Germans De/Vision announced the bands who will support them during their upcoming tour in Germany:
As special guest for
all
shows:
Michigan!
As opening act between
September 22nd
and
30th
:
Akanoid
As opening act between
October 2nd
and
7th
:
Institution
Info submited by official De/Vision web site.
[
28.08.2007
] -
«Birthday» - second new The Crüxshadows single
«Birthday»
Following the smash success of «Sophia&lraquo;, which went to #1 on the Billboard Dance Singles Sales Chart, The Crüxshadows are back with «Birthday», a second single from their latest album, «DreamCypher». «Birthday» has proven to be a fan favorite all over the world (it went over especially well at the band's concerts in China) and as always, the band is eager to please their fans. In addition to the title track there are two remixes (a radio edit and a club mix) plus a brand new song («The Eighth Square»). To top it off, the band is including one of their fanbase's top requests: a performance of the song «White Rabbit», which was part of The Crüxshadows live show for several years but until now has never appeared on any of their recordings.
«Birthday» will be released September 4th, 2007 on Dancing Ferret Discs.
Tracklisting:
[01] Birthday
[02] Birthday (Radio Edit)
[03] The Eighth Square
[04] Birthday (Through the Looking Glass Club Mix)
[05] White Rabbit (live)
Info submited by official The Crüxshadows web site.
[
28.08.2007
] -
«Early, rare and unreleased 1988-1998» from Assemblage 23
«Early, rare and unreleased 1988-1998»
Assemblage 23 released special Limited Edition CD «Early, rare and unreleased 1988-1998» (1000 copies only) with the band's earliest works in conjunction with their upcoming US Tour. The CD will only be available on the US tour with the exception of 50 copies which will be available through the Assemblage 23 Online Store around October 24th for any fans outside the US to have the opportunity to grab one.
Because this is expected to be a very in-demand item, there is a strong possibility that a non-limited digital-only release may be made available on iTunes and similar services following the tour. This would have the same tracklisting, but obviously would not include the booklet which has the stories behind each track and never before told anecdotes of A23's early history.
Tracklisting:
[01] Live Intro 96
[02] Mortuary
[03] Anger
[04] Chemical Restraint
[05] Straightjacket
[06] Ambush
[07] Soma
[08] The Angels Died
[09] Sometimes I Wish I Was Dead
[10] Underneath the Ice
[11] My Burden
[12] The Fissure King
[13] Void
[14] Reqiuem
Info submited by official Assemblage 23 web site.
[
28.08.2007
] -
Hot news from Camouflage
«E-Set»
It's time for some Camouflage related news! Great to know that Marcus has been making very good progress with his first solo album, Oliver will be a father for the second time!
In the same time band are working full speed ahead to finish their first DVD. In addition to the recordings from the Relocated Tour the DVD will feature many extras such as a one hour special about Camouflage Russia Tour 2006. Also band have been working with Universal Music on an album of rare tracks that is to be titled «Archives #1» and which will with surely be released this year!
Live performances this year are limited partly due to Oliver's news. As a result Marcus and Heiko have decided to establish an alternative approach for performances entitled «E-Set» («electronic set»), with Marcus (vocals), Heiko (synthesizer & computer) and Volker Hinkel (guitar). In order to avoid confusion with the presenters of the various events, specific graphics have been prepared to provide consistent advertising for the events - «an electronic evening with Marcus Meyn // Heiko Maile». Since there will not be live drums performed during these concerts, the arrangements will be considerably more electronic. The set list will also be revised and will include some surprises. It is unclear at this time whether the «E-Set» will also be presented in other countries, but this remains a possibility.
Info submited by official Camouflage web site.
[
28.08.2007
] -
Erasure - new EP and tour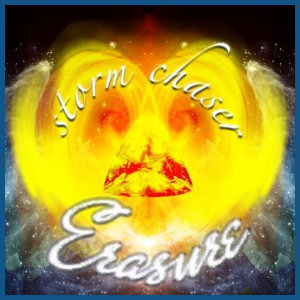 «Storm Chaser EP»
Erasure will release their new «Storm Chaser EP», available on CD, limited edition 7" and Digital Download on September 24th, 2007 via Mute. The 9 track EP features new, extended and remix versions of tracks taken from their recent album «Light At The End Of The World». The package also includes an exclusive duet featuring Cyndi Lauper and Andy Bell on vocals plus the winning entry to the remix competition of «When A Lover Leaves You«.
We originally recorded «Early Bird» during the «Light At The End Of The World» album sessions in Maine last Fall, said Andy Bell. We were considering some special way to use it apart from the CD and when we agreed to co-headline the True Colors Tour, we just thought it might make an interesting duet between Cyndi and us. She put down the vocals in New York and sent the track back to us. We were quite happy with the result and quite happy to have gotten to know her and perform with her on the road this summer.
b>Erasure return from the US after completing The True Colors Tour with Cyndi Lauper, The Gossip, MisShapes, Dresden Dolls and Debbie Harry in support of the Human Rights Campaign. Erasure's own dates will kick off in Ireland on September 1st and culminate with a show at the Royal Albert Hall in London on September 25th.
UK Tour
September 2007
01 - Ireland - Electric Picnic
03 - Oxford - New Theatre
04 - Nottingham - Royal Concert Hall
05 - York - Opera House
07 - Grimsby - Auditorium
08 - Glasgow - Carling Academy
09 - Edinburgh - Corn Exchange
11 - Newcastle - Carling Academy
12 - Preston - Guildhall
13 - Manchester - Apollo
15 - Norwich - UEA
16 - Wolverhampton - Civic Hall
17 - Leicester - De Montfort Hall
19 - Bristol - Colston Hall
20 - Sheffield - City Hall
22 - Cardiff - St. Davids
23 - Cambridge - Corn Exchange
25 - London - Royal Albert Hall
Info submited by official Erasure web site.
[
28.08.2007
] -
Remixed version of «Year Zero»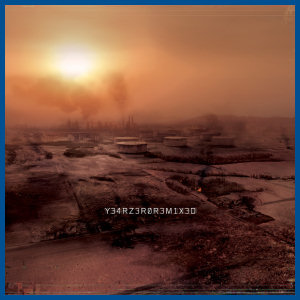 «Y34R Z3R0 R3M1X3D»
Legendary American industrial rockers Nine Inch Nails announced the title of upcoming remix release for their recent «Year Zero» album - «Y34R Z3R0 R3M1X3D». More details - later!
Info submited by official Nine Inch Nails web site.
[
10.08.2007
] -
Second press release for forthcoming Dave Gahan «Hourglass» album, and single «Kingdom»
Dave Gahan
The inimitable Dave Gahan makes a dynamic return on October 22nd with «Hourglass» - his eagerly awaited second solo album. Best known as the iconic frontman of Depeche Mode, he continues his impressive career with a blazing new side-project, which follows his critically acclaimed solo debut «Paper Monsters».
Produced by Dave with Christian Eigner and Andrew Phillpott, both members of the Depeche Mode touring band, «Hourglass» also reflects Gahan's growth as a songwriter. Initially showcased with 2003's «Paper Monsters», he later wrote 3 stellar tracks for Depeche Mode's recent 2 million selling «Playing The Angel» - «I Want It All», «Suffer Well» and «Nothing's Impossible».
«Hourglass» highlights include the gospel-tinged «Saw Something», which kick-starts the album with stealth before effortlessly setting the tone for the other 9 tracks. «That was the catalyst that started the idea to write again,» Dave recalls, adding that is was also «the first lyric, and the key to open the door to thinking, 'Okay, I can go here.'»
Other standout moments include the exhilarating, tour de force roar of «Deeper and Deeper», the soaring epic first single «Kingdom» (out on October 8th) and the addictive pull of «Use You», where he scathingly lets loose his disgust with people, and specifically, himself. Meanwhile, on «Down» - perhaps the most confessional song on the record - he confesses «I feel so old, down on the ground is where I'm bound to end up.»
Sonically, the record cuts across a range of influences and styles with grace. Decidedly more electronic than his previous solo work, he has seamlessly swapped the guitar of «Paper Monsters» for the synthesizer he epitomizes so well.
«It doesn't feel so much that the band is my identity anymore, although I owe everything to it. I'm starting to really feel that I have my own voice, and it's definitely coming out in the songs. For me, it's the best possible record I could make at this time. And it's gone well beyond what I expected of myself.»
«Hourglass»
Tracklisting:
[01] Saw Something
[02] Kingdom
[03] Deeper And Deeper
[04] 21 Days
[05] Miracles
[06] Use You
[07] Insoluble
[08] Endless
[09] A Little Lie
[10] Down
Info submited by official Dave Gahan web site.
[
10.08.2007
] -
«My World» video premiere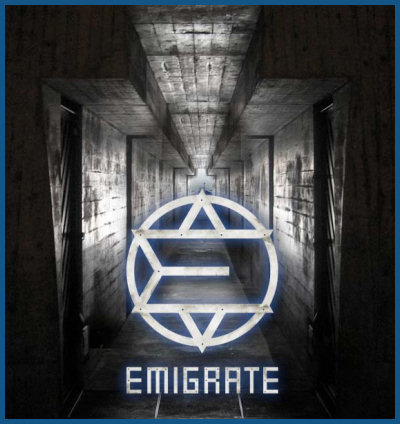 «My World»
Premiere of the first Emigrate video «My World» took place August 2nd at MTV Brand New programme. By the way, this track was included to «Resident Evil: Extinction» movie starring Milla Jovovich which will start worldwide September 21st.
Info submited by official Emigrate web site.
[
10.08.2007
] -
Till Lindemann sang at new Apocalyptica album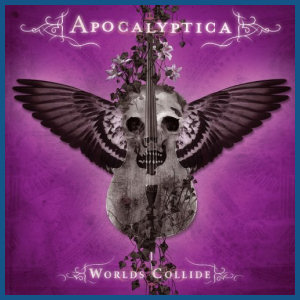 «Worlds Collide»
As we were informed, Rammstein frontman Till Lindemann took part in new album of Finish band Apocalyptica entitled «Worlds Collide». He contributed his vocals to «Helden» - cover version of David Bowie's «Heroes». He sang line «Doch können wir siegen für immer und immer und sind dann Helden für einen Tag», - the only German line in whole album.
Special guests on «Worlds Collide» (set to release on September 17th in Europe) include Corey Taylor (Slipknot, Stone Sour), Dave Lombardo (Slayer), Tomoyasu Hotei, Joseph Duplantier (Gojira) and Cristina Scabbia (Lacuna Coil).
Info submited by official Apocalyptica web site.
[
10.08.2007
] -
Limited Edition of «Bestie:Mensch»
«Bestie:Mensch»
Now established as a major force within the dark electro / industrial scene, German duo [:SITD:] return with their highly anticipated third album «Bestie:Mensch» - on September 7th via Accession. Cementing their impressive reputation this album takes a look at the dark psyche of mankind with 11 machine-tooled tracks blending their trademark pummelling beats and dense sound layers with new influences that range between uncompromisingly harsh and hard EBM stompers to melodic, almost poppy songs - from experimental electro tracks to highly danceable club-tunes «Bestie : Mensch» provides the vital next step for one of the underground scenes biggest talents.
Limited Edition version of new [:SITD:] «Bestie : Mensch» album includes the full-length, 12 tracks bonus CD «Electronic Weapons of Mass Reconstruction»[:SITD:] remixes for bands such as VNV Nation, Suicide Commando, Rotersand, Tactical Sekt, Bruderschaft and many more.
Tracklisting:
Disc 1
Bestie : Mensch
[01] Herbsterwachen
[02] Stammheim
[03] Telepathic
[04] Kreuzgang V.2
[05] Displaced
[06] Floating
[07] Direction:North
[08] Propaganda
[09] Reincarnation
[10] Silver Bombs
[11] Heroic
Disc 2
Electronic Weapons of Mass Reconstruction
(Only available with Limited Edition)
[01] VNV Nation - Chrome (Remix by [:SITD:]) 5:00
[02] Rotersand - Electronic World Transmission (Reconstructed by [:SITD:]) 7:33
[03] Pzychobitch - Wake Up (Remix by [:SITD:]) 6:18
[04] Faderhead - Dirtygrrrls Dirtybois (Remix by [:SITD:]) 6:06
[05] Tactical Sekt – Xfixiation Hellfire (Remix by [:SITD:]) 5:33
[06] Painbastard – Todesengel Armageddon (Remix by [:SITD:]) 5:37
[07] Suicide Commando - Face Of Death (FSK 18 Remix by [:SITD:]) 6:07
[08] Absurd Minds – Herzlos (E3 Memorial Remix by [:SITD:]) 5:44
[09] Bruderschaft - Forever Shadows (Bliss Remix by [:SITD:]) 5:46
[10] Plastic - Sense Of Life (Interflow by [:SITD:]) 6:14
[11] Xotox - Roboterkrieg (Remix by [:SITD:]) 5:12
[12] Sleepwalk – Hackerstate (Dos-Attack Remix by [:SITD:]) 5:26
Info submited by Music Non Stop online music store.
[ © 2007 shout! - all right reserved. Compiled by alex davie. ]