Exclusive inteview with XLOVER (December 2005)
Last updated 15.12.05
XLOVER
Some intro questions
Alex: Well, it was Summer '05 when I heard your music for a first time. Your brilliant single «So Blue» immediately broke my heart as beautiful love song, with its original sound and vocals. Sometime later, after first and very impressive live appearance of XLOVER in Moscow I became huge fan of your band. Did you wonder when your received tour request from Moscow?
Nina: Not so surprised but absolutely delighted. After reading Russian literature I had long wanted to venture Russia and I am glad to had the opportunity to have done so.
Bryan: It was always a dream of mine, to perform in Moscow.
Alex: So why someone else was instead of you, Bryan, during XLOVER's Moscow gig?
Bryan: I was DJing with my band, MOTOR at the time. I wanted to come very much. So, I am arranging more XLOVER and MOTOR concerts in Moscow in 2006.
Alex: Do you know anything about Russian electro scene?
Bryan: No.. I'm just discovering.. how is it?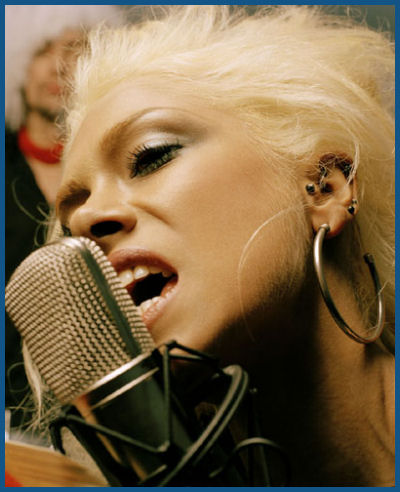 Nina
band
Alex: Bryan, before XLOVER you already had some projects, like Haloblack and H3llb3nt... How did you realize an idea to establish new project - XLOVER?
Bryan: Haloblack is my solo project from 1990's. Its very experimental and heavy. Hellbent is more electronic.. I decided to start XLOVER to be everything I wanted from a band: heavy/beautiful/innovative/accessible/challanging.
Alex: Tell some behind story of XLOVER's born - when and how did you meet Nina and guys?
Bryan: I started XLOVER with Olivier Grasset. We just met in London, and decided to start a new band together. Something fresh, and exciting. We were bored of rock music, and we always loved bands like DAF, Nitzer Ebb, Meat Beat Manifesto, etc..
Alex: All guys in band are not newcomers in the music. Oliver Grasset played drums with Dirty Harry, Scott Fairbrother played guitar with Death in Vegas and Client... I guess it mirrored in sound of XLOVER... yes?
Bryan: Olivier and Scott are very good at their instruments, and they also appreciate electronic music, so they knew how to make sexy electronic music with live drums and guitars. Scott also contributed guitars to the XLOVER album which are in the style of New Order, The Cure, which helped the sound alot.
Alex: XLOVER is first Nina's band? Her biography would be so interesting to discover!
Nina: Yes, XLOVER is the first band there was an instant rapport between us all.
Bryan: Nina is a mystery. We chose her because she didn't already have experience with bands. We wanted to make her into the perfect XLOVER singer. This included training her vocals so they are unique and complimenting the music. Nina is like no one else, and such an interesting person, we knew she was perfect.
Alex: Your band was picked up for «Between the Devil And The Wide Blue Sea» movie, dockumentary about modern electro/alternative scene... was it surprise for you, to be in one line with Fixmer/McCarthy and T.Raumschmiere?
Bryan: Yes! I love T Raumschmiere and Fixmer/McCarthy, so it was an honour to be on the same film, because they are also amazing performers. The XLOVER video in the movie is pretty crazy. They captured our best live performances in Berlin, so I'm excited to see the final film.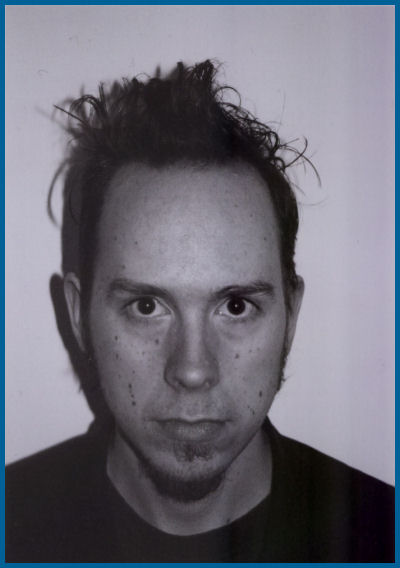 Bryan
music questions
Alex: How do you can describe your music, your style - just in few words?
Bryan: popfunkjunk.
Alex: If for me, I hate labels on music... but public is always operating with such terms... how do you think, your band is Electroclash or Electro Punk?
Bryan: Both and neither. We can be heavy and loud and soft and quiet, and we always change our sound, so we can't be so easily labeled, so electro punk/pop.
Alex: Bryan, where do you find an inspiration to write your songs? (By the way, who's responsible for music and who is for lyrics?)
Bryan: I write the lyrics, and with Olivier, we write the music together. I find inspiration from films, books, music, and my life. I get inspired listening to Prince, Depeche Mode, Foetus, Tones on Tail, anything thats bold and raw.
Alex: What music is much close to your heart? Your favorites (bands, artists)?
Bryan: I prefer music from the early 80's, early Prince albums, Bauhaus, Tones on Tail, New Order, Joy Division, etc.. Olivier is into Gang of Four, Sonic Youth, DAF, etc.. Scott is also a fan of 80's electro and rock, everything from Cocteau Twins to Nine Inch Nails.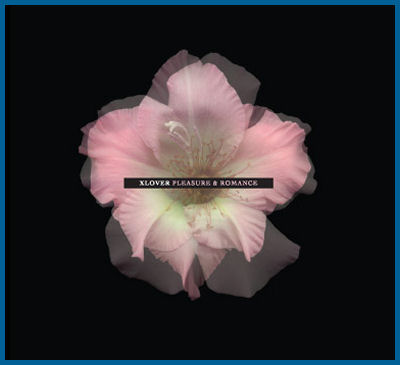 «Pleasure & Romance»
your debut album
Alex: Please describe an idea of album (if it possible)?
Bryan: The album represents 2 years of hard work, and all different influences we have. Also it represents our production style, which is hard, but clean.
Alex: Which musicians did collaborate with your band in studio? Tell something about production process...
Bryan: We worked with Felix Da Housecat a little on this record. 99% of the time, its me and Olivier working on the songs, then we invite Nina to listen, and whatever songs she likes, we develop and she sings on.
Alex: Why you selected Gigolo Records as label for XLOVER?
Bryan: We always had respect for DJ Hell, and when we started XLOVER, we were listening to the Gigolo compilations. Gigolo embraces electro, and experimental, and techno and rock, so we thought its a perfect place to be.
Alex: The album contains two great cover versions, Prince's «Darling Nikki» and Nirvana's «Aneurysm». Was there a special reason, to put them on your debut album?
Bryan: We do cover songs for fun, to test new production ideas, so we never plan on releasing them. I chose to do «Darling Nikki» because its one of my favourite songs, and its so hard to cover, I thought it would be a challenge. Olivier started programming «Aneurysm» while he was on an airplane, and it sounded so good, we decided to record it for XLOVER.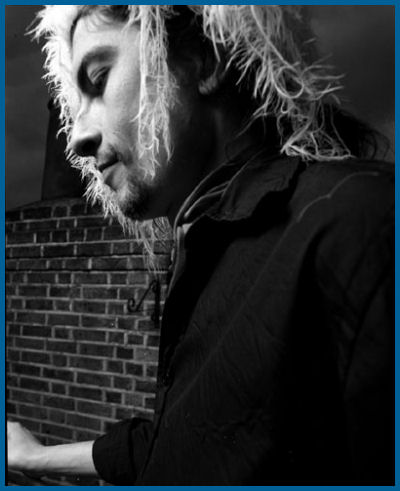 Olivier
performing
Alex: When I saw your band live, it seems not like an ordinary live concert but more like very impassioned performance.
Bryan: For the live show, we want it to be wild and out of control. Because so many electronic bands are boring to watch, we decided to be more full of energy. And more visually exciting.
Alex: Nina, what do you feel on stage? Is it difficult to be so sexual and so wanted just in two meters from so excited and warmed up public?
Nina: Maybe! Well I have turned my hand to many things. I am no stranger to the stage but those performances I would say were indeed of a different nature! Performing in a band with XLOVER that is the first.
Alex: XLOVER studio tracks are based on synth sounds, but their concert interpretation is full of huge guitars. It's really shocking and very impressive. Is it your special choice?
Bryan: Yes, because we wanted the live show to be like that. We prefer more electronic sounds in the studio, but when we play live we like pure energy and madness.
Alex: Bryan, you personally, do you like perform live, or you prefer work in studio?
Bryan: I need to do both to be happy. Its 50/50 for me. I spend everyday in the studio, so I enjoy getting drunk and performing live sometimes. Its an amazing feeling.
Alex: As I heard, XLOVER were at Love Parade in Berlin some time ago. Maybe band had any other such kind of big concerts, like festivals etc?
Bryan: Mayday festival in Germany, also. We prefer club concerts, not festivals. But they are still interesting, because its alot more work.
Alex: Nina, please describe your feelings and impressions from your Moscow show and public? And from the city in general? Do you have sometime to go around Moscow?
Nina: I loved the enthusiasm and interest received from the people of Moscow. I believe we appreciated each other. What I saw of it I loved most grand & full of beautiful people. Would liked to have discovered more of the city, next time I'll get to bed early!
Alex: Bryan, do you like to DJing? If yes which stuff your prefer to spin?
Bryan: I always DJ when I'm with friends, but I just started DJing around the world last year. I really enjoy it because I can play all my favourite records and also new XLOVER demos. I play alot of electro, Prince, The Faint, Vitalic, T Raumschmiere, and MOTOR.. I also like new electro disco and techno stuff..
Nina
computers, internet
Alex: How many time do you spend with computers? Are they Macs or PCs?
Bryan: Most of the day is spent in front of computers. We use MACs. Powerbooks, G5's, and Logic Audio.
Alex: Do you like PC or video games? If yes - what are your favourites?
Bryan: Olivier plays Quake between recording sessions. Sometimes he will play for days. I prefer racing car games, but I don't have much time to play..
Alex: Do you like to surf Internet? What's your favorite sites?
Bryan: www.cliphunter.com is a good one.. I mostly like to look at news websites, and sometimes I look at mute.com, and releasemagazine.net, for music news.
Alex: I hope next time you will look at shout.ru too [smile] By the way, is it really possible to catch you on any forum or even chat? [smile]
Bryan: Not yet. Next time we go into the studio, we will try to communicate with people online..
Alex: How do you think about Internet's role for your band?
Bryan: We use the Internet to market our music alot. Because we don't have a major label pushing our music, we have to push it ourselves, and the best way for us, is the Internet.
Alex: MP3 - is it evil or support for your band?
Bryan: Its good I think. A lot of people download XLOVER mp3's from our website, and then buy the record. Alot of people also download our album, and not purchase it. BUT, we decided to make a very special CD artwork package, so people can experience the album only by having the artwork and the music together.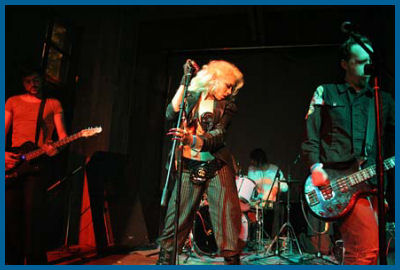 Nina
personal questions
Alex: Bryan, you are originally from US. What was the reason for you, to move from Minneapolis to London?
Bryan: I wanted to pursue more electronic music, and London was much more responsive to electronic music, than Minneapolis. When I lived in the US, I made industrial music, and I still do, but in London I mix it up alot more.
Alex: Nina, who is responsible for you stage image? It it mostly different from you in everyday life? Are you interested in desigh/fashion?
Nina: I myself am the creator of my stage image. Fashion is the other area where my heart lies. It's another form of self expression.
Alex: What's perfume you are wearing right now?
Nina: Dior's «Dolce Vita» & Givenchy's «Ysatis».
Alex: Did you ever use drugs? (You can not answer!)
Bryan: We love drugs. We do them when we feel like it. But not too much, no one in the band has a problem with drugs!
Alex: Your favorite way of relaxing?
Bryan: Going to the pub together, watching films, travelling..
Alex: Do you like clubbing?
Bryan: Yes, after we perform, we like to go out to clubs and have fun, and listen to good music. It inspires us as well..
Alex: What's your favorite place on Earth? To live, to work, to rest?
Bryan: I enjoy Tokyo, and Olivier goes to Nice, France to rest. But for work, we all like to be in a big city like London.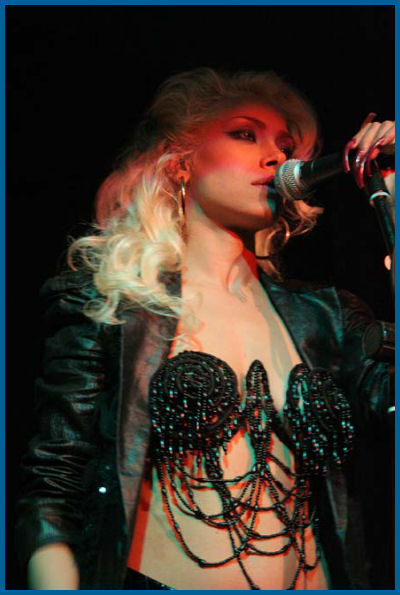 Nina
some final questions
Alex: Bryan, how about future plans? What we can expect from XLOVER? And from your other music projects?
Bryan: I am finishing the first album for my band MOTOR. We remixed the new Depeche Mode single, and now we are rehearsing for MOTOR live shows in 2006. Also in 2006, we will record a new XLOVER record and continue to tour the world.
Alex: What do you want to say or wish your Russian public?
Nina: Thank you, it was an absolute pleasure and I do hope to return soon!
Bryan: Thanks for supporting us, We looking forward to coming back soon. please keep telling people about our music and look at our official site www.xlover.net for the latest news.. see you soon!
Alex: Nina and Bryan, thank you very much for interview, I wish you a lot of good luck and... see you here in Moscow!
«Pleasure & Romance»
XLOVER released their debut album «Pleasure & Romance» on April 18th, 2005 via Gigolo Records.
Official XLOVER website: www.xlover.net.
[ © 2005 shout! - all right reserved. Interview was taken by alex davie via e-mail. ]