IRIS Interview for SHOUT! Online (October 2005)
Last updated 10.11.04
Iris
R Ė Reagan Jones
A Ė Andrew Sega
Hi guys! How are you doing?
R: Great, we just hit the #1 spot on ESKA radio in Poland, so itís been the most successful week of our careers! We didnít see that coming, so everything is really good right now.
A: Weíre doing pretty well, itís definitely been a busy year.
Are you busy with promotion of new album, «Wrath»?
A: Yes, although luckily we have some label help to do that. Weíve gotten quite a few features in magazines so far, and the reviews and sales have been good. Weíre taking a bit of a break from live shows at the moment, we wonít be doing any more of those until next year.
Where did the album title «Wrath» come from?
R: The idea emerged from watching a violent thunderstorm pass overhead in Tyler, Texas.
Iris
There are much more guitars than on your last records. Would you describe «Wrath» as more experimental (more rocky etc) Iris album? Did you search for new sound on it?
R: I think all this time weíve been slowly finding our balance, getting to where thereís an open use of guitars working together with intelligent electronics. That is the sound of Iris at itís best, and itís an area not quite as many bands are working in, which is exciting.
A: Maybe, for me itís always been trying to figure out what sounds work best with the songs. I felt that a lot of these songs were kinda «rocky» and so we added some guitars to them. Weíre always trying to figure out what the right «magic combination» of elements is to have the emotion of the songs come out...
Was there anybody else, beside Jones/Sega, involved in the recording process?
A: It was mostly just us. We did have two guests, Brian Pearson (our touring guitarist) played some parts on «No One Left To Lose», and a friend of Reaganís from San Francisco, Chris Brickler, played some additional guitars on «68».
R: Andrew did have a cat with the last girl he dated. And cats add a lot, Ďcause they chill the place out.
How much time did you spent working on new album? Are you pleased with the end result?
R: I know itís our best work. I think weíre both exhausted from the 2 years it took, but I stand by it as our best work. I think all bands reach a point when they begin to close in on their most creative output, and I think weíre on that path now. The work on «Wrath» sounds like the version of Iris I always hoped weíd get to, and now that itís there, I think weíve established a style that has power and flexibility. Now we can try a track like «Delivered one» with all guitar, then turn around and work on «It Generates» which is a combination of guitar and electronics, and they both work on the same CD. Thatís a great place to be, because it allows you the freedom to really challenge yourself as a writing team. Weíre not forced to repeat ourselves.
A: I think it took about 2 years? The first track worked on was «Appetite» and we had an early version of that ready back at the beginning of 2004. And we were tweaking songs right up until the end, around August 2005.
Iris
As I know it's the first time when your album was released simultaneously all around the world - in America and Europe. Also it was released in Russia recently. Did you notice growing public attention to your music?
A: «Awakening» was released in Europe 6 months after the US version, which wasnít very good. For this one, I very much wanted a simultaneous release, and we coordinated it with Infacted, and made it possible. I am also very happy that we have specific releases in Russia and Poland this time around. When we were in Moscow, there was a lot of piracy happening, and I think itís because itís very expensive there for people to import CDís from Europe. So hopefully this way they can get the CDís at a better price with a local version.
Do you like live appearances? What you prefer - concerts or work in studio?
R: Itís hard not to enjoy touring. Weíve been given opportunities in the past year that we wouldnít have had in a lifetime otherwise. After nine countries in 12 months, weíve made some great friends and gained a life experience you canít put a price on. Itís been awesome. On the other hand, we both have obligations to employers at home, so itís not always possible to take 2-3 weeks off for touring. And weíre at a point now, that our live show is a little too simplistic. We have no light system, we donít really rehearse together before a tour, and there just hasnít been time for a major effort on our parts to bring the show up to speed. Itís a necessary step weíll have to take, should we decide to embark on another, longer tour in the near future.
A: I personally prefer the studio work. For me, the fun part of playing shows comes afterwards Ė when you get to meet fans, other bands, interact with people, party all night [smile]
Did you already played your new songs live? How they were received by audience?
R: We were playing them before anyone heard the album, so in the context of the other songs, they may have sounded out of place. The response was positive on «Appetite» almost right away, but we tried «68» in Mexico City and it bombed!
A: So far weíve only done a very few... «Appetite» and «No One Left To Lose» have been played, and we tried «It Generates» for the first time in Seattle. But many of the others have never been tried yet, so weíll have to wait until the next tour and see how they work. Itís hard to play new songs when people arenít familiar with them... I prefer to wait until the album is released and people can be aware of the material.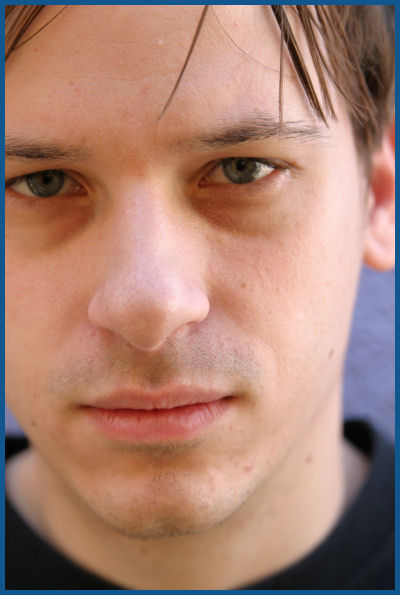 Iris
Do you plan new European Tour, to promote your new album?
A: We are planning a few shows for Spring 2006, but probably not a full tour right now. Weíre both very busy at the moment, so it makes it hard to fly to Europe for extended amounts of time. Also, being from the US, the distances involved are very far, and itís very expensive to constantly come to Europe to play shows.
Could you remember your Moscow gig in 2004? Your feelings and impressions? Would you like to visit Russia again?
A: Yes, it was great! Probably the best show experience weíve ever had. I remember partying all night, and getting only one hour of sleep before having to get on the plane back to New York...
R: Russia was just an amazing experience. My friends and family were quite shocked that we were actually flying to Moscow for a single show! Everything was so impressive, from the city to the venue, which was the best club weíve ever played. It was an amazing place. But more than anything the people who came to see us were very much into it, and after the show we had such as welcome response, I think we were somewhat shocked by that.
What music had influence on you in studio and in regular life? What music you like to listen just for fun?
R: I think once you find inspiration from someone another individualís writing, those influences stay with you. I know thatís true for the influence Glen Phillipsí work has had one me, but I started to let go of influence on «Wrath» and just write from the honest place of who you are. I canít say for certain if there is a recognizable quality to Iris, but the new album is as close to a sound that belongs to us, as weíve ever been. Outside of that, I still love country music very much, and have been enjoying traditional world music, much of which includes Russian. Itís like classic country here in the States, it tells a story of peoplesí history, and that resonates with me. On the pop front, Idlewild is the best.
A: Iíve been listening to a lot of good music lately, I AM X, Bloc Party, Imogen Heap, The Birthday Massacre, Rogue Wave, Ladytron, Sigur Ros... Iím influenced by bands from all genres. I think itís always important to keep an open mind if you are a musician.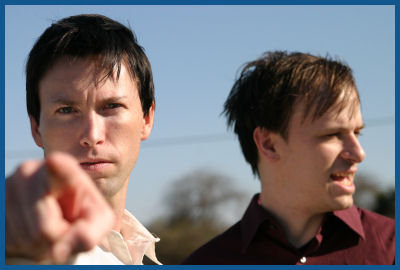 Iris
Well could you confirm that you are Depeche Mode fans still? Did you buy tickets for upcoming DM shows in US?
R: I donít hide how I feel about artists when I respect their work. I whole heartedly believe Gore is the most gifted writer in the world today, and I know that is saying a lot. Iím not basing that on his current output, but rather on the depth of his ability as I see it. I wish he was more accessible, but heís an aloof character and I think I understand that. I have tickets for Dallas, November 8th.
A: I think «Violator» was/is the best DM album of all time. «SOFAD»/«Ultra» were ok, «Exciter» was horrible, and I think that «Playing The Angel» is a pretty good comeback. But Iím not enough of a fan to go to the arena shows anymore, when I saw them on the Exciter Tour it seemed like Dave was more interested in holding the microphone in front of the audience than actually singing. It seemed like a big party, and not the emotional experience I expected it to be.
Your favorite way of relaxing?
A: Beer!
R: Riding my Cannondale, having coffee on an outside patio when the weather is nice, being home. Iíve been relaxing a lot!
Very delicate question: are you married, guys? Many girls around will be excited if you say no [smile]
A: No, Iím not.
R: As it stands, I am not married.
Tell me big secret - your huge plans for year 2006?
A: Iím not sure we really have any big secret plans. We donít really plan much in advance. However, maybe a full-length remix album for the summer? Also, Iím working on a new solo project Ė too early to give many details though.
R: Iíd like to write more songs, become competitive in cycling, and maybe buy a house.
What do you want to say or wish your Russian fans?
R: We wish you all the best and hope to see you again in the near future. Thanks to all of you.
Thanks for interview!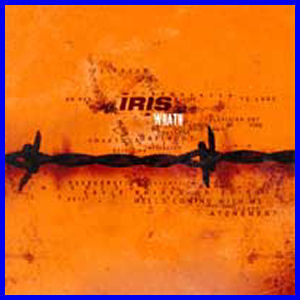 ęWrathĽ
Iris released their third regular studio album ęWrathĽ on August 22nd, 2005 via Infacted Records (Germany) and September 23rd, 2005 via Q-Code (Russia).
Official Iris website: www.irismusic.com.
[ © 2005 shout! - all right reserved. Interview was taken by alex davie via e-mail. ]