29.07.2023 - 30.07.2023 Tanzbrunnen Köln Cologne, Germany 104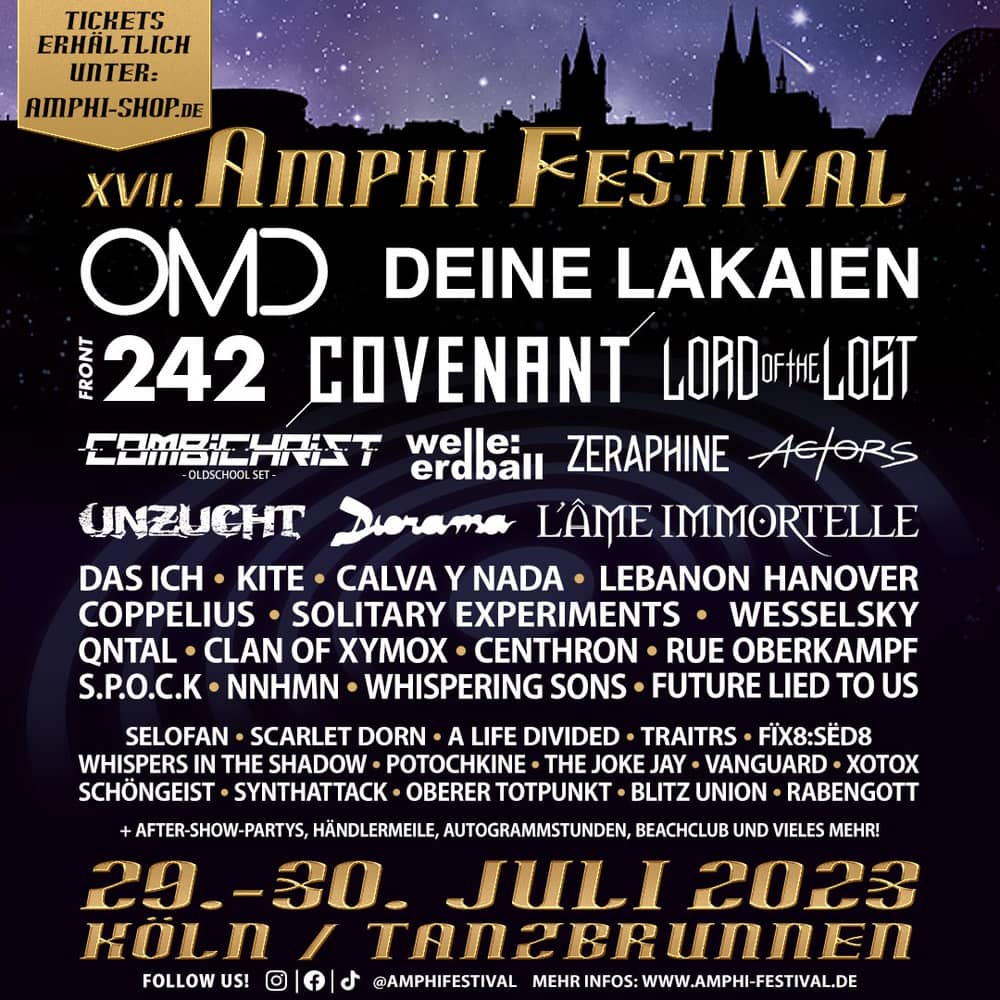 As always in July, on July 29-30th, 2023 at Tanzbrunnen Köln there will be XVII Amphi Festival at Cologne, Germany - music festival with wide-ranging program for fans of alternative, industrial and gothic music.
Band list XVII Amphi Festival 2023 (updated 01.03.2023)
Saturday, July 29th, 2023
· A LIFE DIVIDED · CALVA Y NADA * · CENTHRON · CLAN OF XYMOX · COVENANT · DAS ICH · DEINE LAKAIEN · DIORAMA · FRONT 242 · FUTURE LIED TO US · LEBANON HANOVER · RABENGOTT * · SELOFAN * · S.P.O.C.K · SYNTHATTACK · VANGUARD * · WELLE:ERDBALL · WESSELSKY · WHISPERS IN THE SHADOW · XOTOX · ZERAPHINE
Sunday, July 30th, 2023
· ACTORS * · BLITZ UNION * · COMBICHRIST · COPPELIUS · FïX8:SëD8 · KITE · L'ÂME IMMORTELLE · LORD OF THE LOST · NNHMN * · OBERER TOTPUNKT * · OMD · POTOCHKINE * · QNTAL · RUE OBERKAMPF * · SCARLET DORN * · SCHöNGEIST · SOLITARY EXPERIMENTS · THE JOKE JAY * · TRAITRS * · UNZUCHT · WHISPERING SONS *
* Amphi Festival Premiere
Ticket information
Ticket prices:

- Weekend Ticket 104 € (pre-sale)
Tickets are available through Amphi Ticketshop
Place
Tanzbrunnen Köln
Rheinparkweg 1
50679 Cologne
Promoter
AMPHI Festival GmbH. For further information visit: amphi-festival.de
Information
Security check
There will be a security check at the access points to the event area by the security service. See all prohibited and allowed items below. In the event of finding prohibited items the security service will confiscate them permanently. Persons that try to or manage to bring prohibited items into the area can be banned from the event by the organiser.
This is NOT allowed
Flyer, poster and further advertising material
Weapons, fake weapons, steampunk weapons, irritant gas
Rivet choker with very long, not rounded cone ends (killer rivets)
Aanticonstitutional symbols (badges, patches, etc.
Flags / banner
Folding chairs, camp stools
Canes with big/heavy knobs and/or cone ends
Audio recorders, video cameras
Laptops, iPads, selfie sticks
Aerosols with propellant gas (e. g. hairspray, deodorant spray)
Food and beverages that weren't bought at Tanzbrunnen's festival ground / at the theater
Tetra Paks (neither full nore empty)
Glass, glass bottles, filled plastic bottles,empty plastic bottles bigger than 0,5 liter
Drugs
Animals
Children younger than 6 years
This is allowed
All kinds of photo cameras (also professional equipment, also interchangeable lenses)
Drinking-horns, Amphi field flask (aluminium)
Small foldable umbrellas without cone ends
Canes without big/heavy knobs and/or cone ends, walking-stick umbrellas (inflexible)
Pump-action sprays (e. g. disinfectant spray, atomizer)
Powerbanks
Empty PET plastic bottles up to 0,5 liter
Deposit cups
Age policy
The minimum age for attending the Amphi Festival is 6 years.
Festival wristband
All valid admission tickets for the Amphi Festival (day or weekend admission tickets) will be exchanged on first admission to the are by a festival admission wristband. The admission tickets will be rendered invalid at that moment. The festival wristband will be attached to the wrist of its owner. During the festival only the original festival wristband provides access to the festival area!
Location
Built in 1928 the area for cultural programs and recreation today offers on its 30.000 m² with its open-air-terrain and the lately constructed beach club, the 'Theater am Tanzbrunnen' and the adjacent rhine terraces a large variety of possibilities for events, single or in combination with others. This makes the 'Tanzbrunnen Köln' one of the most favourite event locations in Europe.